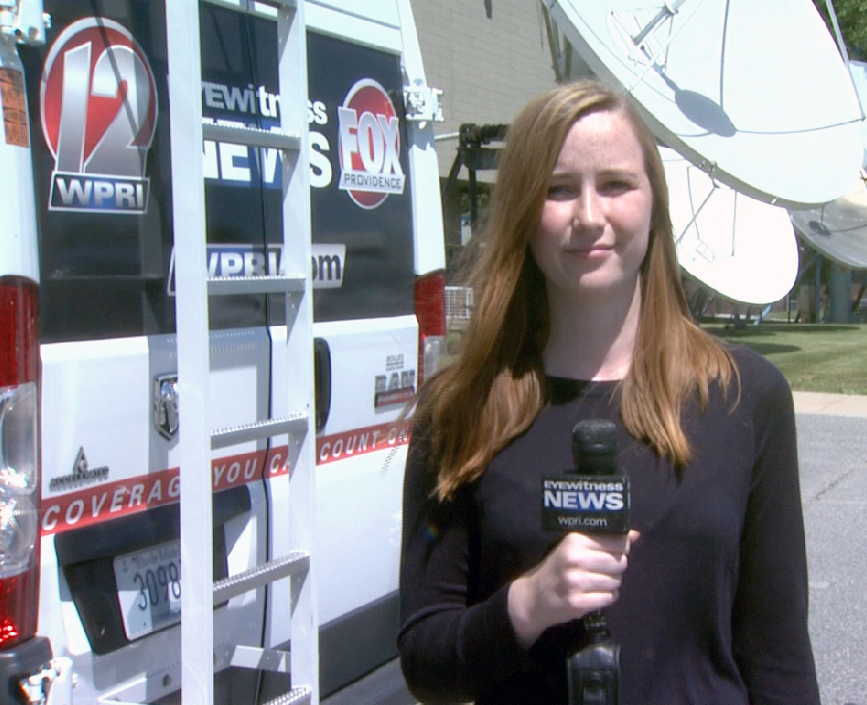 Major: Sociology
Internship: Newsroom intern, WPRI-TV (Providence, R.I.)
Funding source: Wheaton Fellowship Program
Deadline driven: "I became interested in journalism when I was 11. I had a school project in which I had to do a presentation on a country that I had to make up. While a lot of kids did dioramas and in-class presentations, I decided to make a newscast in which I was an anchor who reported on my made up country's news. Since then, I've been involved in journalism in one capacity or another, working on my middle school newspaper, being the editor-in-chief of my high school newspaper, writing for the Wire, and interning at WGBH (Boston's local NPR radio station) last summer. I enjoy working on deadline."
Being a part of the story: "During my internship at WPRI this summer I mainly helped reporters while they were in the field. I helped them research stories, interview people, and put together packages for the evening news. I also attended morning meetings, where we talked about the potential stories of the day. And I added to my portfolio by doing stand-ups, reporting on the story in front of the camera. It's really great to know that I now have what I need to appropriately apply for jobs in the field."
A great beginning: I was able to get the internship through my journalism professor, Ted Nesi [who is political reporter at WPRI]. He was instrumental in helping me get an internship with WGBH last summer and with WPRI this summer. Through both experiences I have developed a lot of practical knowledge about the industry that is going to help me jump start my career.
Flexibility and range: "The stories I worked on included meetings with the governor, attempted bank robberies, and a party gone wrong in a Newport mansion. Each day I walked through the door I didn't know what I was going to be doing until I got assigned a reporter. It was a lot of fun to drive around the state of Rhode Island and see how much goes on each day. I especially enjoyed hearing the unique stories people had to tell and how the they told them."
Self awareness: "I learned that I can handle a lot more than I thought I could. When I first got to go on the scene of a couple of crimes I didn't think I could handle some of the violent aspects that came with it. But over time I found myself being much more comfortable in those situations. And while I'm sad that a bad thing happened there, I'm glad I could help people talk through their experience."
More summer internships
Wheaton students gain essential career skills at sites throughout the country and around the world with support from internship funding. These opportunities are part of the college's commitment to experiential learning formalized through the Wheaton Edge.