Junior wins U.S. State Department scholarship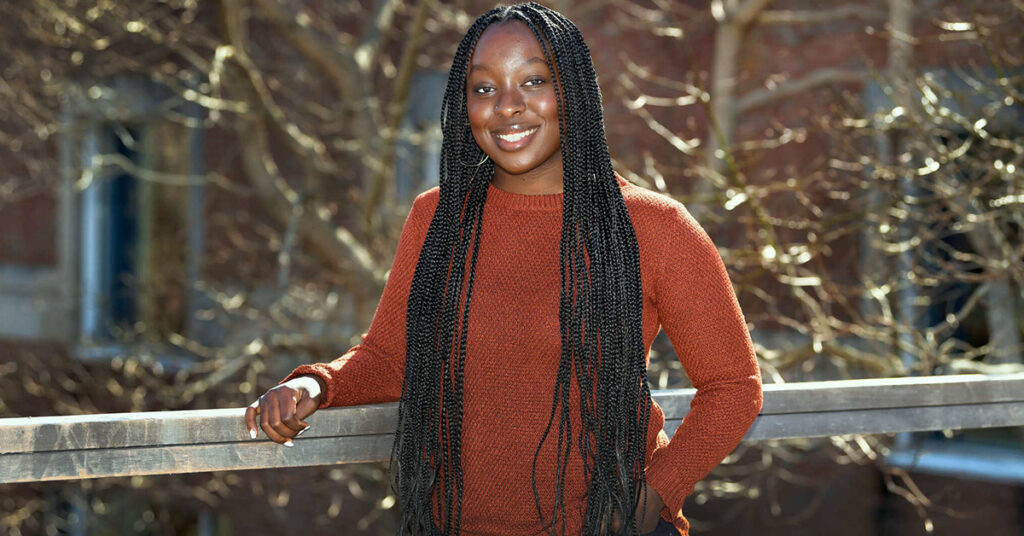 Nafissatou "Nafi" Sall '24 will study Portuguese this summer in Brazil
An aspiring Foreign Service Officer, Nafissatou "Nafi" Sall '24 strives to learn as many languages as possible.
The junior, who already speaks two languages (English and French), is on her way to mastering a third, Portuguese, after winning a competitive Critical Language Scholarship from the U.S. Department of State.
This summer, Sall will spend eight weeks in Rio de Janeiro, Brazil, studying Portuguese in a language and cultural immersion group-based program.
"I am so grateful and thrilled to have received this scholarship. This is my second time applying. I was ecstatic to be selected as a finalist," said Sall, who is double majoring in international relations and French.
The Critical Language Scholarship Program provides a fully-funded opportunity for about 600 U.S. students to participate in an intensive language study abroad.
"We will be devoting 20 hours a week minimum to studying Portuguese, which is equivalent to a year's worth of language study. Therefore, it is truly a once-in-a-lifetime opportunity to dedicate toward complete language immersion," Sall said.
Fewer than 10 percent of Critical Language Scholarship applicants are accepted to participate, according to Alida Gomez, associate director of Wheaton's Center for Global Education.
"We are immensely proud of Nafi, and her thoughtful application. She is only the second Wheaton student to receive a Critical Language Scholarship," Gomez said.
Sall hopes learning Portuguese will prepare her to work in African nations as a diplomat.
"There are many African-French speaking nations, but there are also several Portuguese speaking ones, including Cape Verde, Angola, Mozambique, Equatorial Guinea, Guinea-Bissau and Sao Tomé. My overarching goal is to have a background in many languages, so I am able to not only work in many countries, but communicate properly with local officials, leaders and citizens," she said.