Junior uses data to fight crime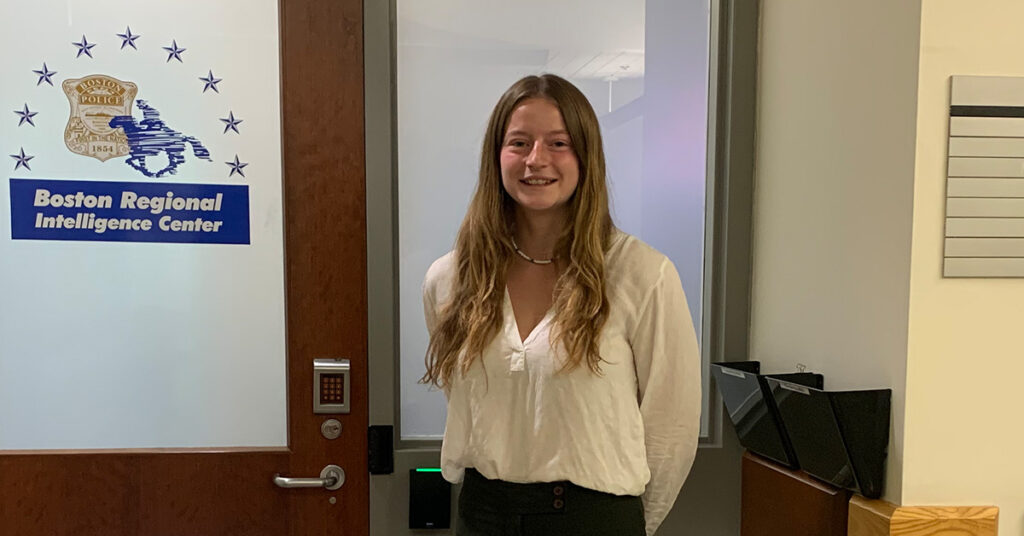 Anda Brown '24
Summer experience: Boston Regional Intelligence Center
Supported by: Sarah Hartley McCutcheon '81 Memorial Endowment Fund for Internships
Junior Anda Brown's independent major in quantitative criminology encompasses many of her academic interests and passions, including data science, psychology, sociology and political science.
Her summer internship at Boston Regional Intelligence Center—which gathers intelligence and data to prevent and reduce violence in the city—complemented her major and long-term aspiration of working at the Federal Bureau of Investigation (FBI).
"This internship gave me firsthand experience in data analysis, which is a large part of my major. It gave me lots of connections and a background understanding that will benefit me when I pursue my goal of being in the FBI," she said.
As an intern, she served as a larceny expert or analyst who collaborated with the gang, homicide, Motor Vehicle Administration and financial crime units, among others.
"I looked at [law enforcement] daily bulletins, which highlight the important crimes and problems that have happened in the last 24 hours, and made a redacted version for the private groups we worked with," Brown said. "I started the 10 a.m. conference call where each district and surrounding cities share information on cases that have happened in the last 24 hours. We also made bulletins, such as wanted bulletins, identification wanted, missing, BOLOs [Be on the lookout], etc. We tracked non-fatal stabbings and motor vehicle larcenies, shoplifting and certain suspects."
The internship also led to a connection at the agency where she someday hopes to work.
"I've been fortunate enough to develop a professional relationship with the FBI representative at the Boston Regional Intelligence Center and I have learned a lot from him," she said.
A major development for Brown during her internship occurred when she began noticing patterns in the reports. Her observations ended up helping the center with an investigation.
"My supervisor encouraged me to do a write-up, which led to it being published in the Law Enforcement Sensitive Daily, with my intelligence notes as well. Then, later, another incident with the same pattern was reported again. This time I started to get deeper into the research with our various databases and put together a timeline and mapping document with a suspect I had discovered," she said.
After collaborating with other analysts, she shared her findings with the financial crime unit.
"This was exciting enough, but then they sent me an email asking me to compile more information in a spreadsheet and share it back with them. It's so cool because I feel that I'm doing something of significance that will actually make a difference within the department," she said.
Anda Brown '24 previously interned at the Massachusetts State Police Crime Lab. On campus, she is a student-athlete on the field hockey team, and serves on both the Wheaton Events and Ceramics Club boards.