Junior conducts autoimmune disease research for NIH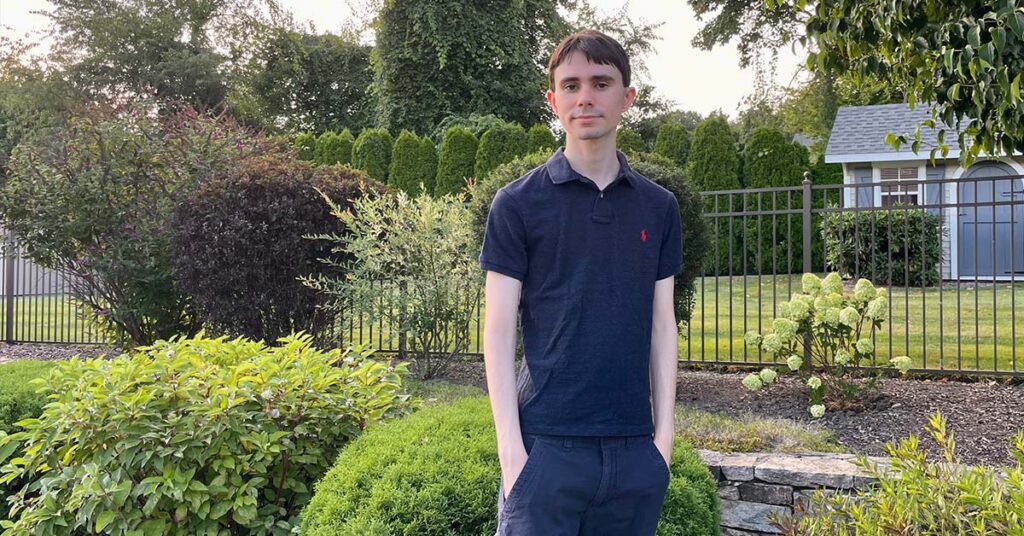 Alexander Burrows '24
Summer experience: National Institutes of Health
Supported by: Caroline C. Edwards '70 Current Use Internship Fund
Neuroscience major Alexander Burrows '24 spent his summer researching autoimmune diseases for the National Institutes of Health's (NIH's) All of Us Research Program. For this initiative, the agency is collecting and analyzing health data from more than one million people in the U.S. to accelerate research to treat and prevent disease.
Burrows first secured a summer internship with NIH last year, thanks to a chance encounter at a party with the executive director of the NIH Autoimmune Registry. After chatting about statistics and his interest in pursuing a career as a psychiatrist, the director offered him an internship with the agency in 2021. The experience was so successful that he decided to come back for an additional summer.
"This gives evidence to the importance of meeting new people and maintaining relationships," Burrows said.
In his role this summer, which was remote, Burrows focused on the Autoimmune Registry database, which seeks to improve predictive measures on autoimmune diseases and speed diagnosis time.
"Most of my work consisted of creating promotional newsletters for the Autoimmune Registry based on data in the NIH's All of Us database or in the Autoimmune Registry database. This entailed using knowledge of SQL [standard language for storing, manipulating and retrieving data in databases] to determine exactly what we needed at the time," Burrows said.
Some of the diseases he researched included autoimmune thrombocytopenic purpura—a disease characterized by excessive bleeding—and dual cases of rheumatoid arthritis and Sjögren's syndrome, which can cause the destruction of joints. He also created disease profiles for autoimmune diseases not yet listed on the registry website, collected data, and researched other autoimmune-based organizations as potential partners.
One of the disorders he found most intriguing is cold agglutinin disease.
"It causes the body to destroy red blood cells, especially whenever the patient becomes too cold. The difference between cold and warm agglutinin disease is that warm agglutinin disease is always active. Just looking into it, the cold variant sticks out to me because of how conditional the disease can be. It adds a new element of basic survival to people afflicted, so I have wondered how their lives must be and how to improve their condition," he said.
Burrows said disease research was his favorite part of the experience.
"When writing newsletters and profiles for obscure autoimmune disorders, you get to learn so much about conditions few know of. At the same time, writing SQL queries in All of Us or the ARI database sometimes feels like a puzzle preceding the satisfaction of learning statistics from the most comprehensive source there is. Learning about the number of adverse autoimmune conditions possible feels fascinating and enlightening," he said.
Burrows said the valuable experience gained in research methodology will prove helpful in his career goal to be a psychiatrist.
"Research projects are going to be a part of the educational process of entering the field. Even after using those skills as a prerequisite, the chances of conducting research as a practicing psychiatrist are high. These are skills that I am likely going to be using for the rest of my career, so it is good to learn them here," he said.
Alexander Burrows '24 is involved with the Pre-Health Society and serves as a member of the May Fellows Program.