John Sutyak '00 serving as NEWMAC president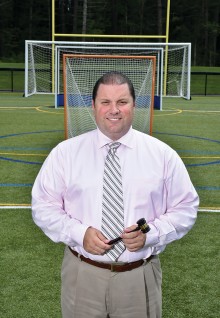 Wheaton Director of Athletics and Recreation John Sutyak '00 began serving a two-year term as the New England Women's and Men's Athletic Conference (NEWMAC) president on July 1, 2015, after completing two years as president-elect.
"It is an honor to rotate into the role of NEWMAC president. Over the past two years as president-elect, I have had the privilege to learn the ropes from [former president] Wellesley Director of Athletics Bridget Belgiovine, who is one of the finest athletic administrators in the business," said Sutyak. "I look forward to providing the same consistent leadership that she—and her predecessors—have provided over the last number of years."
In addition to carrying out his duties at Wheaton, Sutyak is helping transition the NEWMAC into sponsoring football in 2017, and guiding the conference through several other initiatives geared toward promoting the organization's strategic plan and core values throughout the next two years.
"This is an exciting time in the NEWMAC, as we are in the middle of executing our five-year strategic plan, in addition to gearing up for the launch of NEWMAC Football in the fall of 2017," said Sutyak. "We have a group of athletic administrators that is committed to making the NEWMAC one of the pre-eminent athletic conferences in NCAA Division III, and we look forward to evolving our conference in order to achieve this vision together."
Sutyak, who is the first former NEWMAC student-athlete to hold this position, is working with NEWMAC Executive Director Patrick B. Summers '94 and the league athletic directors and executive committee to achieve all of these goals.
"It's an exciting thing when you get to work with someone you respect and enjoy being around," said Summers. "I've had the fortune of knowing John for close to 20 years, first as a NEWMAC baseball student-athlete at Wheaton and then as an administrator at Yale, and now as the athletic director at Wheaton. What he has accomplished in a short time is something to be proud of, and his experience and dedication to Division III will serve him and the NEWMAC membership well. I believe the NEWMAC is in great hands as he takes over as president for the next two years."
Sutyak was named Wheaton's director of athletics and recreation in 2012 after serving as the department's interim director of athletics. He oversees a department that includes 21 men's and women's intercollegiate programs, 14 club sports programs, intramural sports, and general student, staff and faculty recreation. Additionally, Sutyak is the second director of athletics during the college's coeducational era, which began in 1988.