Jasmine Sewell '99 coordinates painting of Crutcher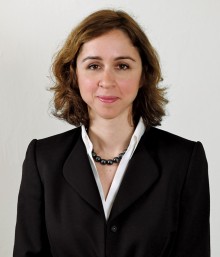 In celebration of his decade of leadership at Wheaton College, the college's Board of Trustees commissioned a portrait of President Ronald A. Crutcher, which is now displayed on campus in Park Hall.
Instrumental in helping to make this happen was Jasmine Sewell '99, founder of Sewell Fine Portraiture, LLC. Last December, the board turned to her to find the perfect artist for the job. Based in New York City, Sewell's company helps to connect those seeking to commission portraits with some of the world's leading portrait painters and sculptors.
"More than one hundred years ago, with the advent of photography, many people wondered whether painted portraits were outmoded," said Sewell. "Artists remain busy with commissions, however. Portraiture is still very much alive and well."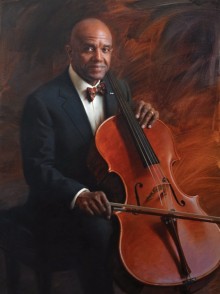 To prepare for the work, Sewell, who majored in art history, French and Italian at Wheaton, met with President Crutcher to view the portraits of past Wheaton presidents and to talk about his preferences in artistic style. He took an immediate liking to the work of James Tennison, a talented realist portrait and landscape painter, said Sewell.
Once Tennison was chosen, the painter and president spent time getting to know each other. Tennison read biographical information and watched videos of some of Crutcher's speeches. The artist toured the campus and had lunch with Sewell and the Crutchers at the Presidents' House, where all agreed that the president should be painted with his cello and wearing his trademark bow tie.
While much of portraiture today may be based on photography, Sewell said, "A painted portrait captures much more than a quick snapshot of an individual. During a sitting there will undoubtedly be interesting conversation between artist and sitter—a much-needed interlude in our overly technological existence."
In this case, the artist was treated to a beautiful cello concert as he took more than 800 photos of President Crutcher posing in Mary Lyon Hall. Tennison worked from a single photograph to produce a 40-inch x 30-inch portrait in oils, which is now among the collection of portraits of presidents displayed in Park Hall.
Sewell traces her passion for portraiture back to her days at Wheaton. "I took my first art history and studio art classes at Wheaton and by accident got into a field that combines both. Portraiture is the painter's ultimate challenge and, by its very nature, documents history."
The tradition of portraiture is not just alive—it's exciting, too. Sewell has worked with presidents, royalty, military leaders, and academics, to name just a few.
"I meet interesting individuals from all walks of life, and work with some of the greatest painters around. This makes each day different than the last and very exciting," she said. "When I was a student, never did it occur to me that I would have the opportunity to honor the president of my alma mater in this way. It was with pride and joy that I participated in this project."