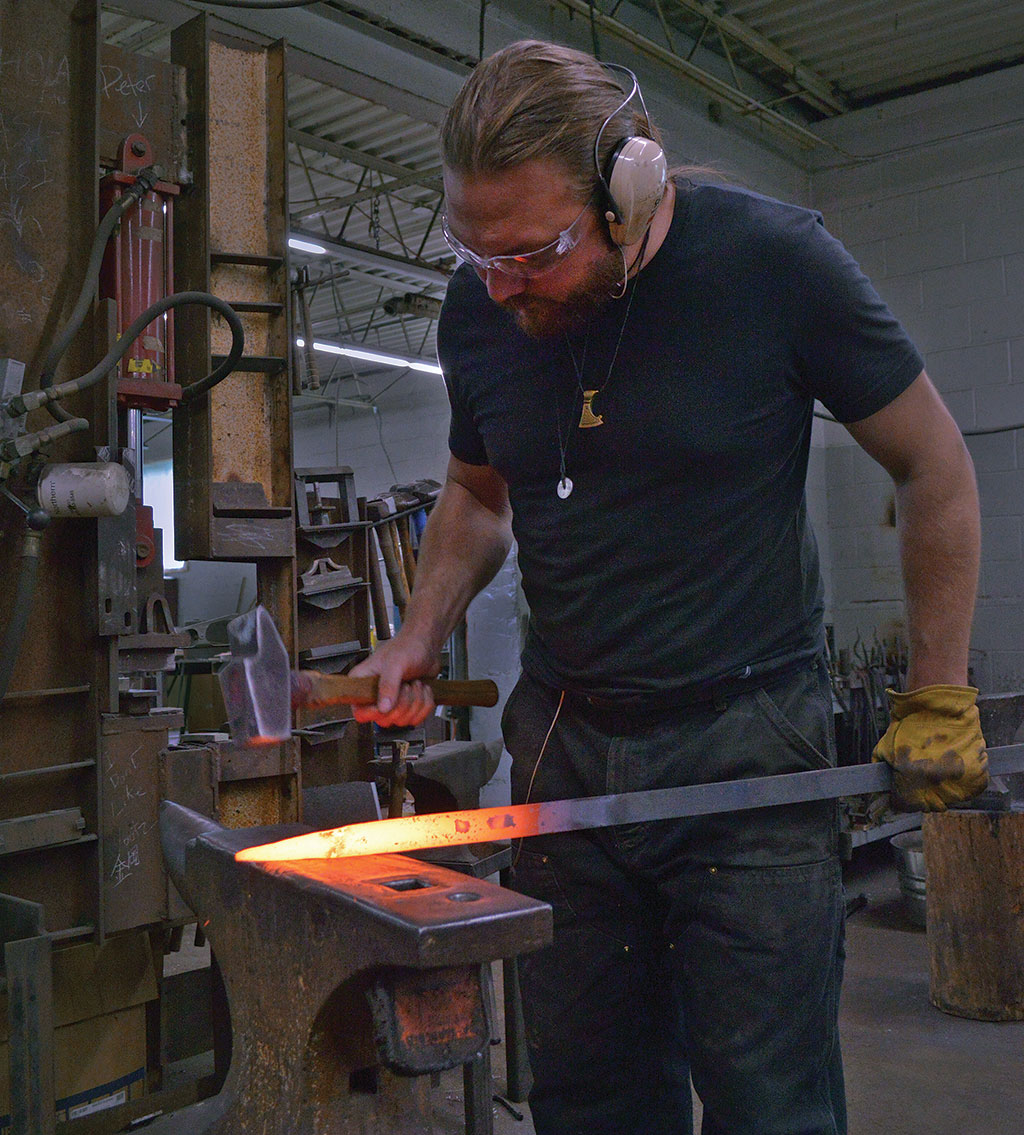 Jamie Lundell '02 forges niche as a blacksmith
Jamie Lundell's job description reads like it's from another era: blacksmith, armorer and sword fighter.
But the accomplished ironworker and 3D artist can also add modern terms like entrepreneur, instructor and reality TV star.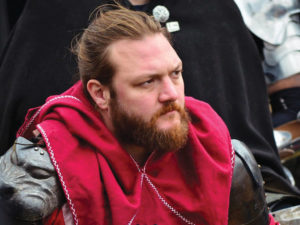 The Class of 2002 alumnus makes and sells custom hand-forged swords, knives and armor—carrying on a beloved traditional craft. Through his company, Dragon's Breath Forge, he and his business partners also teach blacksmithing to a growing number of students.
His mastery of blacksmithing has landed him on the History Channel's reality show "Forged in Fire," on the Roman Gladius episode, where he was named champion.
As a child, he loved making things. "I was interested in medieval knights, armor and swords," Lundell said. "My favorite GI Joes were the ones with swords."
At Wheaton, as a studio art major, he studied sculpture and technical theater, and discovered metalworking while taking a summer class at the School of the Museum of Fine Arts in Boston that focused on jewelry making.
"I fell in love with working with metal. I wanted to work bigger, with iron and steel, so I ended up getting grants from Wheaton to go and apprentice. This support allowed me to pursue my interest and focus on what I wanted to do."
He credits Tim Cunard, former studio art professor, and Professor of English Michael Drout for their ongoing encouragement.
"It was a real pleasure to watch Jamie realize that the more effort he put into mastering traditional craftsmanship, the more his imagination blossomed and came to life," Drout said. "I don't think a single person who knew Jamie at Wheaton is at all surprised that he has become such an accomplished artist: it was clear from the beginning."
Drout recalled a long conversation with Lundell on the meaning of the Old English word "wyrmfah" (decorated with serpents)—as used in the epic story of Beowulf—when used to describe a sword.
"He had a better idea of 'wyrmfah' than I did. One of the Saxon swords he created has a pattern etched on the blade that absolutely has to be what the author of Beowulf means by 'wyrmfah.' Scholarship meets art and the result is beauty," Drout said.
Indeed, as a founding member of Dragon's Breath Forge in Wolcott, Conn., Lundell strives for historical accuracy in his line of swords, knives and medieval weaponry.
He has a particular fascination with Viking history, and has studied museum pieces, source texts and lectures. As a member of the Society of Creative Anachronism—a historical re-creation group—he assumes a Viking persona during events and battles, and creates much of his own equipment.
The artist becomes poetic when talking about iron: "It is the heaviest element created in a star, everything heavier than iron is created in supernovas, the explosions that occur at the end of a star's life cycle. My swords, if cared for, could last for thousands of years. It's a way of extending my life through my work."