Introducing the Compass Curriculum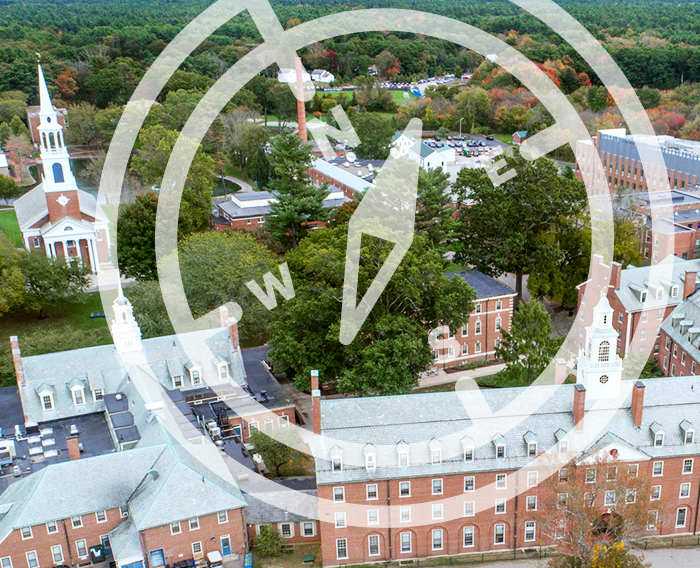 Updates to academic requirements will help students find direction, create paths to professional life
A Wheaton education is becoming even more personalized, as faculty this past spring approved curriculum updates that will support students in designing their own educational paths.
"The Compass Curriculum encourages students to figure out who they are and to create a more personalized pathway that can translate into their aspirations once they graduate, and that sets them up for success," Provost Renée White said. "The curriculum allows for exploration. It encourages risk-taking. It requires that students be able to explain what they're learning, how it connects, and how it relates to professional opportunities."
The updates, which take full effect with the Class of 2024, replace Wheaton's general education requirements with opportunities designed to challenge and engage students and build on Wheaton's strong history of preparing students for success (just six months after graduation, 97 percent of Wheaton alumni from the past five years were employed, enrolled in graduate school or engaged in meaningful fellowships, volunteer work or internships).
"The new curriculum provides the opportunity to meet many more students where they are when they arrive at Wheaton. It will help them forge paths that fit with their own interests and their own strengths, blending the breadth of a liberal arts education with preparation for life after college," said Associate Professor of Sociology Karen McCormack, who co-chaired the Curriculum Design Team and is co-chair of the Curriculum Implementation Team. "It honors the kind of risk-taking and intellectual curiosity that we hope our students bring to Wheaton or develop once they're here."
Compass builds on the strengths of Wheaton's Connections curriculum, White said.
"We remain committed to the Connections curriculum, starting with the First-Year Experience, where students will explore interesting questions from multiple disciplines, through LEAPS and the Mentored Academic Pathway," she said.
The curriculum updates reflect the work and investment of the entire Wheaton community. The Design Team spent the past year conducting student and alumni surveys, leading discussions and meeting with nearly every faculty member on campus, White said.
"The Compass Curriculum is representative of the collaboration among faculty, staff and students and heightens something that's really true at Wheaton—that everyone feels ownership and responsibility for learning and for encouraging a high level of excellence in our students," White said.
Curriculum requirements
The Compass Curriculum features four key elements required of every student:
Taught by faculty teams, the First-Year Experience (FYE) is the next evolution of the First-Year Seminar, a course designed to introduce students to the college experience, with small group discussions and a focus on exploring complex issues from multiple perspectives. The strength of the Connections program informed the design of this interdisciplinary, first-semester course.
The Sophomore Experience gives students earlier exposure to experiential learning and career exploration. It includes partnerships with alumni and community professionals and a required service or research project, internship, practicum or other out-of-class learning opportunity.
Every student must choose at least one major and meet coursework and experiential requirements for those programs. Students can also develop independent majors, choose minors and additional majors, follow pre-professional tracks (such as law and medicine) or pursue dual degrees in five subjects, including engineering and marketing.
Finally, every student will complete a Mentored Academic Pathway (MAP), meeting regularly with staff and faculty advisors to craft an educational plan, pull together and reflect on all of their experiences and connect these experiences to professional life.
Dean of Advising and Academic Success Steven Viveiros describes the MAP as a personal library or repository that tracks each student's educational experience, showing their progression and helping them to define a career path.
"Later on, when speaking to employers or in a fellowship interview, as they think about how to answer the 'tell me about yourself' question, they should have had time to reflect and provide evidence to support that answer, so they can speak confidently to who they are, what they've done and how they have utilized certain skills," he said.
In their first year at Wheaton, Viveiros said, students will work with advisors to decide the best approach to their education. Will they dive right in (like a student who's confident they want to pursue pre-med or sociology)? Will they explore a variety of areas to see what fits? Do they want to grow a specific skill set and develop a broad knowledge base? Do they want to ask and try to solve a big question, such as climate change?
"Ultimately, each student will have to pick a major and fulfill those requirements. But we want to make a stronger connection with them right at the outset," Viveiros said. "It's not just assuming they're interested in the sciences, so here's a checklist to follow; it's an understanding of what it would mean for them to pursue that area of study."
Optional honors programs
Along with the required elements, the Compass Curriculum introduces three honors programs that encourage students to expand their studies, and which will be noted on a student's final transcript.
Global Honors will be awarded to students who achieve advanced proficiency in a second language, take coursework that immerses them in other cultures and complete a study abroad program or global project.
An Eliza Wheaton Arts and Sciences Scholar will be a student who takes courses across eight areas of study, including the natural and social sciences, creative arts, and humanities, with at least one course that examines structures of power and inequality.
A Taylor and Lane Social Justice Scholar will be a student who take interdisciplinary courses that address issues of social justice, inclusion and diversity and complete a related project or internship. (This program is named for the first two black women to graduate from Wheaton, Alice Taylor '50 and Nadine Lane '50.)
The three honors programs will help students to define their educational paths.
"Every student will be invited to pursue an honors program, representing a significant shift from the traditional model of honors," McCormack said. "We are saying to students that we know they are capable of great things and that their high school experience will not define who they are or can be here at Wheaton."
Another change that encourages students to take on academic challenges is a new grade/pass/fail option, in which a student may identify a target grade for a course. If by the end of the course they fall below that target but still pass the class, the grade will be recorded as a "pass" and will not impact their overall GPA. Students may do this once a semester until they reach a maximum of three "pass" grades.
Professional connections
Another optional element to the Compass Curriculum is the LEAPS certificate program. Short for Liberal Education And Professional Success, a LEAPS is a set of classes and experiences focused on professional skills. The LEAPS will be overseen by both a faculty advisor and alumni or professional mentor. LEAPS may include new half-credit courses taught by qualified faculty, staff or alumni, that help students build key skills, such as data analysis, design or communications.
"By creating the LEAPS, we're giving students both the language and the tools to put classes and experiences together, in ways that are career-focused but not narrowly vocational," McCormack said.
Though the changes don't go into effect until fall 2020, members of the current classes may be able to opt in to some of the new programs, such as the LEAPS, half-credit courses and honors designations, McCormack said.
"The Wheaton approach is already very student-centered. These curriculum changes will help level it up," Viveiros said. "It's us being more in tune with the needs of each student that is coming in the door."
Making self-reflection a key part of the curriculum is an important part of meeting those needs, he said.
"Advising is teaching," Viveiros said. "The subject is the student, and their own learning of themselves and of how they engage with the world and what they can provide."