Interdisciplinary collaboration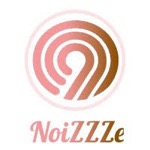 Computer science, business students work together to design and pitch new tech products
Science Center Room 1315 recently looked a little like "Shark Tank," the reality television show in which entrepreneurs pitch their ideas to a panel of (usually snarky) potential investors.
But the judges in this room, mock "angel" investors, were much nicer, and the Wheaton College students making the pitches were not solely focused on gaining funding for their new products but on something even more valuable—successful collaboration and the acquisition and application of interdisciplinary skills that will serve them a lifetime.
Fall semester courses "Startup 1.0," taught by Professor of Computer Science Mark LeBlanc, and "Marketing," taught by Visiting Instructor of Business and Management Kenneth Bray, engaged 47 students across disciplines to design, develop and pitch new tech products while learning problem-solving, trend research, marketing, communications, teamwork and technical skills (like building working product models using Wheaton's 3D printer).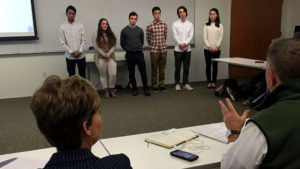 "I taught 'Startup 1.0' two years ago. I knew then—and appreciate more fully now—how we software-types do not understand the product development and marketing sides of building new tech-centric products," LeBlanc said. "So, I reached out to Ken Bray and he offered to try an in-parallel type collaboration, in which his students in 'Marketing' would 'work' for and with the product development groups from my class, in particular in writing a short business brief."
Bray welcomed the chance to connect the two classes on a semester-long project, mirroring the way that students can expect to work in the business world: "The major project in all of the marketing classes is to create a marketing plan for a business or organization in the local area. So, this was not a new requirement, but a change in direction to work with a student group as a 'client.' I was very excited and pleased with the results," said Bray, who along with LeBlanc on Monday, December 3, got to see the completed projects presented in a room packed with staff and other faculty, who were invited to watch presentations from five teams.
Each of the teams (with students from both classes) was charged with creating a fictional company to build prototype apps and products focusing on elder care and/or health care. The resulting products were:
Nutrove, a web app that allows customers to count macronutrients and monitor nutrition with the click of button
NoiZZZe, a customizable white noise emitter to aid with sleep
BuzzSafe, a portable device that can be worn and vibrates to alert those who might not be able to hear a regular fire alarm
Smart Pill Box, which dispenses medicine according to programmed instructions, tracks the intake patterns of medicines and shares the information with family members
GluGo2.0 (a second version of an app that students started in 2016), which aims to provide an accurate and personalized glucose prediction algorithm for Type 1 diabetes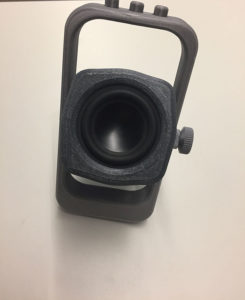 Eammon Littler '20, a physics and computer science double major and a member of the NoiZZZe team, created the design and 3D-print model and assembled the speaker, which he originally designed for an optics contest on Instructables.com, where he is a finalist. He also contributed to programming the white noise generation.
"The best part about this collaboration was receiving feedback from a non-computer scientist point of view," Littler said. "We tend to be caught up in a way of thinking. The change in perspective really helped us progress into a more full-fledged product. Being able to better coordinate plans and communicate clearly are all things I needed to work on, which this project has helped me with."
NoiZZZe team member John Yish '20, a business and management major, took the lead on marketing and advertising ideas and played a key role in editing and approving the final marketing plan to submit to Bray for approval, before it was given to the product team.
"I really enjoyed this. I've never done a project where I had to branch out to another class and team up with them. I really liked talking with the development group about what they wanted to do and how they wanted to achieve it," Yish said. "Also, it was very interesting to see the design grow from the basic Raspberry Pi circuit board connected to a single speaker on day one all the way up to what was presented.
"The most valuable thing that I learned during this process is the true power of teamwork and how it will play a role in my future career, whatever that may be," he said. "Getting one group that has a business and economics background together with another group that has a background in coding, designing and 3D printing can really create something great."
Michael Allen, a computer science major who was the main developer for BuzzSafe's machine learning aspect, valued the fact that although groups were working collaboratively, independence was still maintained. "They allowed us to pursue our own objectives and added input only where they felt they needed to," he said.
"One thing that I learned from this project is how to debrief a person who is out of the loop and doesn't know the terminology I'm using. I feel like the ability to help people understand something technical without insulting their intelligence is something I will use a lot when talking with others," Allen noted.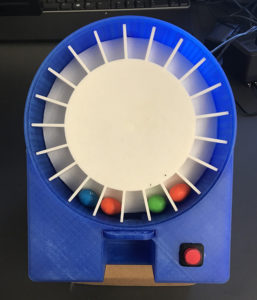 Kexin Zhen '19, a sociology and computer science double major, who led the team that developed the Smart Pill Box, echoed the sentiment: "The most valuable experience was learning how to work with others for long periods of time and how to communicate with a group."
After each team presented their ideas using PowerPoint, mock angel investors Lisa Gavigan, director of career services at the Filene Center, and Mike Caslin, president of the Global Center for Social Entrepreneurship Network, added to the real-world experience by asking challenging questions about target audience, the allotment of funding and competition in the marketplace.
"The pitches surpassed all of my expectations. They were well thought out and addressed issues ranging from differentiating their products from their competitors to testing of prototypes and proportional scaling," Gavigan said. "And the students' presentations were professional, articulate and on-point."
The experience will serve them well judging by recent research on what employers say they are looking for in new hires, including a report by the Association of American Colleges and Universities, "Fulfilling the American Dream: Liberal Education and the Future of Work." (pdf)
"It is documented that employers want to hire liberal arts students, and we stand on solid ground at Wheaton when providing those core strengths—communications, critical thinking, analysis. However, we do our students a disservice if we only allow them to 'be students,'" LeBlanc said. "Employers want high-energy, forward-thinking, innovative team members. This course is a direct tilt to giving our students opportunities that they will experience in the real world while they are students. A student grounded in the liberal arts who has real innovation experiences is what I submit to be the 'new' liberal arts student."
At least two of the teams are considering additional work with Caslin and Wheaton's WinHub to ramp up their prototype production and flesh out their business models, said LeBlanc, who plans to continue to seek out these types of course collaborations.
"And for the teams with ideas that don't move forward (and even for those who might), we all have a better handle on answering the question that employers want to know: 'What is the last thing you built that failed?'"