Inspiring environmental stewardship through education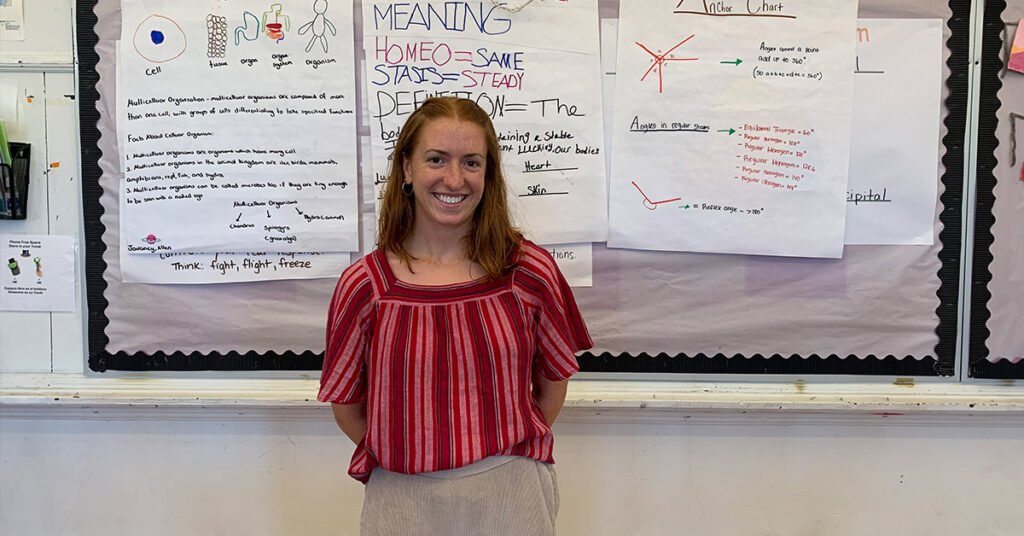 Delia MacLaughlin '22 to teach ninth grade biology in The Bronx
A desire to connect young students with the natural world has compelled Delia MacLaughlin '22 to make her mark as an educator. The recent graduate will soon share her passion for the environment as a biology teacher at the Bronx School for Law, Government and Justice through Teach For America.
"I applied to Teach For America with a desire to leverage the hope and joy in young people to help inspire sustainable, just change for the world," MacLaughlin said. "This position pragmatically supports my belief that all students can individually connect with the natural world through classroom exposure to STEM. I wanted to take on the responsibility of cultivating that experience equitably for my students."
MacLaughlin, a sociology and environmental science double major, initially aspired to become an environmental scientist during her first year at Wheaton. But over time, she developed an interest in the role of humans in natural systems—an area she explored in various capacities while a student on campus.
For her capstone project for the Taylor and Lane Scholars program—an honor she obtained for academic research on social justice-related issues—she focused on food justice, which explores the right to grow, sell and eat healthy food. She served as president of WheaFarm and Farm House, and as the inaugural Chair of the Student Government Association Sustainability Board. She also interned at Seaside Sustainability, Novel Hand and The Farmlink Project.
MacLaughlin further rounded out her experience as an advising preceptor and peer coach, a Wheaton Athletic Mentor, and a member of the swimming and diving team.
Now she is excited to harness the sum of her experiences in her new Teach For America role while working toward a master's degree in teaching.
"I am most looking forward to connecting with the Bronx School for Law, Government and Justice community through rich classroom discussion, relationship building and participating in co-curricular experiences that help to shape who my students are—just as my fabulous Wheaton mentors and professors did for me," she said.
Looking forward, MacLaughlin said she could see herself in New York City-area schools forever, or perhaps she will move across the country to work on an organic farm in California.
"As long as my work encourages me to continue asking big questions, learning and having a positive impact on others, then my goals are met," she said.