'I'm doing what museums are supposed to do'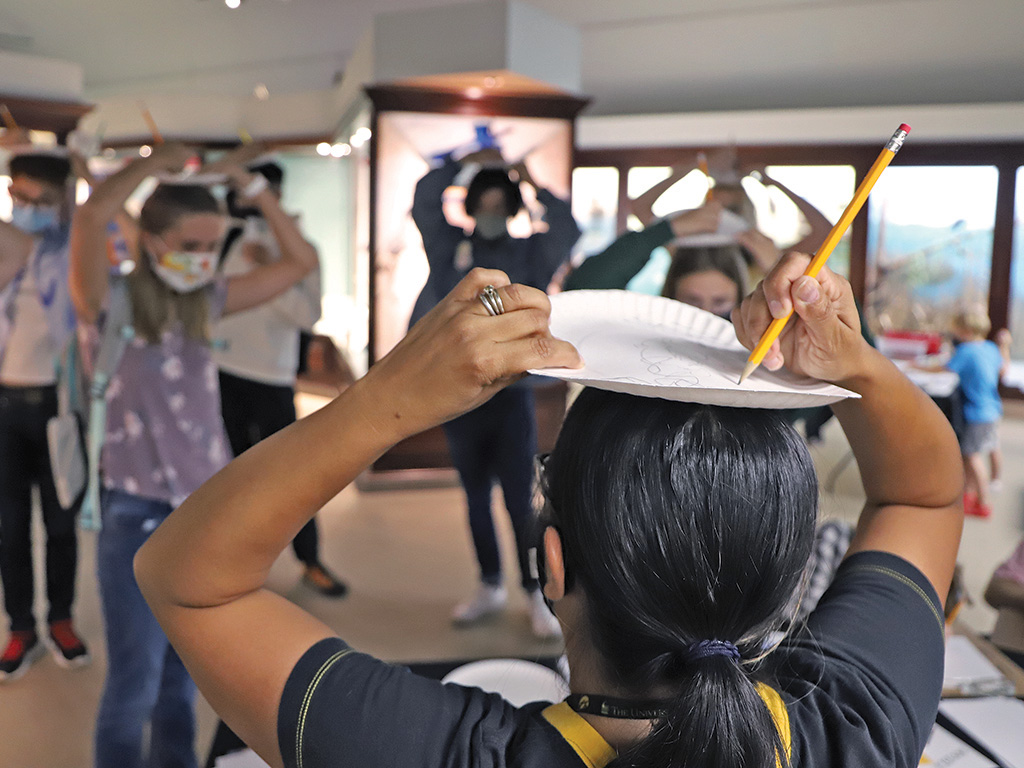 Carolina Kaufman '98 broadens narratives at the Pentacrest Museums
When Carolina Kaufman '98 was asked to organize a commemoration of the 100th anniversary of women's suffrage at the Pentacrest Museums at the University of Iowa, her first thought was on how to shine a light on as many perspectives as possible.
Kaufman—the museums' director of education and engagement—soon recruited a group of women to participate in a thought-provoking webinar series that examined the untold stories of Black, Latino, Middle Eastern and Indigenous women during the suffrage movement.
"As a woman of color, I have a mission in my work in museums to broaden the narratives, representations and interpretations of our collections and the stories they tell. Through this series, audiences heard narratives that were often undercut or eliminated from history books," said Kaufman, who double majored in studio art and art history at Wheaton
and studied abroad in Rome.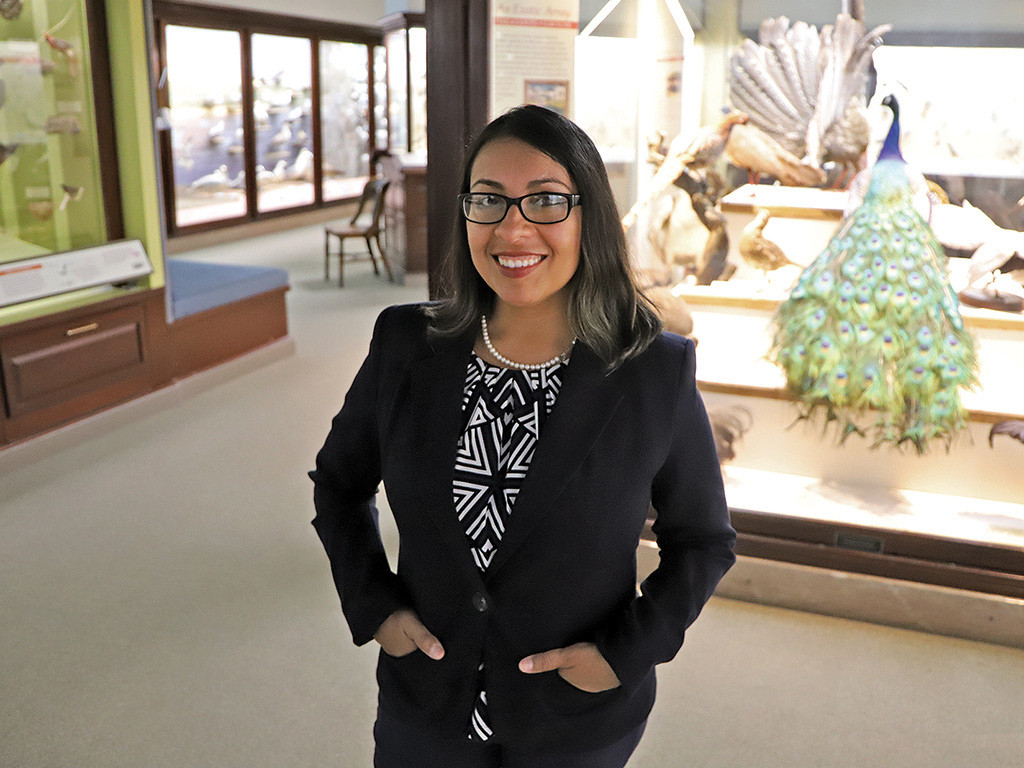 The suffrage webinar series is just one example of how Kaufman carries out her mission to make museum programs and exhibitions more inclusive, accessible and participatory, according to Liz Crooks, the director of Pentacrest Museums, which includes the Old Capitol Museum and the Museum of Natural History in Iowa City, Iowa.
"The women's suffrage webinar series perfectly captures Carolina's passion for what she does and the connections she makes. Diversity, equity and inclusion are at the core of everything she does," Crooks said. "The enthusiasm Carolina brings to the position makes her invaluable. She shares the stories of our collections, programs and exhibits with passion and our audiences benefit greatly."
Since August 2020, Kaufman has been overseeing engagement and programs for the 130,000 objects at the Pentacrest Museums. From training the college docent team to engaging and inspiring audiences during onsite and virtual tours—she thrives at community building and forging cross-disciplinary partnerships.
At Wheaton, an art history survey course taught by a team of professors, including Ann Murray, Roberta Olson, Elizabeth Calil Zarur and Evelyn Staudinger, opened Kaufman's eyes to a career in the museum field.
"Art history courses transported me like a time traveler to a whole new area of investigation and ideas. I especially loved being challenged to look more closely, ask more questions, reflect more deeply and build a greater understanding of the human experience throughout time," Kaufman said.
Professor David Sanford—who taught Indian art—was a great model on diversity, equity and inclusion, Kaufman said.
Her advisor, Professor of Visual Art Claudia Fieo, taught her the benefits of taking risks and making mistakes for better artistic results.
"Her coaching still influences the way I approach ideation, experimentation, collaboration, project management and creativity in my work in museums," she said.
Post-graduation, Kaufman has served in multiple mission-driven organizations. She spent more than 10 years with the Computer Museum and MIT Media Lab's Computer Clubhouse Network, an after-school program that connects underserved young people with technology.
After earning her master's degree in technology in education and interpretation at the Harvard Graduate School of Education, she combined her interests in museums, youth development and the humanities to take on technology-focused roles at the Art Institute of Chicago and the Field Museum.
"Nonprofit institutions ended up being the work settings I enjoyed the most because they were human-centered, and in the business to help transform lives," she said.
Kaufman harnessed her technology skills on day one when she joined the Pentacrest Museums. She came into this position working remotely, which required her to take time to reflect, assess, adapt and strategize to best engage audiences at a time when it was not safe to gather in person due to COVID-19 protocols.
As pandemic restrictions have lifted, Kaufman is spending more time on hybrid experiences developing online experiences while also engaging with the public in museum galleries, and the university's undergraduate students, on the latest collections or interactive exhibits.
"The role of engagement invites me to consider who our audiences and partners are, learn what matters to them, and find creative ways that ideas and stories from the collection can be used to inspire and evoke curiosity," she said.
Kaufman's work has included inviting community members across the state to showcase their personal collections at the Museum of Natural History.
"The response has been tremendous. The 'My Collections' exhibition program has showcased people of all ages and professions who collect Mr. Potato Heads, vintage ceramic chickens, 19th- and 20th-century sheet music, Pez, geodes and butter pat dishes," Kaufman said. "It's wonderful to bring these stories to the forefront and let audiences know that their views on collecting and collections matter."
She also leads the Student Advisory Board, which aims to strengthen relationships between students and the museums. In September 2021, the board organized a fall open house that attracted hundreds of undergraduate students.
Kaufman played an important role leading grant-funded programming called "Connected for Life: Object-based Digital Programming to Foster Active Minds for Senior Living Communities," which serves older adults and senior living communities in Iowa. Through her Old Capitol Roundtable and Exhibition Spotlight program series, Kaufman also invited a diverse group of experts to explore current topics.
She believes that designing inclusive cross-disciplinary engagement is not a solo mission, but requires collaboration so that everyone can contribute.
"If I can end my day knowing that we are going in a direction of inclusive museum experiences in and beyond the museum space, I know I'm doing what museums are supposed to do. It's an incredibly stimulating and creative position I love coming to every day," she said.