Insight. Experience. Connections.
Interns spend summer learning on the job, exploring careers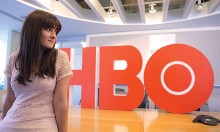 Before her summer internship with HBO's Creative Services Department in New York City, Tyler Vendetti '15 didn't quite know how to answer those who asked about her plans after Wheaton.
"I would mumble something about scriptwriting or directing before quickly changing the subject out of sheer panic," Vendetti said.
With a double major in English and film and new media studies, the senior has built a résumé full of writing and marketing positions, but she wasn't sure how to combine those skills with her interest in video production.
Then last fall, Chris Spencer P'14, executive vice president of creative services at HBO, gave a talk at Wheaton, and Vendetti saw an opportunity to gain that missing experience. With the help of the staff at the Filene Center for Academic Advising and Career Services, she applied to and was granted a summer internship at HBO.
Once in New York, Vendetti quickly got to work, assisting producers on shoots for television promos and events, generating new marketing ideas, editing footage, and participating with other interns in a research project dedicated to improving HBO's employer brand and talent acquisition strategies.
"Coming out of it, I can say that I've developed a clearer sense of direction about my future and what I want to do," Vendetti said of her internship.
Overall, 200 Wheaton students received support from Wheaton and Career Services at the Filene Center to participate in internships, research or independent projects this summer. Here are a few of their stories.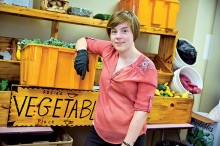 Danielle Dickinson '17
Hometown: New Hartford, Conn.
Major: Women's and gender studies
Interned at: Rosie's Place, a nonprofit women's shelter in Boston
How she found it: "I went to the Career Services center and met with a counselor, and we talked about my interests and how I wanted to mix service with a career in policy, and she suggested Rosie's Place."
What she did there: "I did a little of everything—I worked in the food pantry, taught technology classes, tutored in English as a second language, and worked in the public policy department, working closely with candidate forums to have candidates for upcoming elections come speak to the guests to give them more power and political awareness."
What she learned: "I learned about the different tiers of social justice, how you can use direct service to deal with the aftermath of larger issues such as homelessness, benefit cuts, domestic violence and drug addiction. I learned about the role of public policy and government in enacting change. And I learned never to assume anything about anyone. The guests come from so many places—some have doctoral degrees, some were from different countries and could speak different languages, some had amazing artistic and musical talents. They reminded me that we all have troubles and trials in our lives, and it's how you deal with those that makes you who you are."
Looking ahead: "I plan to attend law school and become a lawyer and deal with women's issues such as domestic violence and sexual assault. I also want to work with public policy, and this has given me a better idea of how public policy works."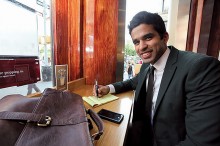 Dimitri Rodrigo '15
Hometown: Singapore
Major: Economics
Interned at: Samuel French Inc., a theater publishing company in New York City
How he found it: "I was studying abroad in London and there was a bookshop near my dorm, and they were hiring for positions. I went in and asked if I could intern instead, and I started working with their accounts department and helped them implement a new accounting system. I met the CFO of Samuel French in London and approached her to see if I could do an internship in New York over the summer."
What he did there: "Working directly with the CFO, my role was to help upper-level management make strategic decisions to remove waste and optimize the company's finance and other business functions. I also set up a competitor analysis for them, looking at other companies in the industry, and I helped them review historical data so they could better analyze their performance."
What he learned: "What's most beneficial about this internship is that I got to use all my past experiences and knowledge, practicing what I've already learned. I did an internship with Ernst and Young's consultancy arm, where I learned to map processes, look for solutions and solve business issues. During my internship with the London Stock Exchange, I worked on the research side, learning to analyze competitors in the industry and provide information to make strategic decisions. Academically, a lot of things have come into play. I took a class called 'Organizational Behavior,' and this summer I got to use the knowledge I learned from that, giving advice on best practices for human resource management."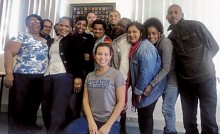 Ana Brenes Coto '15
Hometown: Monteverde, Costa Rica
Major: Sociology
Interned at: Wola Nani, a nonprofit organization supporting people with HIV and AIDS, in Cape Town, South Africa
How she found it: "I conducted an independent exploratory study on HIV/AIDS under the guidance of Professor Hyun Kim. In the process, I learned about organizations that work to alleviate the burden of HIV in different places in the world."
What she did there: "One of my first weeks at Wola Nani, the executive director asked me to write a short article for a local newspaper on a new product. A few days later she told me that she liked my style of writing and asked me if I could write grant proposals. I felt prepared for doing this because I took the class 'Writing in Professional Contexts,' where we practiced proposal writing extensively. By the end of my time at Wola Nani, I had finished two $50,000 proposals that, if they go through, will fund multiple departments at the organization."
Sharing ideas: "I was asked by the executive director to brainstorm ideas for products Wola Nani could sell. I suggested the manufacturing of earrings, which require little work and materials. I have been making jewelry for 12 years and knew this from personal experience. One of my co-workers had experience working with beads, and I have experience working with wire. Together we created over 20 models of earrings and trained a handful of HIV-positive crafters who will be ready to fulfill future orders by clients."
What she learned: "I learned the importance of field research in the context of academic studying. I conducted an independent study on HIV and learned invaluable information, but from the comfort of the library or my dorm, I was missing out on key aspects that I wouldn't have had the chance to see unless I had traveled all the way there. When looking at the epidemic of HIV, I had never been particularly interested in the role of stigma, and now after coming back from Cape Town, I cannot imagine any change happening unless we take stigma into account, especially in the context of the poor, uneducated population."
Looking ahead: "My hope in life is to work for an organization like UNAIDS [the Joint United Nations Programme on HIV and AIDS ] or the World Health Organization in the field of global public health. I would like to work in the development of effective programs and policies that will help balance out global wealth inequality in order to improve the quality of life of the poorest communities in the world."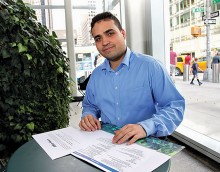 Antonio Sosa '15
Hometown: New York, N.Y.
Major: Economics
Interned at: Epix, a cable and satellite TV network and video-on-demand service operated by Viacom, in New York City
What he did there: "As a finance intern, my job was to help allocate the yearly corporate budget to make sure that every department had the necessary funds to complete their tasks. I helped create an 'end-of-year' monthly binder that showed Epix's revenues, assets and other financial information. No day was exactly the same. I could be preparing financial statements or analyzing accounting policies for licensing agreements. Licensing agreements (for movies) are policies that allow a cable network to show a film."
The learning curve: "Figuring out ways to incorporate my economics major into my finance analyst position, I was always being exposed to new concepts and ideas. If I didn't understand a topic, I had to read up on it and make sure I had a basic understanding before approaching my manager."
Other lessons: "I learned a lot of accounting principles and developed a better understanding of the connections between accounting and finance. I brushed up on my Excel skills and learned different techniques for distilling financial information. I also developed a better understanding of the movie business. I never knew the processes involved for a company like Epix to acquire a movie—it involves lots of negotiations with producers, actors and directors. This experience made me value the time and effort that goes into creating a film."
Looking ahead: "This internship definitely opened new doors for me in an industry I didn't see as a viable option. When people think of finance, they usually think of hedge funds and financial analysts. However, I am beginning to see how finance can be used in all sorts of industries to minimize cost and create more revenue."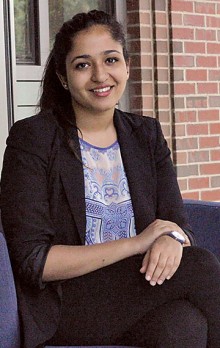 Avi Anshika '16
Hometown: New Delhi, India
Major: Psychology, with a concentration in
public health
Interned at: Employees' State Insurance Corporation (ESIC) Dispensary in Faridabad, India
How she found it: "I had been exposed to ESIC through my mother, who is a doctor. ESIC dispensaries are small health clinics registered under the Labor and Employment Ministry of India that provide free medical benefits to industrial laborers and their dependents. This summer I conducted a research study designed with the help of Professor Michael Berg at one of these dispensaries."
What she did there: "I studied the influence of income and religiosity on an individual's health locus of control. At work, I would usually sit in the waiting room or the outpatient department and approach patients and visitors to see if they were willing to be interviewed. By the end of July, I had managed to record over 200 interviews."
What she learned: "I learned more about my country and its people. It was definitely challenging to work in an atmosphere that had poor infrastructure, especially when the weather was so hot. But I learned to thrive in the momentum that I built with the conversations with the patients I interviewed. I learned to build up a strong work ethic and to maintain a drive to keep learning, keep interviewing and not make work monotonous."
Looking ahead: "For now, I want to continue doing research, especially research that is interdisciplinary. This summer experience was the first where I incorporated all of my academic interests in one study (psychology, economics and public health). Now that I'm back, Professor Berg and I will start analyzing the data and see if we find something interesting. I know that I eventually want to work in India. But before I do, there is a lot I want to learn at Wheaton to make the most of my time here as a student."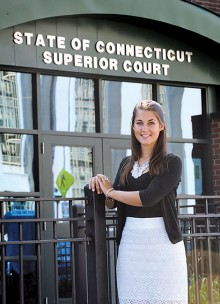 Rayne McGlamery '15
Hometown: Hartford, Conn.
Major: Psychology
Interned at: Children's Law Center in
Hartford, Conn.
How she found it: "I've known families that have been involved in court cases, and I know that representing the child is an important part of it. That's what drove me to this internship opportunity. My grandmother works at University of Connecticut Law School, and through one of her colleagues, a family lawyer, I got the name of the law center and learned that they have interns every summer."
What she did there: "I maintained all the case folders, updated all the case notes, and was in contact with doctors and mental health professionals about psychological evaluations. In addition, the law center has a free legal advice hotline, and I was in charge of that—getting all the callers' information, giving advice and referring them to resources, such as how to get a guardian for their children. I also got to sit in on meetings with parents and go on home and school visits with the kids, and I was invited to attend court sessions."
What she learned: "The whole thing has been a learning process, just learning all the logistics of the legal world. I think the most important thing is seeing how the children are represented, because these attorneys have to deal with their parents and their parents' lawyers—they're really faced with a lot and have to balance all that and maintain what is best for the child. I didn't really know the process and how difficult it can be, but also how good the work ends up being for the children."
Looking ahead: "I plan to attend graduate school and pursue a master's degree in mental health counseling and eventually pursue either a doctorate of psychology or in counseling psychology. This was inspired by my work at the Children's Law Center and the need for adequate mental health counseling demonstrated by many of the clients."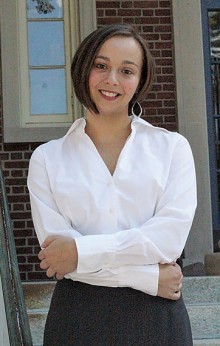 Susan Skaza '15
Hometown: Ludlow, Mass.
Major: Political science
Interned with: U.S. Department of Homeland Security's Office of Public Affairs in Washington, D.C.
Wheaton connections: "Amanda DeGroff '12 was in the same office as me; however, we were on different teams. It was my first insight into how helpful connections can be. On my first day, Amanda mentioned at the group meeting that I am attending her alma mater, and that not only helped me make a good first impression but also opened the way for me to get to know everyone else in the office. There was a guy who worked there whose wife had graduated from Wheaton and was family friends with one of my classmates."
What she did there: "The team I was working with was in the midst of a transition period; there were supposed to be four federal employees on the team, but there were only two. So, the other intern and I were asked to do a number of projects. One of our core responsibilities was to help keep the department's website up to date. To do this we created and edited pages, fixed broken links and designed new layouts for Web pages. We also did a lot of office work and had to create a lot of spreadsheets."
What she learned: "My boss asked me to create a 'family tree' of all Web teams across the department. This required me to make calls to the Web managers from all of the department's components, including FEMA, the Coast Guard, Customs and Border Protection, Immigration and Customs Enforcement, and a few others. It was fun and interesting to call all these people and get a better understanding of how departments within the government were organized. Also, I had never really done much with the Web, so it was interesting to learn what it takes to keep a website current."
Looking ahead: "My interests lie in national security, communications, editing and publishing. That being said, I think I'd like to work in the public affairs office of a government agency to merge my two main interests. This internship gave me further insight into myself and what I might want to do as a career in the future, and also provided me with many useful skills for whatever I decide to do."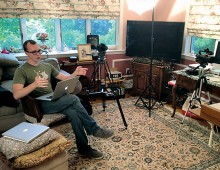 Geoffrey Cook '16
Hometown: Andover, Mass.
Major: Film and new media studies
Interned with: Treble Chorus of New England, based in Andover, Mass.
How he found it: "My mom used to be the head of the board for Treble Chorus, and she sent out a message trying to find out if anyone may have had film jobs for me. The founder of My Own Voice, who is now head of the board, offered me this job. They wanted some sort of promotional material, so I took it as an opportunity to make a documentary and at the same time be able to provide the kind of promotional material they wanted."
What he did there: "I'm making a documentary about My Own Voice, one of the chorus' subgroups. The group gives kids and young adults who have special needs the opportunity to sing and be part of a chorus and eventually perform at concerts and events with other choirs. I started filming back in March, and spent the early part of the summer editing. I hope to have a final documentary as well as a two-minute version the group can use as a promotional video. My plan right now, though it may change, is to put the documentary up on YouTube for anybody to view."
How he made it work: "They only have one practice a week, which took place during the school year. Every Tuesday, after I was done with all my commitments, I would drive up to my hometown and do about two hours of filming before getting back to Wheaton by around 9 p.m. I also filmed a couple of concerts, and then I had to do interviews. I had never done interviews before, so I had to look up a lot of material beforehand."
What he learned: "I learned that as long as you have a project that you're passionate about and that you want to get out there, you're going to be willing to do a lot of hard work. That's certainly true for me. I have a very close relationship with this project; I grew up with Asperger's, so I know what it feels like to be the odd one out, and I do understand where some of them are coming from. The kids in the choir, when they're at practice, they're running around, laughing and having a huge amount of fun. They don't have to worry about the fact that they have special needs, and that's a beautiful thing. Everybody deserves to find their artistic calling and to be able to share that with the world."
By the Numbers
Summer 2014 internship funding

| Quantity | Internship |
| --- | --- |
| 120 | Balfour, Community and Trustee Scholarships |
| 56 | Wheaton Fellowships |
| 12 | Davis International Fellowships |
| 4 | Adams Professional Development Fellowships |
| 4 | Porter Cleveland Fellowships |
| 4 | Robert College Fellowships |