Insider's view of filmmaking
Clenet Verdi-Rose '04 will screen his award-winning film Sand Castles in Ellison Lecture Hall on Monday, October 6 at 5 p.m. Prior to the film viewing, he will lead a discussion in which he explains how he made it as an independent filmmaker in a field increasingly as preoccupied with entrepreneurship as it is with artistic talent.
Sand Castles is about a boy named Noah and his dysfunctional family, who struggle when younger, mute sister, Lauren, returns home after having been kidnapped for the past decade. The film was written by Verdi-Rose's friend Jordan Hodges, who also stars in the movie.
Assistant Professor of Filmmaking Patrick Johnson invited Verdi-Rose back to campus to offer students an insider's view to the industry. "Sand Castles features an emotionally powerful story and has been doing incredibly well on the film festival circuit," said Johnson.
In addition to the screening, the filmmaker will be on campus during the day to participate in a variety of other events, co-sponsored by the Filene Center for Academic Advising and Career Services and supported by the Evelyn Danzig Haas '39 Visiting Artists Program.
Verdi-Rose has studied international film at Lorezo de' Medici, the Italian International Institute, in Florence, Italy. His mother is a Wheaton graduate, Class of 1976.
After graduating from Wheaton, he moved to Boston, where he produced a motivational documentary called True Guts, about the difficulties of living with Crohn's Disease.
He then moved to Los Angeles, working as an assistant director on Meet Bill (2007), Green Street Hooligans 2 (2009) and Little Birds (2011), among other films. All in all, Verdi-Rose has served as an assistant director for over 30 feature films. In 2012, he directed his first feature film, Skyler, which won a first place award in the Los Angeles Art-House Film Festival.
Johnson in particular is interested in Verdi-Rose talking to students about how he marketed himself in the modern film industry.
"The days of making a quality film and having it bought outright for large sums of money just don't exist any longer," Johnson said. "To succeed as an independent filmmaker in the current climate, you need to think like both an artist and an entrepreneur."
According to Johnson, it is easy to become discouraged in the film industry, and he hopes that Verdi-Rose will be able to put getting into the industry in context for Wheaton students.
The professor emphasized the importance of striking a balance between cultivating one's audience and one's art of visual storytelling. "That's why I'm so excited to have Clenet come to Wheaton," he said. "He's demonstrating how to strike that balance."—Adam Kilduff '16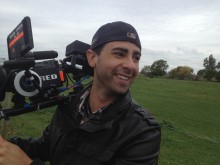 Filmmaker Clenet Verdi-Rose '04