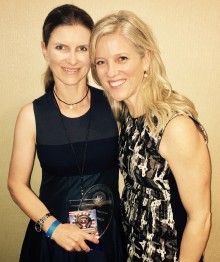 Jennifer Field '00 attended the 2017 All American Inaugural Ball in Washington, D.C. on January 19, as an honoree receiving an All American Hero award for her contributions to the field of brain health and research. Field is founder and president of The J Field Foundation, which raises funds to support people who have had brain injuries.
Field attended the ball with close friend and fellow alumna Carolyn Johnstone Grierer '96 as well as her mother, Joanne Field (co-author of her memoir), and her uncle and his fiancée. She called the experience "one of the most thrilling nights of my life" and shared some photos from the event, as well as the following write-up, which she crafted for her local newspaper, the Monadnock Ledger-Transcript:
I was invited to the All American Inaugural Ball on Jan. 19, 2017, honoring heroes, in Washington, D.C. I was so thrilled to be selected as one of their honored guests. The focus of the ball this year was in the field of brain health and research. Understanding and enhancing brain function is a bold new frontier.

Part of the invitation read,

'We are proud to honor a few individuals who have dedicated their lives to educating, inspiring and motivating others to make the most of their brains and their lives.'

Driving in to the event, we passed the Capitol, all lit up in the darkness, looking very majestic. I began to feel so humbled, realizing this was such an incredible honor. I was about to be presented with a hero award for my work with traumatic brain injury.

I arrived at the Hyatt Regency Capitol Hill, and was immediately overwhelmed by the amount of people and the long lines. Thank goodness I was met almost immediately by my handler, SueAnne, and whisked away to a VIP room. I felt I was in a dream, because there I was, with Buzz Aldrin and Oliver North. Soon we were being given instructions on what would happen and how to make our way through the crowd to the stage. Before I knew it, there I was holding hands with Kate Ortman, also an honoree, making my way though hundreds of people to the stage.

As I stood there, on the stage, waiting for my name to be called, I had that similar rush of excitement that I used to feel as I rode into the ring as an equestrian competitor. I was about to be honored by Alvaro Fernandez, and I truly felt that I had won the blue ribbon.

That was one of the most thrilling nights of my life, and I will never forget it. I want to thank everyone who contributed to and gave me this wonderful moment.