Sports apparel business owner plays with ideas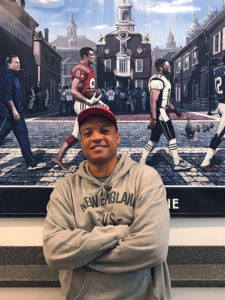 Mahlon Williams '95 always had a knack for business.
As a child, when money was tight, he and his siblings sold hats and scarves (that his grandmother crocheted) door to door and at flea markets in his hometown of Chapel Hill, N.C. At Wheaton, he majored in economics, and then built a successful career as a stock broker on Wall Street in New York City and later at Fidelity Investments in Boston.
Yet, despite his success, something was missing.
"I was confident in my ability to hustle, make money and find a void in the marketplace, but I wasn't using the creativity I had," Williams said.
He briefly owned a record label, but although he worked with recognized talent, he felt a calling to create. Around that time, Williams started coming up with lighthearted design concepts that resonate with the true Boston sports fan. (A love of sports is in his family. His father was a professional football player for the Atlanta Falcons. Also, at Wheaton, Williams played on the men's basketball team.)
With help from artists to realize his vision, Williams put these designs on clothing and did what he does best: used his power of persuasion to make sales.
"I worked in a suit and tie during the day as a regional vice president for Fidelity, and by night I hit the streets in jeans and hooded sweatshirt hocking T-shirts," he said.
I Love Boston Sports was born. As an entrepreneur, Williams is tapping into his business acumen while flexing his creative muscles.
The business has found its customer niche, and success has followed. Williams now has four retail locations in the Boston area.
The company has provided apparel to Sports Authority (before it went out of business) and sold clothing to T.J. Maxx, Marshalls and Olympia Sports. I Love Boston Sports shirts have been worn on national television, including on "Saturday Night Live," ESPN and "Good Morning America."
He credits courses with economics professors John Miller and John Gildea for helping him to get where he is today.
Professor Miller taught Williams in "Macroeconomic Theory" and in his senior seminar on economics.
"Mahlon was a passionate participant in our policy debates in senior seminar, weighing in regularly on issues from reforming Social Security to education reform to trade policy," recalled Miller,who remains in touch with him.
Williams said he learned to take chances, creatively, at Wheaton. During his freshman year, he took a theater class with David Fox and fell in love with theater and ended up minoring in it.
"Being at Wheaton was a safe environment for me to cultivate things I had an interest in, and incubate that fire inside me," Williams said.