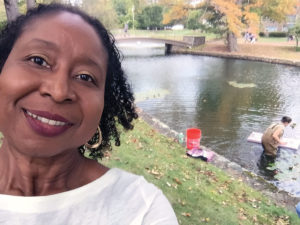 On a sunny September day, Charlotte Middleton '18 stands waist deep in Peacock Pond—not far from the Cowduck sculpture she created in 2016. One by one, she sews handmade flower blossoms onto floating lily pads (96 of them). From the shoreline, her smartphone alarm goes off. She wades over, saying, "Oh, that's just my alarm reminding me to eat."
A student in Assistant Professor of Art Kelly Goff's "Public Art" class in fall 2017, Middleton was so engrossed in creating her assigned project that she needed to be reminded to eat.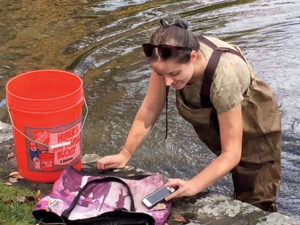 Now, that is passion and dedication!
I saw both each time I popped over to the Mars Arts and Humanities art studio through the fall semester to see what the students were up to in this experimental class. They were always hammering, sawing, cutting, making and figuring out how to overcome the latest assignment challenge—be it something within their control (time management) or not (another Nor'easter).
And the most beautiful part? The Wheaton community got to see the results of their efforts as they appeared all over campus as public art out in the open on the pond, hidden in plain sight in trees, framing pathways to athletic fields and elsewhere.
It was fascinating to watch from the first day of class when the students sat around a table in the art studio, looking over the syllabus, all smiles, talking about their encounters with public art as viewers to the very end as they became the creators and experienced unexpected lessons that went well beyond the classroom.
Check out our cover story for a peek inside the process and to see the scope of the work. Also read about the passion and dedication (for work and Wheaton) of the alumni who are profiled in our feature stories—Yale University Senior Fellow Elaine Dezenski '92, new trustee board chair Janet Lindholm Lebovitz '72 and incoming Alumni Association President Joshua Bauchner '95.