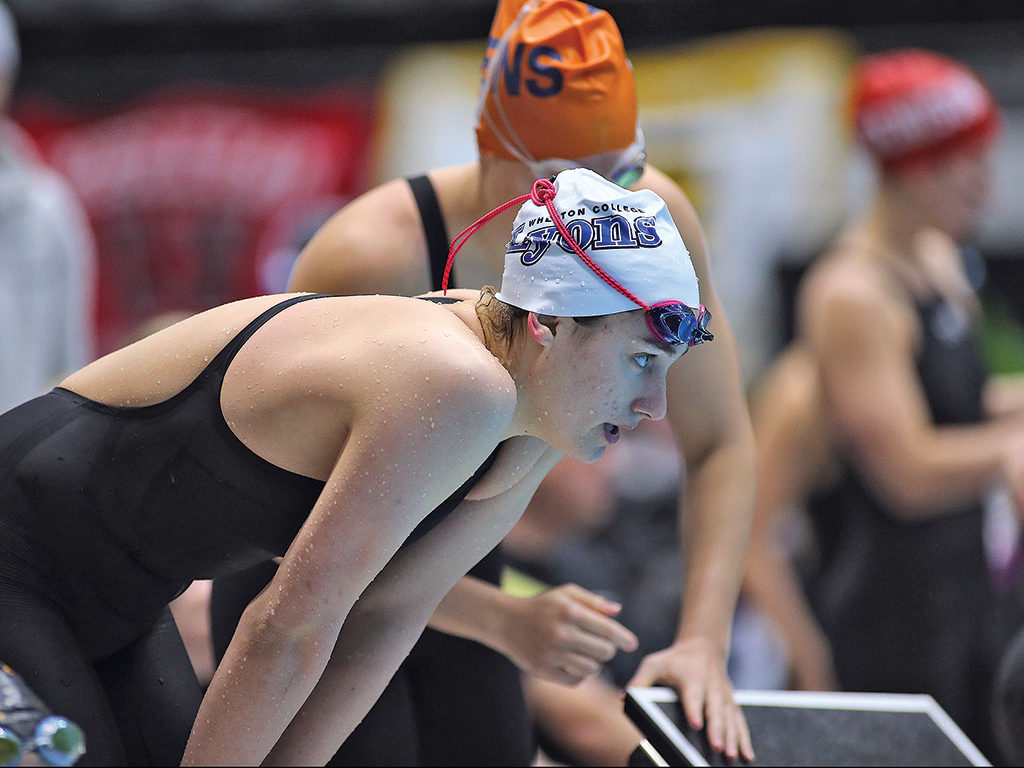 Lydia DaCorte '21 named Swimmer of the Year
As a first-grader learning to swim, Lydia DaCorte '21 didn't even want to get into the pool. Now, she is an award-winning student-athlete on the Wheaton swimming and diving team.
"I was so scared to get into the water that I clung to my dad on the bleachers while I watched all the kids kick back and forth with kickboards," she recently recalled. "Eventually I got the courage up to jump in the pool."
Courage, hard work and successful time management has taken the business and management major a long way from her start. In February, she was named 2018–19 Swimmer of the Year by the New England Women's and Men's Athletic Conference (NEWMAC) during the final ceremony of the NEWMAC championship. As a freshman at Wheaton, she also was named NEWMAC Rookie of the Year.
"I feel very honored. My freshman year, I had no idea that they even presented such awards, so when my name was called, I was very surprised and very confused as to what was going on," DaCorte said. "Being named Swimmer of the Year is extremely surreal, and I, again, feel very honored and privileged to have been presented with that award. My teammate Jenna Hayden, who graduated last year, received this award the two years before me, which makes this extra special."
At the NEWMAC championship in Worcester, Mass., DaCorte finished first in three individual events, taking the top spot in the 500 freestyle (4:53.52), 400 individual medley (4:26.78) and 1,650 free (16:58.20). She broke the meet record in the 500 freestyle. She also ended the championships by breaking three Wheaton school records in the 500, 1,000 and 1,650 freestyles. In March, she competed in the NCAA Swimming and Diving Championships in Greensboro, N.C., earning her second All-American honor.
In addition to being on the swimming and diving team, DaCorte is the treasurer of the Student Business Association and has been a Reunion volunteer and orientation assistant. Last summer, she had an internship with the Friends of Acadia, a nonprofit in her hometown of Bar Harbor, Maine. She assisted with events and fundraising, which was valuable experience in preparing for her career goal of becoming an event planner and someday starting her own company.
So, what's the secret to balancing pursuit of excellence in the classroom as well as in athletic realm?
"If I have a secret, then I am unaware of said secret," she said. "To me there is a pretty good balance between being a student and an athlete. Having a busy schedule works really well for me because I have to figure out when to do all my schoolwork, get enough sleep, be at the pool and be at the gym. There really isn't much time for procrastination of any sort. While doing schoolwork and at practices, I always give my 100 percent best effort and attitude. I work very hard at everything I do, which I think pays off greatly in the long run."
"A huge reason I came to Wheaton was because of the swim team. I was able to see the environment I would be immersed in daily and I immediately felt like I was a part of a family when I wasn't even on the team yet," DaCorte said. "Our team has contributed to my educational experience and goals at Wheaton because there is endless love and support. My teammates and coaches push me to be the best that I can be, in and out of the pool."
During the awards ceremony where she was named Swimmer of the Year, her coach also received an award. For the third consecutive season, swimming and diving head coach Barrett Roberts '07 was named Women's Swimming Coach of the Year. He earned the honor after leading the Lyons to a second-place finish, three All-Conference relays and four individual All-Conference awards.