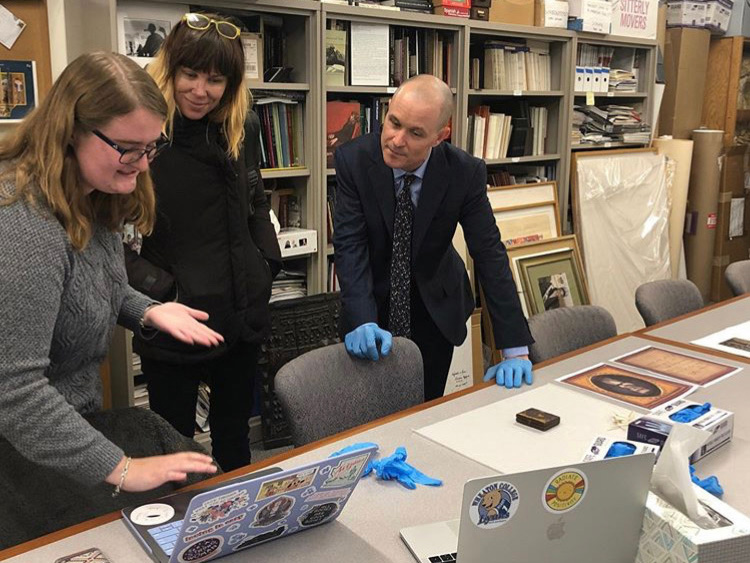 Collection assistant Zoë Garrett '22 uncovers the stories behind old portraits
Behind every old photograph is a story—one that Zoë Garrett '22 works tirelessly to tell.
Garrett, who serves as an assistant in Wheaton's Permanent Collection, investigates the stories behind 19th century portraits, called daguerreotypes, helping to shed light on forgotten lives.
Through her research in the course "Introduction to Museum Studies" during the fall 2019 semester, she pieced together the identity and story of a biracial man who fought in the Civil War. (She obtained his daguerreotype from the Permanent Collection.)
"He is Jeremiah Wade, a Civil War veteran who passed as white his whole life in order to fight in the war. Black men were not allowed to fight until slavery was abolished, but he wanted to fight earlier, so he was able to pass as white because of his brown hair and blue eyes, and thus fight in the Civil War," Garrett explained.
Unearthing this morsel of history brings life to events of the past, offering a deeper and richer perspective of times long ago, she said.
"I think of this research as a great way to learn about history. It allows one to care about it, rather than just memorize it," said Garrett, an anthropology major at Wheaton.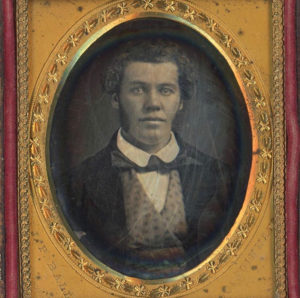 Garrett's enthusiasm for provenance research is contagious, said Leah Niederstadt, associate professor of museum studies and curator of the Permanent Collection.
As a collections assistant, Garrett has learned how to take inventory of collection objects, a process that includes completing paperwork; researching objects, artists and donors; and creating or updating paper and electronic records for objects. Now she is focusing her work on researching other daguerreotypes that have been loaned to the Permanent Collection.
"Zoë stands out for her willingness to chase down any lead, no matter how small or tenuous and no matter how long it might take to do so," Niederstadt said. "When others may experience frustration at a lack of progress and give up, Zoë continues to search, trying different spellings of names and striving to confirm relationships between people through multiple and diverse sources."
In the case of the daguerreotype of Jeremiah Wade, Niederstadt said she did not think it would be possible to identify the man; but Garrett was able to make the case that he was the neighbor of Maggie F. Dills, a woman listed on the handwritten note hidden inside the daguerreotype's case. (Her research attracted the interest of the executive director of Mass Humanities, Brian Boyles, who visited Garrett at the Permanent Collection this past fall.)
Garrett said her work in the Permanent Collection has helped prepare her for a career after Wheaton.
"Working in the collection has sparked so many new passions for me. I have learned vital researching and problem-solving skills that—no matter what field I go into next—will surely help me in the future," she said.
In addition to her work in the Permanent Collection, Garrett is a preceptor; treasurer of Boosting Alcohol Consciousness (BAC); and house manager of Tulip House, a theme house focused on preventing and healing from interpersonal violence.