If I had a million dollars …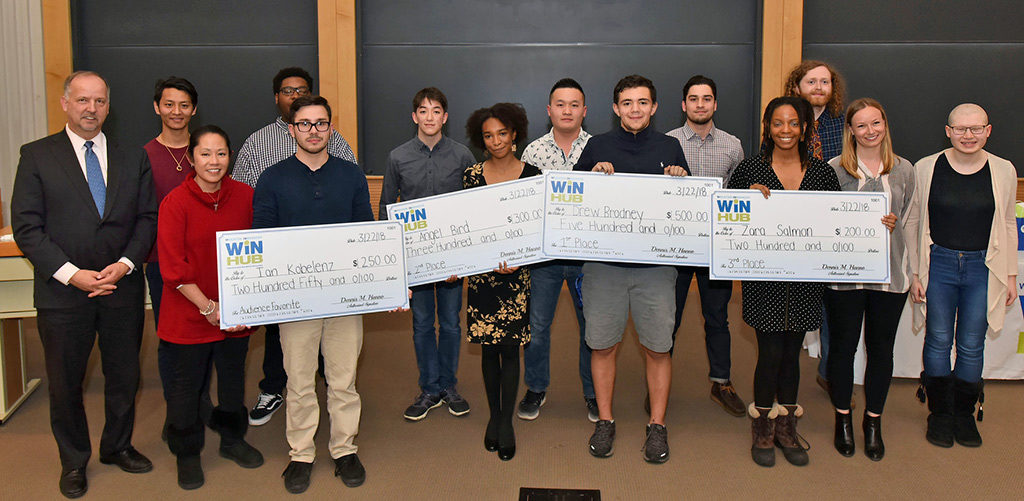 Pitching innovative ideas for cash prizes
What would you do to improve the world, if you had $1 million?
It's a question that has many possible answers, which students proved by offering a range of ideas—promoting financial literacy among college students, creating a workshop for upcycling, and closing the health gap for people with limited means, to name a few—at a pitch competition sponsored by the WiN Hub on Thursday, March 22.
"The purpose of the competition is to give students the opportunity to develop the ability to effectively and engagingly communicate their business idea to a broad audience," said Courtney Wilson, the college's social entrepreneur-in-residence who also served as the emcee for the event.
Nine students presented three-minute pitches to a panel of judges—President Dennis M. Hanno, tech entrepreneur Kathleen O'Neil, social entrepreneur Heather Rotman '17 and Emily Wanderer, chief operating officer of the Social Enterprise Greenhouse in Providence, R.I.—who lobbed questions at each presenter.
After all the social innovation ideas were aired, the panel selected Drew Brodney '21 as the first-place winner for his plan to develop an organization that will assist teachers in successfully serving special needs students.
Angel Bird '21 scored the $300 second-place prize for her proposal to launch an Uber-like service to transport college students for healthcare; Zara Salmon '18 won the $200 third-place award for her plan to open a plant-based cafe and community garden; and Ian Kobelenz '20 was voted the "people's favorite," winning $250 for his idea to recycle and sell carbon dioxide.
Of course, the competition does not mark the finish line for any of the students.
"I intend to get a few seminars active and continue to improve the plan," Brodney said of his goals. "I would also like a developed website for the organization, which I know is viable."
Salmon, who will be graduating in May with a double major in English and political science, intends to keep working, too, on her proposal and on her skills. She is an intern with the Global Center for Social Entrepreneurship Network (GCSEN), which partners with the college on the Wheaton Institute for Social Entrepreneurship program.
"The goal of the internship is essentially one-on-one mentoring with Professor Mike Caslin in order to further develop a business idea," she said. "I've been learning a lot about the reality of what I need to actually make my idea a reality. And through time and patience, it's most definitely doable."
The WiN Hub enables Wheaton students to explore their inner entrepreneur, with the goal being that Wheaton students leave campus with the confidence and competence to launch their own social entrepreneurship venture.  In addition to pitch competitions, the hub offers a variety of programming, from personal branding workshops, a student business showcase, one-on-one coaching, and alumni mentorship.