Hundreds give back to Pay It Forward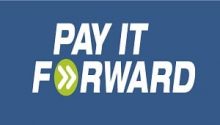 Wheaton College's Pay It Forward Day Challenge was a resounding success, with 580 alumnae/i, family and friends raising $230,000 for today's students and faculty.
The giving challenge took place from April 24 to 28 in honor of Pay It Forward Day, an international day of philanthropy that encourages acts of kindness. Wheaton supporters surpassed the challenge's original goal, 500 donors in five days—securing an additional $50,000 from two anonymous contributors.
"We are grateful for the philanthropy of our two anonymous challengers and for the enthusiasm and support of the Wheaton community. The essence of Pay It Forward Day is so important and to know that our alumnae/i, parents, faculty and staff stepped forward in these numbers is very exciting," said Amy Laprey, Wheaton Fund director.
There is still time to pay it forward by making a donation to the 2016-2017 Wheaton Fund, she said.
"We invite all alumnae/i to continue to demonstrate their support of today's students by giving through the Wheaton Fund. Participation—your gift combined with that of others—is a powerful way to further the college's academic programs, student activities, internship opportunities and much more," she said.