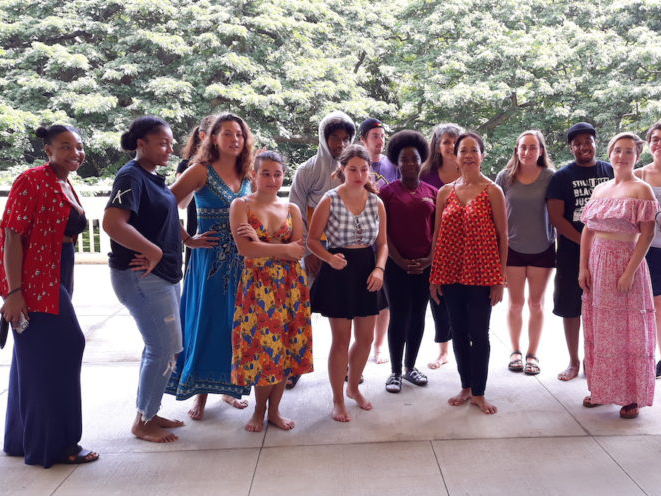 Wheaton offering courses in Puerto Rico, Florida
Wheaton students will get the opportunity to study and experience other U.S. cities and cultures through two faculty-led domestic programs planned this year.
A short-term summer course in Ponce, Puerto Rico, led by Professor of Anthropology M. Gabriela Torres, will focus on post-Hurricane Maria reconstruction and gender. A semester-long program offering four courses in Miami scheduled for fall 2019, led by Professor of Sociology Hyun Kim and Professor of Hispanic Studies Montserrat Pérez-Toribio, will explore transnational activism.
These programs are part of a broader Wheaton initiative funded by a $500,000 Mellon Foundation grant aimed at promoting the humanities in education. Through a diverse range of programs, including these new offerings, the grant's mission is to strengthen, promote and defend the humanities' contributions to diverse and democratic societies.
Nancy Kendrick, professor of philosophy and director of the grant, said the ultimate goal is for students and faculty to think about why studying the humanities through painting, music, dance, literature, religion, etc., really matters, and what it means to engage in learning in an active and experiential way.
"It's a wonderful challenge for us in the humanities to see how what we're doing creates flourishing life and strong democratic societies," Kendrick said.
She added: "The courses offer such a unique opportunity for students because they are not simply going to another university in another city. The students are with Wheaton faculty and developing what the program is going to be."
Last year, the Mellon Foundation grant funded a short-term study away program in New York City, led by Associate Professor of Music Delvyn Case and Visiting Assistant Professor of German Laura Bohn Case, and a full semester in Hawaii, led by music professors Matthew Allen and Julie Searles.
Professor Allen said their program incorporated integrative and experiential learning. In addition to reading works by contemporary historians, linguists, poets and anthropologists, the students conducted research out in the field. They interviewed and interacted with a wide range of people, including artists, professors, activists, dancers, musicians and experts on Hawaiian history.
"One of the experiences that I think affected the students most profoundly was having their superficial conceptions of Hawaii as a tourist paradise confronted by the reality of life in Hawaii for normal working people. Running a close second was their learning from local experts about the stresses that are placed on the environment by the intensity of the tourist economy," Allen said.
One student of the program, Anesu Makufa '20, said the program offered ample opportunities to engage with the humanities and the arts. He said he made lifelong friends when learning about and engaging in the spoken word poetry community on the island.
"One particular musical journey I will not soon forget was the introduction of the steel guitar. We studied its significance and history in Hawaii, and we were able to attend a few concerts where the instrument was used," he said. "Being introduced to a new instrument is almost like being introduced to a new language. You can almost understand what is being said, but it is appreciating how it is conveyed that is important."
This summer, students in the Puerto Rico course will conduct field research in public health, while learning about long-term natural disaster management through an approach that leverages the ability of humanistic inquiry to better understand larger social and cultural processes, according to Torres.
Students will collaborate with local public intellectuals, activists and artists in areas impacted by Hurricane Maria in 2017.
"Literature and art—modern, classical, western and that originating from the global south—are filled with gendered narratives of hardship, endurance, tragedy and trials of overcoming disaster, that are now strikingly present in the lives of Puerto Ricans," Torres said. "Through crafting life stories in context, the course asks students to interrogate what lies at the core of the human will to survive and thrive amidst hardship."
For the Miami program, professors Kim and Perez-Toribio said the goal is to link the humanities with social sciences, and integrating academic activity with internships and activism. The professors are partnering with multiple cultural and educational organizations, including The Wolfsonian in the historic Art Deco District of South Beach, which houses more than 180,000 books, paintings, manuscripts, maps and furniture, as well as The Bass, a contemporary art museum in Miami Beach.
Students will get to interact and talk with local artists, writers, scholars and activists. Also, Kim says some of the four courses offered to Wheaton students will be open to the public, so the program will contribute to building public humanities and public learning.
"Our program will offer a rare opportunity for Wheaton students to study and experience firsthand how 'America' looks and feels from a southern, coastal, tropical, peninsular city, so that they may acquire a new understanding of the linguistic, cultural, social and political diversity in America," Kim said.
"It is our hope that our Wheaton students will come to understand how the arts and the humanities are the hidden but essential part of our cultures and that a liberal arts curriculum such as ours is not only exciting, but also empowering and eye-opening. This domestic semester-away program, we hope, will awaken us to become more fully human, in every sense of the word, and to be more interested in others and in our world," she said.