Housing director empowers New York tenants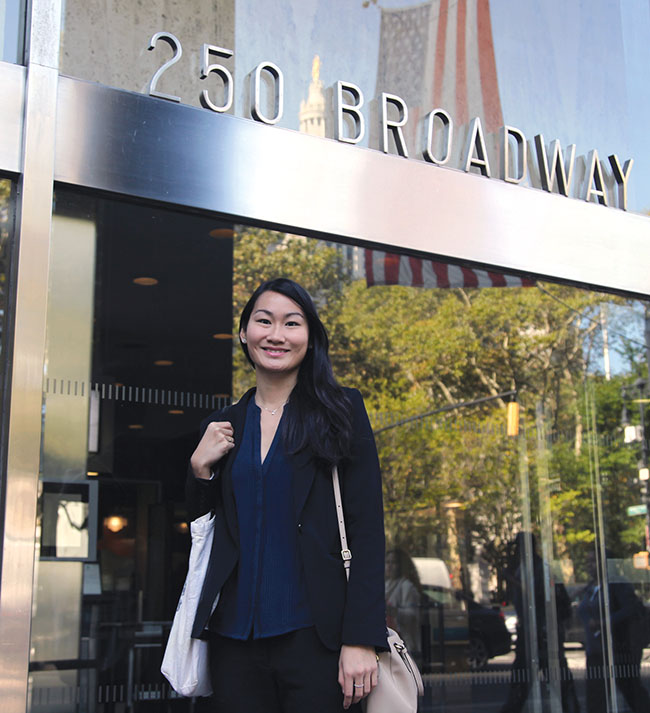 A New Yorker born and raised in Chinatown, English major Persephone Tan '09 was fresh out of Wheaton College trying to decide her next move when she met NYC Council Member Margaret Chin at an immigration rally in Washington, D.C., in 2010. After talking with her and expressing her passion for issues related to the Asian American community, Tan realized that she wanted a career in public service.
Chin hired her to be a community organizer and policy analyst. Since then, Tan—who speaks three dialects of Chinese—has worked her way up to become the council member's director of housing, assisting the 168,000 constituents Chin represents in Lower Manhattan with housing-related issues.
"My focus is on the Chinese population," Tan says. "Since I grew up in Chinatown, I speak the language and understand the community needs and the cultural norms. There are some Chinese-speaking tenants who know when they are being harassed by the landlord and there are those, English-speaking or not, who are just unaware of what their tenants' rights are."
With her hard-earned title in hand, Tan is honing her skills even further as a newly selected member of the Coro Immigrant Civic Leadership Program in New York. This fall, she began an intensive study on how to be an effective leader and better the community in which she works. We caught up with Tan to talk to her about her job and the fellowship, and how Wheaton played a part in it all.
A fast-paced day: "Office hours are 10 to 6, but we almost never leave on time. My workday is all about problem solving. I have a lot of meetings with developers and housing advocates—anyone who wants to see more affordable housing in our district. I'm also working directly with constituents. For example, for one of my current cases, I'm organizing tenants in a building that has a slumlord. He's trying to buy out the rent-stabilized tenants and harass non-English speakers. My job is to find ways to educate tenants so they know about their rights."
Saying yes to Coro: "To apply, you have to propose a community project that you plan to implement during your time in the program, which is six to nine months. My project is to organize a community resource fair so that my constituents know about the free resources that are available to them. A lot of people don't know about existing resources, and the groups that get taken advantage of the most are non-English speakers and immigrants. That's why I applied. I want to help."
Finding balance: "My work can be a 24-hour job if I let it. I have a BlackBerry and I'm always on the clock. But I'm learning to take care of myself, too. If there's a real emergency, [our constituents] have to call 911. Still, sometimes there are extreme emergencies we can't control. During Hurricane Sandy, our whole district was blacked out. I was working 12- to 15-hour days for two weeks straight, seven days a week. Non-English speakers don't know what the process is for getting help. My role is to help them communicate and gain access."
Wheaton matters: "As a student, I was part of the Student Government Association as chair of the Intercultural Board. I was studying abroad in Beijing during my junior year and ran for office from overseas. One of my big initiatives as chair was planning an activities fair to give Intercultural Board groups a chance to promote themselves and spread awareness of their efforts on campus. It's funny—what I'm doing in Coro is the big real-life version of Wheaton."
Best advice: "With your career, I've learned it's good to take risks. If an opportunity arises to do something, take it. You don't get many chances to say yes. After graduation, everyone is still trying to figure out what to do and how to get ahead. It's OK if you don't have all the answers."