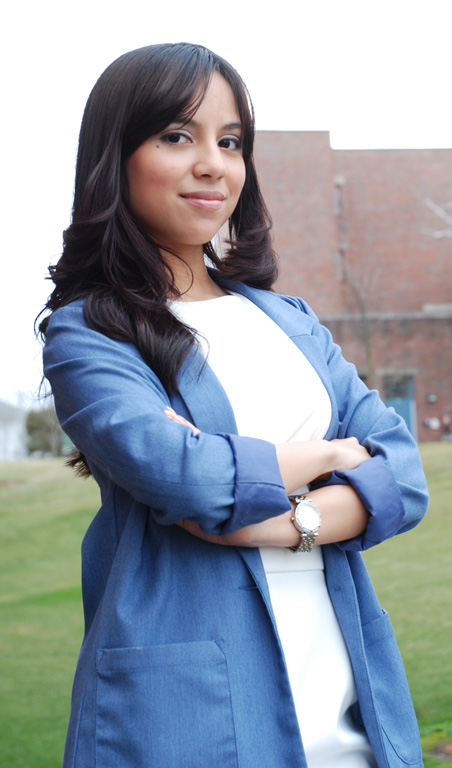 Growing up in Chelsea, Mass., Judith Garcia '13 played in an empty lot littered with used syringes and trash.
"My friends and I called it 'War Zone,'" she says. It was not an optimal playground, but it was better than the city's parks, which were ruled by gangs, she says. "At an early age, I wondered why we had no access to small things like parks."
That wonder grew into a passion for community service, culminating in her recent election to Chelsea's City Council, representing the Fifth District. With virtually zero political experience, she was the top vote-getter in the city's primary (unseating the incumbent) and won the general election with 60 percent of the vote.
It was a historic election, with Latinos taking six of the 11 council seats, balancing what had historically been a mostly non-Latino council in a predominantly Latino city. Garcia was pleased with the outcome.
"We want to make sure this new leadership is representative and authentic of the people we're serving," she told the Boston Globe.
At Wheaton College, Garcia fed her interest in cities and urban planning, designing a major in urban studies that provided valuable experience for her current work.
She chose the college, she says, because of its strong international focus and opportunities to work closely with professors. She studied in Germany and South Africa, and during an internship in the Middle East worked side by side with engineers and planners on the construction of a highway connecting the countries of Oman and Dubai.
"I learned critical thinking at Wheaton," she says.
Early on, her professors recognized Garcia's distinct gifts. Her advisor, Associate Professor of Economics Russell Williams, calls her a bridge builder. "She has the ability to communicate genuinely with a wide range of people."
Professor of Sociology John Grady recalls her good-natured debates in his "Society, Technology and the Environment" class. "She was always astute and insightful."
With her many international experiences, it would seem logical for Garcia to relocate, but her focus remains on Chelsea. "I always thought, 'How could I take the lessons I learned abroad, and bring them back home?'"
To that end, she launched her grass-roots campaign last August, knocking on doors and listening to the concerns of her neighbors. "I wasn't just trying to get votes. I wanted to find out how I could address needs," she says.
The daughter of a single mother who emigrated from Honduras to work in a Chelsea factory, Garcia empathizes with the struggles her neighbors experience. "I want to be their voice," she says.
She tells the story of a pregnant neighbor who couldn't find a parking space in her neighborhood. "If you're eight months pregnant, and you have to walk five blocks away from your house just to get home, your quality of life is impacted, and that's important," she says.
Garcia plans to spend her time on the council focusing on attainable goals. "No one is looking for miracles," she says. "They want things like traffic lights at busy intersections and recycling bins."
In 2010, Garcia volunteered on Chelsea's Trash Task Force to help re-create a sustainable method to dispose of trash and enforce a recycling program.
Gang violence is another concern. "[Gang members] are running away from the corruption and the violence in their own countries—how do we provide them with counseling?" she asks.
Improving the quality of life for others extends to her 9-to-5 job as well. Garcia is a counselor for Health Care for All, helping to make quality health care available to all Massachusetts residents.
Looking forward, she hopes to inspire other millennials to get involved in local government and politics. "The demographic is changing, and we need young leaders to bring their ideas to the table."—Mary Howard '85
---
WBUR (90.9-FM) radio, Boston's NPR, recently interviewed Judith Garcia (Wheaton College, Class of 2013) as part of a story about the political changes taking place in Chelsea, Mass. Read and hear the story here.