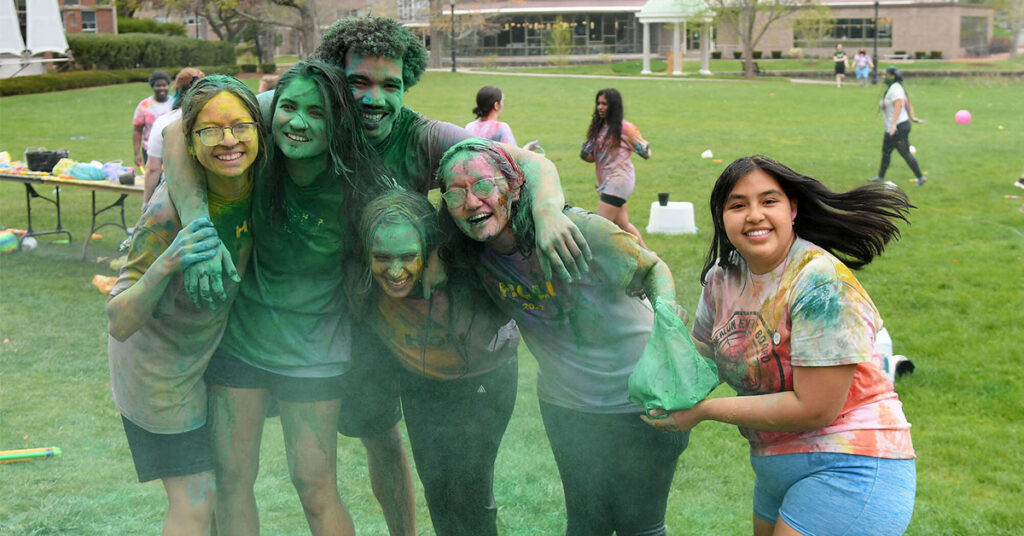 Students drench each other in colors in celebration of spring
For the first time since 2019, students celebrated Wheaton's version of Holi—a traditional springtime Hindu festival in which participants joyfully douse each other with colored powder and water. Dozens of students flocked to Chapel Field on the afternoon of Friday, May 6, to let off some steam (or more accurately, explosions of color) and celebrate the end of the semester.
This year's Holi was organized by the South Asian Student Initiative, a student-run club that aims to foster cultural awareness of the South Asian diaspora and the history of its constituents.
"We wanted to bring this tradition back as many members of the South Asian community here on campus are going to graduate this year, and we wanted this to be our way of commemorating them," said Saachi Tapse '23, co-president of South Asian Student Initiative.
"Historically, Holi is celebrated to mark the beginning of spring in India. It also is a day of rejoicing the win of light over darkness and is a way of welcoming the warm weather. We feel like this is something that is applicable here as well. We hope the event is a way for the campus community to come together after a long, arduous year to celebrate the end of the year and the beginning of summer," she said.
Photos by Keith Nordstrom