From paintings hanging in the Presidents' House and ancient Chinese vases preserved in storage to the statue of Hebe that gets decorated during Senior Week, pieces of Wheaton's Permanent Collection are an integral part of campus, and of the college's history.
This summer, four students working under the guidance of Permanent Collection curator Leah Niederstadt dove into the stories behind these objects, spending weeks poring over documents and photographs in the Gebbie Archives.
"The idea was to systematically go through sets of archival materials from start to finish to see what we can learn about the collection—not only the history of the collection as a collection, which started in 1974, but also the history of the objects, of collecting on campus, of the donors and of displays on campus," said Niederstadt, assistant professor of museum studies and art history.
She applied for and received a Mars Faculty/Student Research Grant, which she used to hire Brianna Medas '20. She also brought in Madi Cook-Comey '19, Christine Evers '19 and Allison Meyette '18, who all received different forms of Wheaton funding.
The students searched the archives for anything pertaining to artwork and artifacts on campus—reviewing issues of the student newspaper, alumnae/i magazine and Rushlight; minutes from Board of Trustees meetings; and photographs, letters, receipts and other documents contained in faculty folders and collection files. They made note of every mention on a spreadsheet and created digital files of documents and images.
"The primary goal of this research is to better document and care for the collection and make it more accessible," which benefits teaching and research on and off-campus, Niederstadt said.
As it turns out, there was a lot to learn. Here are just six lessons the research assistants discovered this summer:
1. As much as things change, they stay the same.
Meyette focused on Board of Trustees minutes, starting with Wheaton's founding in 1834. While the reading could be slow at times, she enjoyed learning about the college.
"The school was originally the Norton Female Seminary, and at the trustee meetings they would begin and end with prayer, or take a break with a prayer. It was really interesting, because nowadays that's not really common," said Meyette, a double major in history and art history.
Other items, such as faculty correspondence, revealed a common experience across the years.
"Somebody might write a letter to the president and then write a letter to this other person in their department, and it would be two different contexts," Meyette said, relating it to the way a person today might be formal in an email to a boss and casual with a friend. "The human relationships that come out of the correspondence specifically, I find really interesting."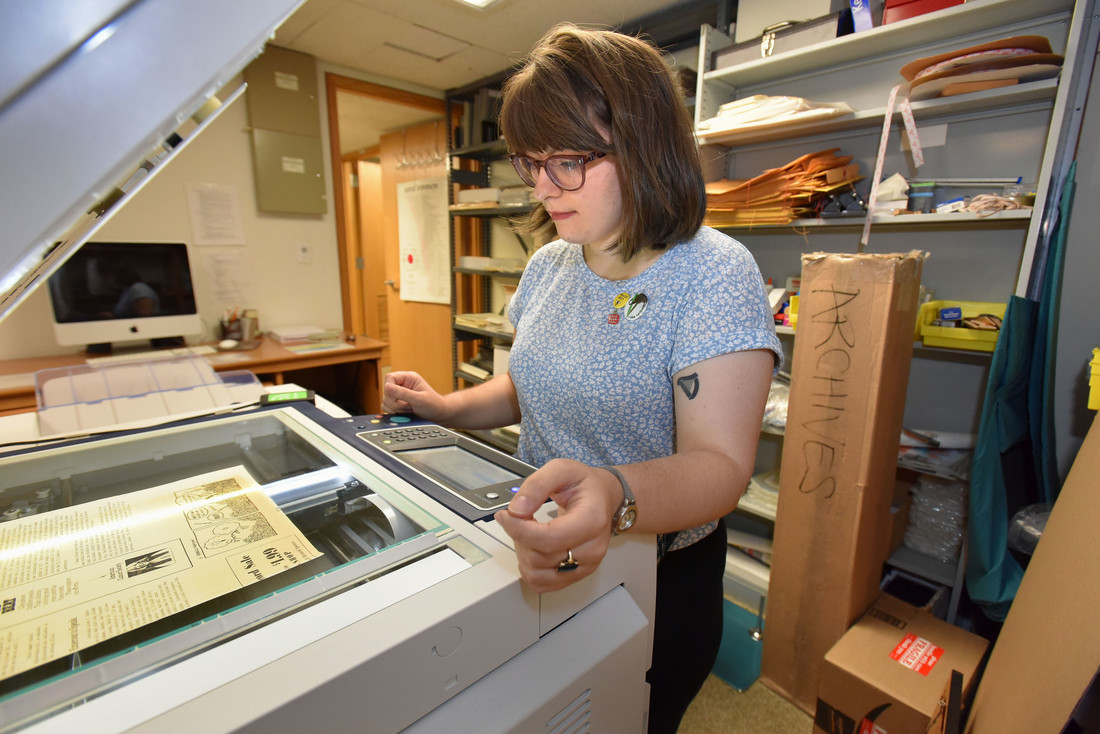 2. You can really get attached to your research subject.
Having worked with Niederstadt and the collection for a year as a work-study student, Evers jumped at the chance to learn more about some of the pieces she saw every day.
"When there are questions that go unanswered, such as when was this painted or who painted it or gave it to the college, those questions bother you because you get to know the artwork. I wanted to fill in the gaps," said Evers, a double major in history and art history.
As the students spent time with certain files, they also became attached to the people they were reading about.
"I read through a donor file on Ruth Capers McCay. She graduated in 1923, and she was on the Board of Trustees pretty much until she died. She did a lot of work for the school and was really influential. When I got to the end of the box and it was her memorial service in the Chapel I was freaking out, because I had spent so much time going through her files and reading all about her life," said Cook-Comey, an art history major.
Among her contributions, McCay donated 10 of the trees planted on campus.
"As I finished reading through the box I went out into the Dimple and saw her physical effect on the campus," Cook-Comey said. "It's one thing to read and learn about something, but it's an entirely different experience to go and see it in person."
3. Today's students share Wheaton with those who came before.
Reading accounts from students in the early to mid-20th century was fascinating for the interns, who began to recognize the connection they all shared.
"It was really cool to learn little things about students who went here or jokes that they had around campus 70 years ago," Evers said, referring to articles from the Wheaton News (now the Wheaton Wire) student newspaper. "This was their home, and they were Wheaton students just like us."
"To walk around campus, like they walked around in here in the '60s—it's weird," Meyette said. "Like, did they step on this exact same spot? I like thinking about that."
They also enjoyed following some of the college's milestones through primary documents.
"I found the first certificate, or decree, from the Massachusetts state government to rename the Norton Female Seminary 'Wheaton Female Seminary.' It was so cool to see that," Cook-Comey said.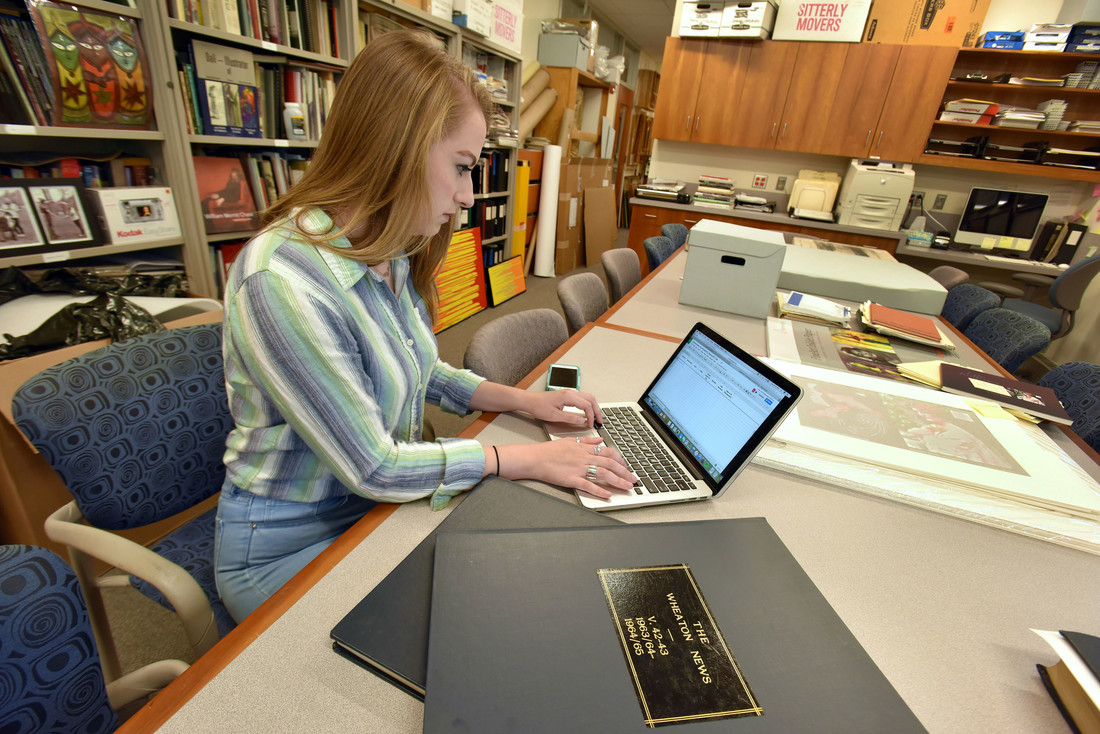 4. Everyone has a weird roommate story.
Among the most bizarre stories the research assistants came across this summer was an article in the Wheaton News about a student who kept a mummified hand under her bed. Though it had nothing to do with the Permanent Collection, the story definitely caught their attention.
"This student in the '30s, her great-grandfather had traveled to Cairo, Egypt, and he bribed a guard to let him into one of the Egyptian tombs, and he ripped a hand off a mummy and took it back with him to America, and it got passed down through the family to this student at Wheaton," Evers said, quoting the newspaper article.
The hand was even displayed in the Wallace Library.
"I just think that's super interesting, because that would never fly now, with the moral questions of taking a hand off a body," Evers said. "Also the idea of being roommates with this girl who had a human hand under her bed. They interviewed the roommate in the article and she was like, 'Yeah, it's a little creepy.'"
5. It's important to stay organized, and to document your process.
Along with closely reviewing thousands of documents and photographs, the students had to make a digital file for every relevant piece and note their findings on a detailed spreadsheet.
"Going into this project, Leah said that this is going to be something that goes on for years and that other students will continue. But it went a lot slower than I thought it would," Evers said. "It's easy to go through a folder and pick out all the things that pertain to the Permanent Collection, but then you have to scan each one, and then once you have all the files on your computer, you have to label each one, make sure you have the date in it, track it on the spreadsheet and upload it all to the Google Drive so everyone can access it."
All that work serves an important purpose, however.
"In the future, if somebody wants to do a project based on what we're doing, they can understand the process that we went through," Cook-Comey said. "If they're so far in the future that the culture has shifted significantly and they're looking at this antiquated technology, they have to be able to follow the research that we did, just as we're trying to understand what others did before us."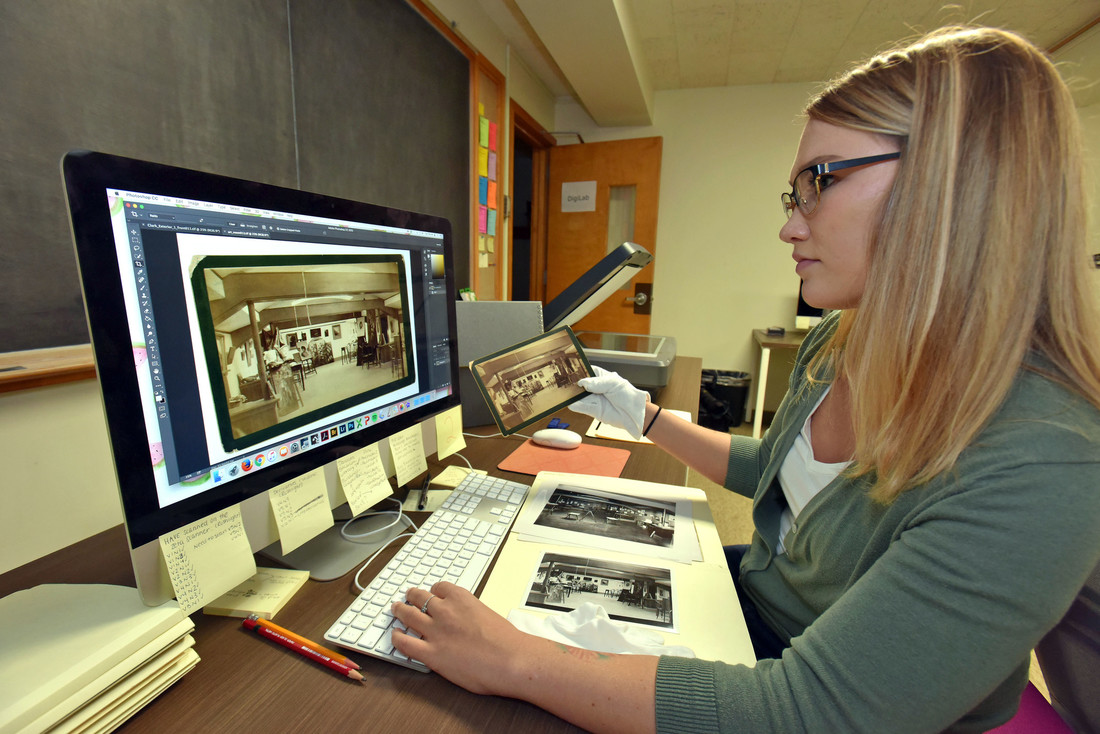 6. There's more to art history than meets the eye.
Before college, Cook-Comey was interested in biochemistry and wanted to pursue a career in "hard science." But after studying art history in Europe during a gap year, then enrolling in an art history-based First-Year Seminar, she changed directions. Now, she sees a way to do both.
"Art conservation is the chemistry of art and how to preserve it, so I'm able to combine these two things that I've always really liked to do," she said. "Being able to get hands-on experience and to look at the techniques people have used to conserve different artwork has helped me take steps toward want I want to do in the future."
Evers and Medas enjoyed opposite aspects of the project—Evers liked diving into the historical research, while Medas enjoyed looking at the artwork itself.
"It's interesting for me to see all these photographs and paintings—less on the research side and more on the visual side, to see all the different techniques and learn from that," said Medas, who is considering a studio art major.
"I've definitely realized that what I'm most interested in is the provenance of a painting, where it came from, who made it, was it exhibited here, how did it end up here—what's its history," Evers said. "I'm definitely going to take that with me when I'm looking for internships next summer."
For Meyette, who graduates this spring, the internship allowed her to practice skills she has learned at Wheaton, and to work on skills essential in graduate school.
"I know I want to go to grad school, and any research—as well as working with and handling objects—is good preparation," she said. "I see myself being a teacher at some point—a tour guide, a professor, a researcher—and these all link to the work we've done this summer."