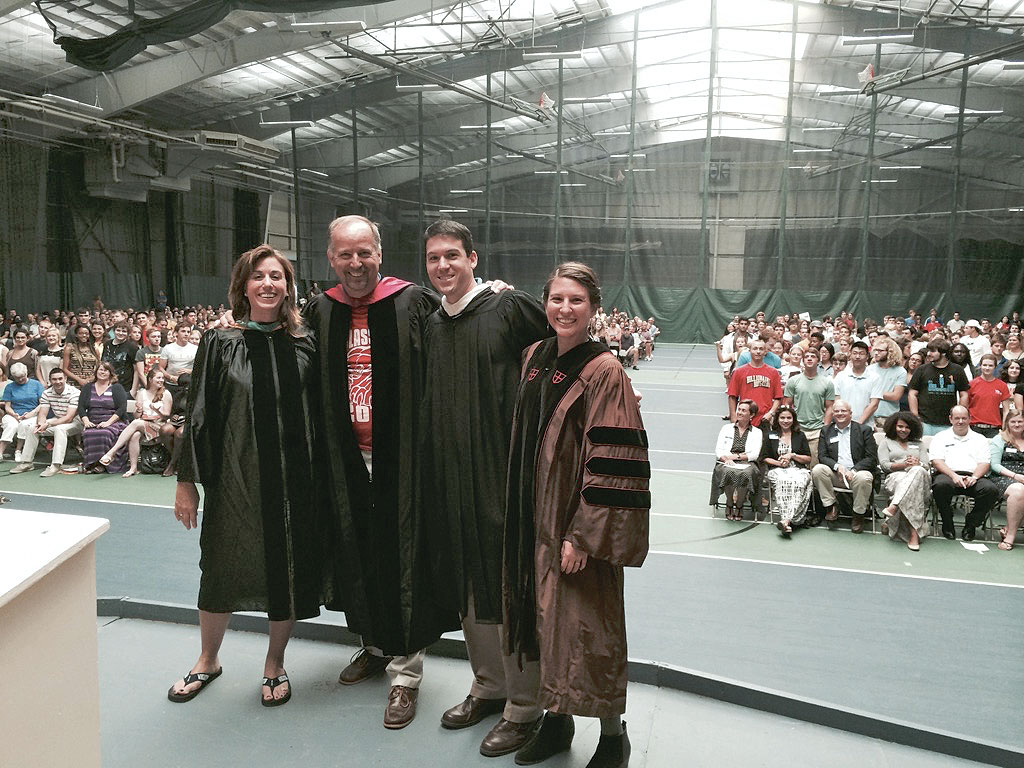 This year's Commencement marked a milestone for me. I began my tenure at the college with the Class of 2018. The photo that was taken of me with the class during their first day on campus shows many anxious faces, including my own. We were all starting a new adventure, and we didn't know what lay ahead.
It has been a great privilege to get to know the Class of 2018 and to watch them learn and grow. I'm always inspired by what students accomplish—as artists and performers; scientists and scholars; campus leaders, community activists and athletes. Students can achieve anything they set their minds to accomplishing. They make an impact on the world, and they leave Wheaton better for their contributions.
The relationships that form over those four years are special, too. So many students forge relationships that last a lifetime. The fact that Wheaton celebrates Commencement and Reunion on the same weekend—a unique and wonderful tradition—drives that home. To see alumni return to campus to reconnect with classmates, and with faculty and staff members, is heart-warming. It's a great reminder, too, of the way that each class helps to pass on the traditions and culture of the place to new groups of students.
Of course, each student's undergraduate career represents a brief moment in the college's 180-plus years. On campus, we are surrounded by that history, from the portraits of Eliza and Laban Morey Wheaton that hang in the great room of the Presidents' House to the many campus buildings named for past leaders of the college—from past educators and presidents like Mary Lyon, Lucy Larcom and Samuel Cole to current alumni and leaders such as Anson M. Beard Jr., Adrienne Bevis Mars '58 and Diana Davis Spencer '60.
That sense of history makes the college's latest efforts all the more exciting.
Next year, we will open a new 178-bed residence hall that will enable Wheaton to continue to grow its enrollment while promoting community and sustainability. The residence hall will form a new quad on lower campus and contain numerous common areas, large and small, to promote student gatherings. The new building will even echo the Slype at Everett, with a gateway-like entrance of its own. And the hall, designed to meet stringent energy conservation requirements, will be the first large-scale college residence in the Northeast to meet the Passive House standard.
At the same time, the college will be finishing plans to renovate the old science center to accommodate our growing and changing academic programs. Once completed, the building will house Wheaton's two largest academic programs—business and management and psychology—as well as a center for social entrepreneurship and a renovated makerspace facility for a host of interdisciplinary endeavors by students, faculty and staff.
These new spaces will serve thousands of students—many who are not even born yet—creating wonderful new spaces to live and learn, discover new ideas and interests, make lifelong friends and continue Wheaton's tradition as a personal and powerfully influential liberal arts college.
These projects would not be possible without the interest and engagement of our extended community. Students, faculty, staff, alumni and parents have all participated in the discussions that developed our 10-year facility renovation and construction plan, and their input has helped to shape the projects now underway. In addition, generous philanthropic support from alumni, parents and friends plays a critical role in turning our shared plans into reality.
It has been said that education is a gift that each generation passes on to the next. The work that we are doing collectively reflects that idea in tangible and lasting ways. These building and renovation projects will have an amazing impact for many, many years to come. And that is a truly inspiring thought.