Health and social justice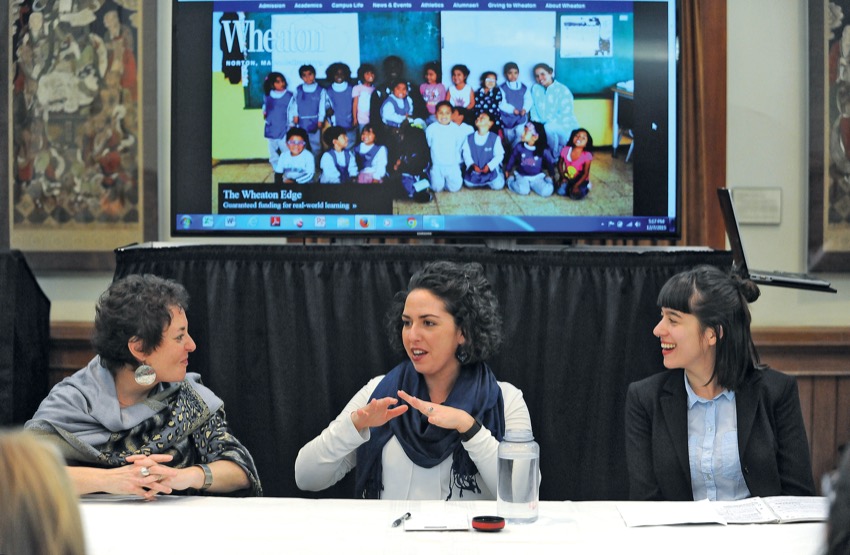 Three alumnae from three different decades at Wheaton returned to campus on Dec. 7, 2015, to discuss their careers in sexual and reproductive health and their passion for social justice.
The panel, which was hosted by the Wheaton Institute for the Interdisciplinary Humanities and introduced by 2015–16 WIIH co-directors Kim Miller and M. Gabriela Torres, featured Lisa Weiner-Mahfuz '94, Valerie Tobia '07 and Sophie Howard '14. Weiner-Mahfuz is currently vice president of programs and development for the Religious Coalition for Reproductive Choice and co-founder of Intersections/Intersecciones Consulting, a practice that supports the work of organizations, community groups and networks that promote social justice.
Tobia, who was a psychology major at Wheaton, now works as an integrated behavioral health clinician at the Family Health Center in Worcester, Mass. She also has a master's in public health and a license in social work. Howard, the most recent graduate, works as a health care assistant trainer at Planned Parenthood League of Massachusetts. She was a double major in women's and gender studies and sociology and a public health minor.