Head of the Peacock Regatta returns outdoors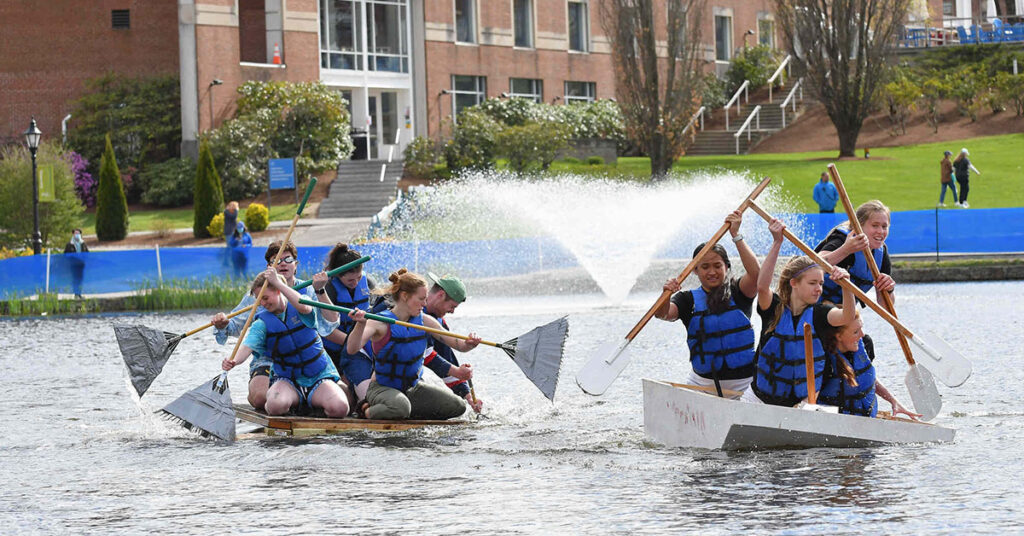 Students enjoy resurgence of traditional community event
Wheaton College's beloved Head of the Peacock Regatta returned outdoors to much fanfare on the afternoon of Friday, April 29. See the gallery below.
Students came out in force to cheer on 23 teams that paddled across Peacock Pond in their homemade water vessels. Teams designed structures made from inflatable rafts, wood planks and other buildable materials—some with the goal of winning and others hoping simply to stay afloat. Much silly antics and laughter ensued.
Each boat raced in multiple rounds. The three boats with the fastest times that successfully completed two races competed in a final race. This year, the Outdoors House team came out on top as this year's champions.
The Head of the Peacock Regetta is a longstanding tradition at Wheaton that began in 1991 to commemorate the completion of Haas Athletic Center. Last year, because of the pandemic safety precautions, the race was held indoors in the pool. Where there is a will, there is a (Wheaton) way.
Photos by Keith Nordstrom