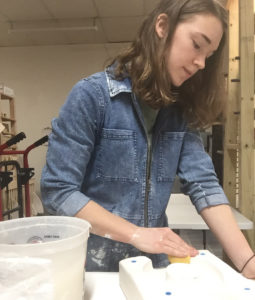 Josephine Coppinger '20, a visual art major, learned the ins-and-outs of ceramic arts during her three-week winter internship at The Bright Angle, a modern pottery and design studio in Asheville, N.C.
During her internship, Coppinger managed client orders, including a large purchase of more than 1,000 mugs. On that project, she worked on an assembly line casting, cleaning, assembling, scrutinizing, kiln loading and firing, glazing, applying decals and preparing shipments, she said.
Coppinger said she enjoyed working side-by-side with two other colleagues. "My favorite moments often were the conversations we'd have while cleaning the mugs. This is what made the days go by faster as we worked on one mug after another," she said.
This internship fit well into her studies of ceramics at Wheaton as well as her leadership as the president of the Ceramics Club. Coppinger said she plans to incorporate the new techniques she learned at The Bright Angle in future projects.
"It was important to gain this experience as a learning opportunity of how production work functions and how I fit into it. I have learned so much about myself as an artist and what I need to stay passionate about my work," she said.
Coppinger received support from the Blakely Fetridge Bundy '66 Work and Learning Fellowship to pursue this winternship.