Hall of Fame selects Amber James '04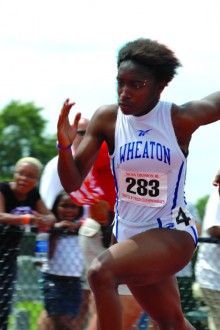 Amber James '04, former women's track and field team member and the most decorated student-athlete in the history of any Wheaton athletics program, has been selected to the Eastern College Athletic Conference (ECAC) Hall of Fame. The inaugural class of the ECAC Hall of Fame, presented by Webster Bank, was honored on April 17 at the Matrix Conference and Banquet Center in Danbury, Conn.
The 25-person class, which spans the entire 75-year history of the ECAC, recognizes a diverse representation of former student-athletes, coaches, administrators, teams, officials, staff and supporters from across the decades. Honorees for the class were selected for outstanding achievements, service, dedication, commitment, and contributions to the ECAC, championships, sponsored sports, programs and events.
Along with James, other high-profile members of the Hall of Fame inaugural class include former National Football League quarterback and Boston College Heisman Trophy winner Doug Flutie; University of Connecticut women's basketball national champion and Women's Basketball Hall of Fame member Rebecca Lobo; Naismith Memorial Basketball Hall of Fame member Lou Carnesecca; and former ECAC commissioner Asa Bushnell.
"It's such an honor," said James. "I loved my time competing in the conference and representing my team, so this award means a lot to me. I'm grateful to the selection committee for this honor."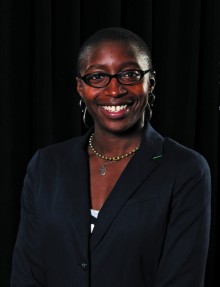 James, who currently is a freelance copywriter and content strategist, was a 17-time NCAA national champion and 24-time All-American as a member of the women's track and field team. She is the only NCAA Division III student-athlete, male or female, to sweep an NCAA event national title in all four years of competition in both the indoor and outdoor track and field championships.
She was also voted the Greatest Female Athlete in the 25-year history of the NCAA Division III indoor track and field championship; named to the United States Track & Field and Cross Country Coaches Association (USTFCCCA) Division III Silver Anniversary Team; and selected as the United States Track Coaches Association (USTCA) National Track Athlete of the Year (Outdoors) in 2002. In addition to those accolades, James won the Honda Award for Track and Field (Outdoors) in 2002, and was named a Honda Award Finalist for the Collegiate Woman Athlete of the Year (Outdoors) in the same year.
In 2013, she was inducted into the Wheaton College Athletics Yowell Hall of Fame. The inaugural class featured eight members—in addition to James—and the 1983 field hockey team. The Yowell Hall of Fame honors individuals who, either through participation, support or interest, have made outstanding contributions in the athletics arena, and specifically to the college's athletics program. Inductees are also recognized because they have continued to demonstrate in their lives the values imparted by intercollegiate athletics.
—Shawn Medeiros
Amber James '04 achievements as a Wheaton student-athlete
17-time NCAA national champion
24-time All-American
Only NCAA Division III, male or female, student-athlete to sweep an NCAA event national title in all four years in both the indoor and outdoor track and field championships (400m)
Voted the Greatest Female Athlete in the 25-year history of the NCAA Division III indoor track and field championship
Named to the United States Track & Field and Cross Country Coaches Association (USTFCCCA) Division III Silver Anniversary Team
Selected as the United States Track Coaches Association (USTCA) National Track Athlete of the Year (Outdoors) in 2002
Won the Honda Award for Track and Field (Outdoors) in 2002
Named a Honda Award Finalist for the Collegiate Woman Athlete of the Year (Outdoors) in 2002