Graduates head into the world of work
Many of the members of the Class of 2015, leveraging their Wheaton education and experiences, had already secured jobs before graduating in May. Here are just a few:
Aïssatou "Aïcha" Diouf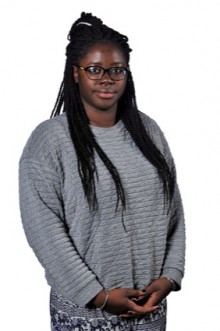 Hometown: New York, N.Y.
Major: International relations
Job: Paralegal at Boies, Schiller and Flexner LLP
Getting there: "I got the opportunity to interview for this job through networking at a dinner hosted by a friend of my father's who had just premiered the first night of a new collection in an art gallery. I eventually interviewed and got the job as a paralegal. Wheaton had prepared me well through various events to be able to network, which was a major factor in landing this job. As I prepared for the interview, Marianne Singer [an associate director] at the Filene Center helped me as we ran through multiple answers for questions. My education and experiences at Wheaton made me a well-rounded person who is able to use my liberal arts degree to my advantage. Every experience at Wheaton will prove useful after graduation—from extracurricular activities to the classes."
Looking forward: "I am looking forward to the new experience that I will be embarking upon. This is the stepping-stone to figuring out what I like or dislike about the legal world. I will be challenged in ways I have never imagined, and that alone will be rewarding."
Cara Morris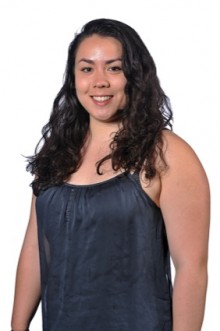 Hometown: Irvington, N.Y.
Major: Philosophy
Job: Assistant language teacher, Japanese Exchange and Teaching Program (JET), in Asago, Hyogo, Japan
Getting there: "I heard about the program from my professor, [Visiting Assistant Professor of Japanese] Robin Tierney, and she encouraged me to apply. I received wonderful recommendations from Professor Tierney and from James Kato, a residence hall area coordinator. I studied Japanese at Wheaton for two and a half years, including an independent study. My leadership on campus through swimming and extracurricular clubs and activities definitely helped me stand out. Ben Chalot and the Filene Center staff were very encouraging of my endeavors throughout the process. Nursery school director Marge Werner, a JET alumna, gave me some great tips over coffee during finals week."
Looking forward: "I'm most excited to work with the kids, to practice my Japanese language skills and, of course, to eat the amazing food. I'm also excited to work in Japan and potentially explore career fields involving international business or international relations."
Carmen Das-Grande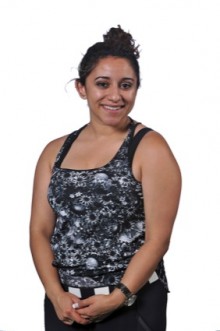 Hometown: Menlo Park, Calif.
Major: Economics
Job: Financial analyst at DataStax in Santa Clara, Calif.
Getting there: "At Wheaton I have been able to take a wide range of courses that have taught me how to evaluate situations from different perspectives. professors [John] Gildea and [John] Miller, from the Economics Department, have always encouraged my interests inside and outside of the classroom. Also, I had the opportunity to spend my junior year studying at the London School of Economics, which was a once-in-a-lifetime experience."
Looking forward: "I am extremely excited to join the team and be a part of the quickly growing environment. I love challenges and look forward to the change of pace from being in the classroom."
Chelsea Cantin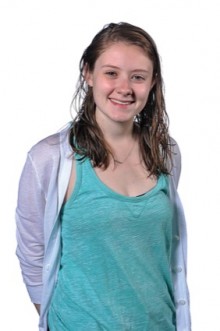 Hometown: Shrewsbury, Mass.
Major: Psychology
Job: Talent acquisition coordinator at Tufts Health Plan, Watertown, Mass.
Getting there: "The Filene Center helped me to narrow down my interests and figure out which positions I should be applying for. I found a connection to the human resources department at Tufts through a family member, and applied to the company after I had completed a shadow day in the office."
Looking forward: "I'm looking forward to applying my education to the challenges and new projects that I'll be faced with, as well as gaining more knowledge and experience in a business setting."
Devin Delfino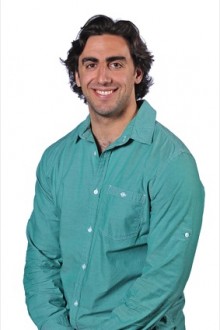 Hometown: Bourne, Mass.
Majors: Computer science and mathematics
Job: Software engineer I, Raytheon Company, Marlborough, Mass.
Getting there: "Professors Mark LeBlanc, Mike Gousie, Tom Armstrong and Rachelle DeCoste of the Math and Computer Science Department played a major role in my growth and development throughout my college career. They provided me with the tools needed to succeed in this growing field, as well as advice and guidance when it was time to plan for the future."
Looking forward: "I am looking forward to using the knowledge that I have gained during my Wheaton education to solve interesting and meaningful real-world problems. I will strive to make new connections, be a valued member of a team, and ensure my work ethic and devotion never falter. I am truly excited to discover the heights that I will be able to reach."
Elizabeth Peterson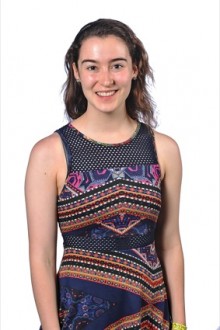 Hometown: Woodbury, Conn.
Majors: Mathematics and English
Job: Math teacher, The Winchendon School, Winchendon, Mass.
Getting there: "My math major at Wheaton has strengthened my love for the subject. I also interned in the education department of the Shakespeare Theatre of New Jersey during the summers before my junior and senior years. This internship confirmed for me that I wanted to be a lifelong educator and learner, and introduced me to the world of lesson plans and classroom management. When I was looking for jobs, I knew I wanted to teach at a private high school, and I worked with Marianne Singer at the Filene Center to format and fine-tune my résumé, cover letter and personal statement. She was amazing to work with and kept me sane throughout the job search process."
Looking forward: "I am most excited to work with students and to share my love and knowledge of a subject that they might not care about otherwise. I am also looking forward to being immersed in a new community and getting to make connections with new people and places. I really enjoyed everyone I met when I visited, and I'm looking forward to working in such a supportive environment."
Jeffrey Paer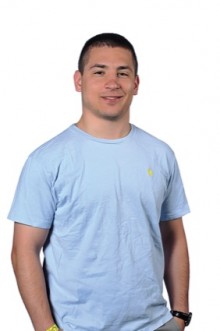 Hometown: Fair Lawn, N.J.
Major: Biology
Job: Research technician I in the Kwon Lab at the Ragon Institute of MGH, MIT and Harvard
Getting there: "I stumbled across a job advertisement for the position when searching through the Massachusetts General Hospital website one February morning. I grew interested in the lab when reading about a small side project led by a graduate student on the human gut microbiome, a topic that I became passionate about during my honors thesis research on antibiotic resistance. With nothing to lose, I sent my cover letter and résumé to the principal investigator that February morning. It was not until mid-April that I received a reply message, at which point I had already been offered a position at another laboratory. I truly had to make a gut decision, as my graduation was right around the corner. I withdrew my interest from the laboratory that had made the job offer and immediately pursued the interview process for the Kwon Lab position. It was a risky decision, but my mentors in the Biology Department were so supportive that I felt confident that I would win a job perfectly fitting my interests and aspirations as a young scientist. I know that my honors thesis experience prepared me for the life of a research technician and all of the twists, turns and roadblocks that come with the research process."
Looking forward: "I look forward to continuing my biology education in a practical manner in a professional research environment. Overall, I am most excited about taking this additional step closer to my dream of becoming an infectious disease physician and researcher."
Kelly Jochems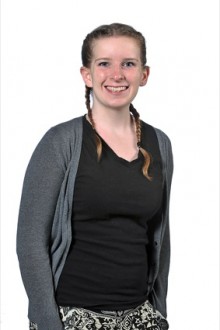 Hometown: Pembroke, Mass.
Major: Psychology
Job: Psychology programs assistant, Danish Institute for Study Abroad (DIS), Copenhagen, Denmark
Getting there: "I studied abroad at DIS during spring semester of my junior year. While in Denmark, I realized how incredible the country is and how much I wanted to return upon graduation. The internships that I have received through the help of my professors at Wheaton, including one at Bradley Hasbro Children's Research Center and Massachusetts Mental Health Center, strengthened my résumé and provided me with great experience to draw upon during my interview. Wheaton has a fantastic study abroad program in place for countries all around the world, and if it were not for this, I would never have been able to go to Denmark and have such a life-changing experience."
Looking forward: "The work includes two major responsibilities: departmental tasks and planning and executing study tours. I am most looking forward to planning and co-leading study tours across Europe with professors at DIS."
Sarah Brown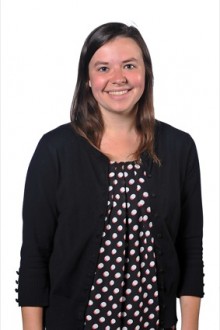 Hometown: Gaithersburg, Md.
Majors: Mathematics and secondary education
Job: Teaching in Samoa as a member of the Peace Corps
Getting there: "After having an incredible semester studying abroad at James Cook University in Australia, I quickly caught the travel bug and realized that I would love to pursue a job overseas. By completing a secondary education major at Wheaton, I spent my spring semester student-teaching at Norton High School full time and earned my teaching certification. Combining these experiences, I decided that teaching overseas as a member of the Peace Corps would be a perfect fit. The opportunities that I was presented with while at Wheaton gave me insight and experience that directly translate to the Peace Corps. I had incredible advisors and professors supporting me along the way. Without them, none of these dreams would have been possible."
Looking forward: "I am extremely excited to bring my take on education to a new culture and environment. I am looking forward to making a difference in children's lives and having an impact in the school."
Skyler Dunfey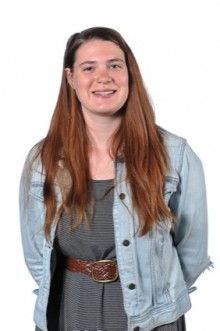 Hometown: Cape Elizabeth, Maine
Major: Studio art
Job: Teacher, The Leadership School at Kieve, Nobleboro, Maine
Getting there: "My experience at Wheaton has really prepared me for this position and for my future. Through leadership positions in the Outdoors Club and The Blend a cappella group, and from the encouragement I have received for creating the foundation for Wheaton's Outdoor Orientation Program, I know that I will be well prepared for the challenges ahead. I have been so fortunate to be able to work in the Filene Center as a career peer advisor over these past three years, and to have been able to get to know the staff there and receive their aid and advice. I am also very grateful for my professors, especially Claudia Fieo and Geoff Collins, who have advised and supported me throughout my Wheaton experience."
Looking forward: "I have always been extremely interested in experiential learning, so I am very excited to become an educator at The Leadership School and to help empower young people to become leaders. I can't wait to start working there with a community of people who share my love for teaching, experiential learning and the outdoors."
Kaitlin Phelan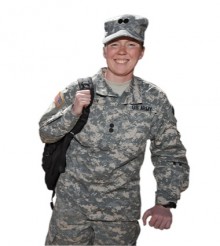 Hometown: Springfield, Va.
Major: History
Job: Artillery officer with West Virginia National Guard's 201st Field Artillery Regiment and patrol officer with the Charleston Police Department, Charleston, W.Va.
Getting there: "I had always really wanted to do ROTC. My dad was active-duty Army for about 30 years and worked in the Pentagon. I found out Wheaton was part of Boston University's ROTC program and signed up my sophomore year. My junior year I joined the Massachusetts Army National Guard through the Simultaneous Membership Program. My history major has really developed my ability to write and my ability to analyze. Wheaton overall has helped me develop as an academic person, able to think critically. At Wheaton you can't just throw out a problem; you have to think of other ways to solve it, which is huge in the military."
Looking forward: "I'll be the first female artillery officer in the West Virginia National Guard and the fifth in the country. There's that pressure of having to perform really well because you're the first. I'm hoping that I do well and that my gender's not even a thing, because that's how it is now."