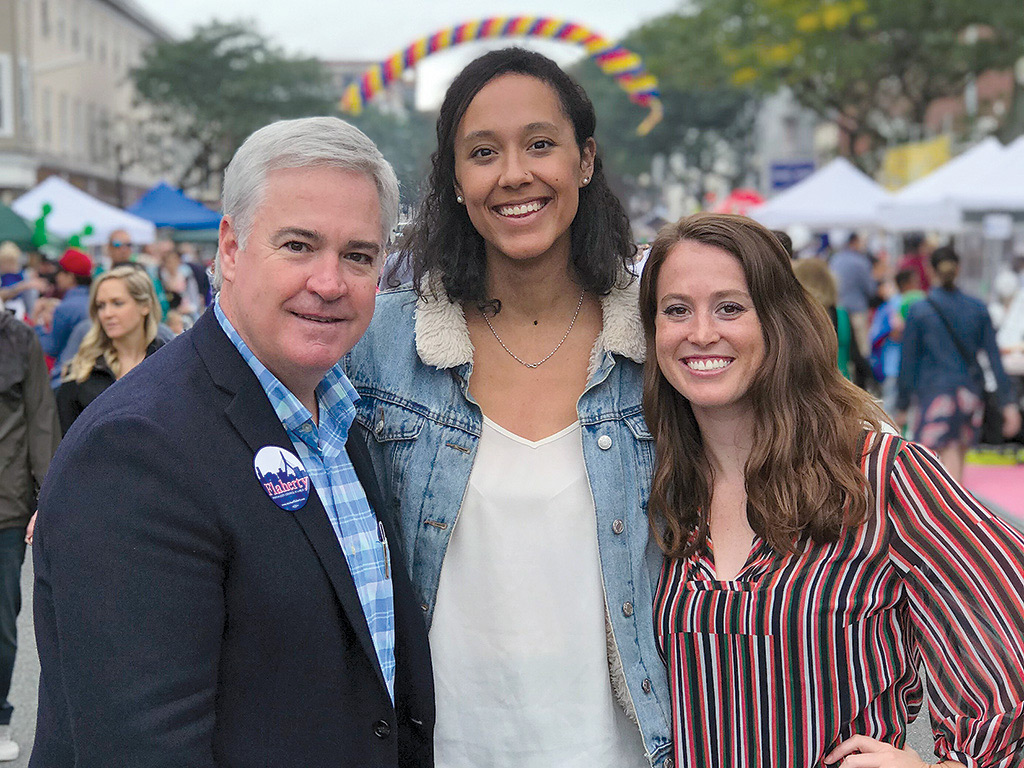 Each morning, Samantha Bennett '13 devours the latest news, catching up on social media to learn what's happening in the Boston area.
Staying abreast of developments is critical to her role as chief of staff and former director of policy and research for Boston City Councilor At-Large Michael Flaherty.
"The 24/7 news cycle can really shift how you plan to structure your day," said Bennett, who majored in English and sociology at Wheaton.
Working on a small team within the City Council that is responsible for the entire city, Bennett manages the staff and leads discussions on policy-related initiatives, conducts research to inform talking points, and drafts and reviews legislative amendments. She also helps connect residents to services and attends civic association as well as planning and development meetings.
"What I enjoy most is how connected you are to the issues and residents," said Bennett. "I have the ability to translate issues occurring on a ground level into policy. As a municipal corporation with a $3.6 billion operating budget and $3 billion capital budget with 18,000 employees, the City of Boston has huge buying power and influence. It is exciting to go to work knowing that the local laws, policies and initiatives you take on have the potential to have a significant impact. The role gives you the opportunity to give back to your community and to help people in both small and big ways."
A point of pride is her work contributing to the passage of a home rule petition titled "An Act to Further Leverage Commercial Development to Build Housing, Create Jobs and Preserve Inclusionary Development" that enabled the city to have more flexibility to fund affordable housing and workforce training and also protected the city's ability to create and fund income-restricted housing.
"I am most proud of this legislation because it ensures that the benefits of Boston's prosperity are shared by all residents across Zip codes," she said.
Through her work with the councilor and an organization called Digital Ready, Bennett helped launch a fellowship program called Boston Year 13 that provides an innovative, no-cost accelerated pathway for underrepresented young people to college and high-wage jobs in Boston.
"It has been thrilling to work on a project that is all about imagining what is possible for people and helping enable them to succeed," she said.
At Wheaton, Bennett said that Professor of Sociology Hyun Sook Kim pushed her to grow both academically and personally as her advisor, and through her sociology courses.
Professor Kim recalls Bennett as one of her strongest students.
"With a keen analytical focus, Samantha not only excelled in her own performance but contributed to stimulating class discussion. She has the academic and intellectual skills to advance social justice policies and practices. Making democracy work better in the United States and advocating for social justice seem to flow naturally from her character," Kim said.
In addition, Bennett said that her
experience as a student-athlete both on the soccer team and in track and field taught her many lessons she continues to carry with her today.
"I learned the importance of hard work, grit and mindset; how to get comfortable with failure; energy and time management; and, most importantly, the importance of surrounding yourself with a strong team in all aspects of your life and being a good member of that team—even when it's not easy," she said.