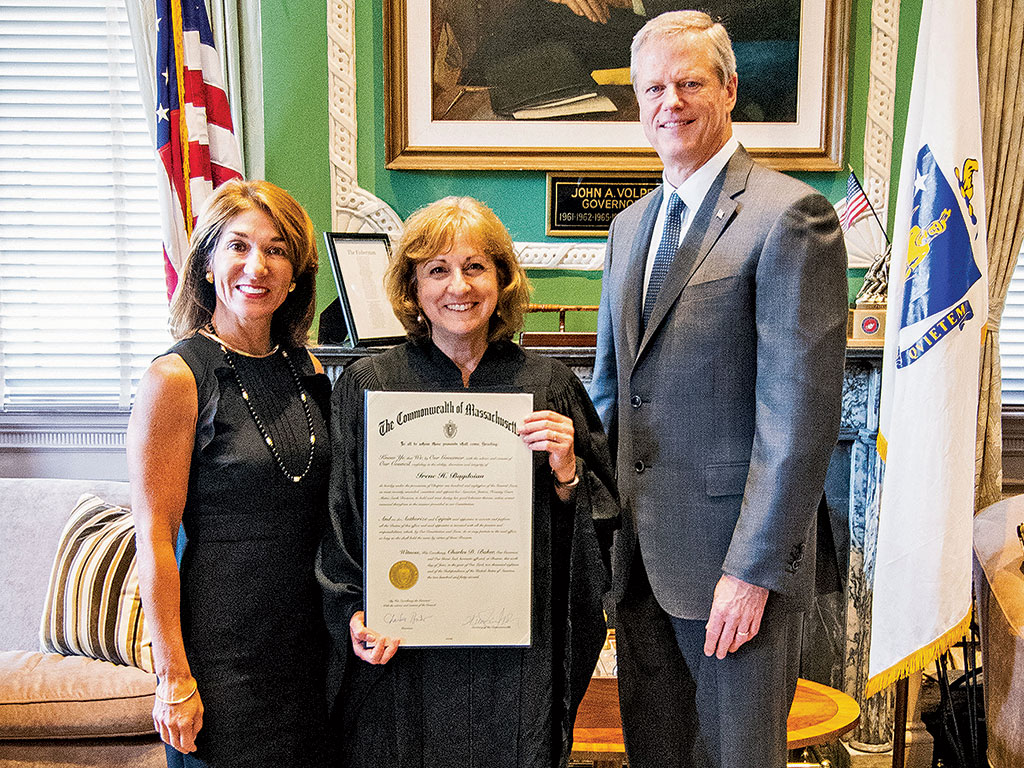 Irene Bagdoian '82 appointed to Massachusetts Housing Court
After serving briefly in her new post as judge in the Massachusetts Housing Court, Irene Bagdoian '82 is taking in the views from the other side of the bench.
"It's shocking to be on the other side, looking upon a sea of faces," she said. "I've been an attorney in courtrooms second-guessing judges for 28 years. Now attorneys are looking at me as the judge they are second-guessing."
Bagdoian is one of five new judges appointed by Gov. Charlie Baker this past April to expand coverage of the housing court—a specialty court that has jurisdiction on all matters related to residential housing. Her post, the Metro South Housing Court, is a new division that is scheduled to be "up and running" in August of 2018, which will encompass an area of parts of Plymouth County and all of Norfolk County—from Quincy to Franklin, Mass.
"Housing is a really interesting area of the law. Housing is a critical stability issue of society, public health and safety. It is not just about landlords evicting tenants; it is about making sure housing is habitable and safe and that landlords and homeowners take their responsibilities seriously," Bagdoian said. "I'm glad to be there to adjudicate those issues as they come up."
Bagdoian received her bachelor's degree at Wheaton in government and her juris doctorate from Boston University School of Law. For the past decade, she has served as a solo legal practitioner in Brockton, Mass., representing individuals and businesses in civil litigation related to housing, foreclosure, real estate and consumer protection.
Among her many accomplishments: founding the Brockton Housing Court Lawyer for the Day Program, which offers advice to unrepresented landlords and tenants. She also has organized educational programming for volunteer lawyers, and served on the steering committee for the Tenancy Preservation Program and as a board member of the Justice Center of Southeast Massachusetts.
Her interest in law was sparked by the late professor Jay Goodman, especially in his class on tort law.
"He taught us just like they do in law school, putting students on the spot for answers and grading on a bell curve. I did very well, which revealed to me that this is what I should be doing," Bagdoian said. "He was very encouraging to us to expand our horizons and consider becoming lawyers. I think all of my peers who entered the legal profession see Jay as the professor who pushed us and encouraged us."
The encouragement paid off, and Bagdoian is looking forward to serving as a judge until the end of her career.
"This is an opportunity that I have been interested in for the past 10 years. It has been a process. I'm happy that the governor appointed me," she said.