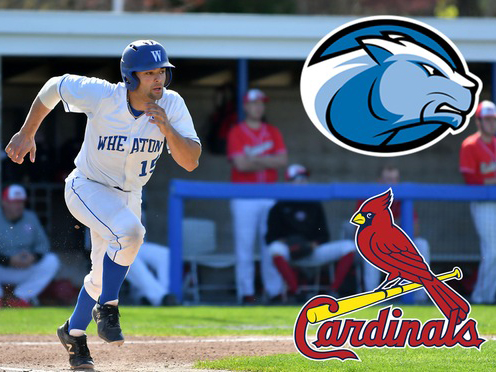 Catcher Nick Raposo '20 signs MLB contract
For the St. Louis Cardinals, Nick Raposo '20 is a great catch.
This past weekend, the Wheaton College catcher and recent graduate signed a free agent deal with the Missouri-based MLB team.
"It is difficult to find the words to explain how I am feeling after signing with the St. Louis Cardinals. I'm just extremely grateful and excited to continue my baseball career at the next level," said Raposo, a native of Johnston, R.I., who graduated from Wheaton in May with a bachelor's degree in economics.
The Major League Draft was shortened to five rounds this year due to the COVID-19 pandemic. Undrafted players were eligible to sign this past weekend, when Raposo became the first Rhode Island native to reach a deal with an MLB team, according to ABC6 News.
During a televised interview with the news station on June 15, Raposo thanked his family and teammates for their support and encouragement.
"If you put in the work, good things will happen. I was just fortunate enough to have the right people around me… It led me to this path," he said.
Although his final season was cut short due to the coronavirus, Raposo amassed an impressive record during his career on Wheaton College's baseball team. He compiled a .366 batting average for the Lyons and .945 OPS through four years and 131 games. The college named Raposo the Wheaton Athletics Chad Yowell Male Athlete of the Year in both 2019 and 2020 for his extraordinary athletic ability as well as demonstrated sportsmanship.
Raposo credits the Wheaton baseball program, and Head Coach Eric Podbelski, for his success in making it to the big leagues.
"Wheaton Baseball has allowed me to grow as a baseball player but more importantly as a person. I am forever appreciative of Coach Podbelski, the coaching staff, teammates and everyone who has pushed me to become better along the way. I'm excited to represent Wheaton Baseball in the next step of my baseball career," he said.
Podbelski said he is thrilled that Raposo is realizing his dream to play professional baseball.
"Nick's leadership, work ethic, selflessness and love of his program, teammates and the sport of baseball will be missed. This is a great example of good things happening to a person who consistently does things the right way," Podbelski said.
Raposo is the ninth Wheaton student-athlete to sign a professional contract to play baseball. He joins alumni Chris Denorfia '02, Jamie Baker '06, Mark Brown '06, Chris Martin '06, Adam Laplante '07, Chris McDonough '08, Jon Shepard '10 and Mike Gibbons '15.