Global lessons from Japan

Alumna's Fulbright award supports her work as a leader in international education at university
Carrie Prior Wojenski '04 is benefiting from the insights she gained from traveling to Japan as the winner of a grant that allowed her to attend the 2019 Fulbright International Education Administrators Seminar there.
She spent two weeks in the country last June, gaining ideas and experience that will serve her well in her position as associate vice provost for Global Academic Programs at the University at Albany-SUNY.
The Fulbright's academic exchange program, which aims to strengthen relationships and promote international understanding and cooperation, familiarizes U.S. higher education administrators with the higher education system, society and culture of other countries and helps to establish a worldwide network of colleagues.
Wojenski has been in the field of international education for more than 10 years and in her current position for more than two years. She provides leadership for globally-focused academics, education abroad and distinguished international scholarships.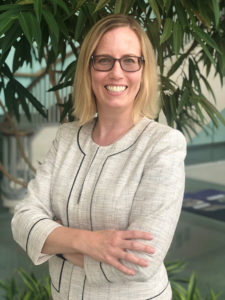 Her trip to Japan included briefings, campus visits, appointments with select government officials and Japanese international education professionals, as well as cultural activities.
The opportunity to meet U.S and Japanese colleagues from a multitude of institutions was very meaningful, she said.
"As always, person-to-person exchange is an opportunity to understand as much about oneself as about the other. I deeply value the learning I experienced, both professional and personal, while creating these special bonds," she said. "My direct experience in Japan also benefits my institution greatly, as the acquired knowledge empowers me to make more informed recommendations and decisions regarding strategic partnerships and initiatives."
Wojenski, who majored in anthropology at Wheaton, has a master's degree in International Education from the SIT Graduate Institute in Vermont and a doctorate in the design of learning environments from Rutgers, the State University of New Jersey.
"I remember going into Wheaton thinking I'd be a psych and history major/minor in some combination. I joke that I went into anthropology because it's similar to history, but without all the dates," she said. "Kidding aside, I took [then-professor] Rob Albro's 'Intro to Cultural Anthropology' course and I was hooked. I always had an interest in cultures and a curiosity into how people and societies functioned; anthropology gave me a name and framework to attach to these interests."
In addition to Albro, Wojenski credits several other faculty for fueling her passions: "Julie Searles, for introducing me to ethnomusicology and vernacular dance. I have an appreciation and understanding of jazz music because of her, and I swing dance and teach regularly. Donna Kerner, for being generally supportive in my major pursuits and for allowing me to enroll in two courses at the same time (research methods and ethnomusicology), both of which continue to influence my life every single day. Tommasina Gabriele, for being my Italian professor. I'm still working on my language in fits and starts. I'm nowhere near fluent, but I'm not afraid to make mistakes and get my point across. Geoffrey Collins, I took his 'Intro to Geology' course as pass/fail because I didn't trust myself in the sciences (bad past experiences). Wasn't I shocked when I did well enough for him to ask me to be the teaching assistant the next semester? I didn't end up doing it, but it helped me think that maybe I wasn't so terrible in the sciences as I thought. Maybe I just needed a different way of teaching."
Wojenski also noted that her internship in what is now the Center for Global Education at Wheaton showed her that she could have a career in the field of international education.
"Wheaton worked for me, and it continues to work for me every day," she said.