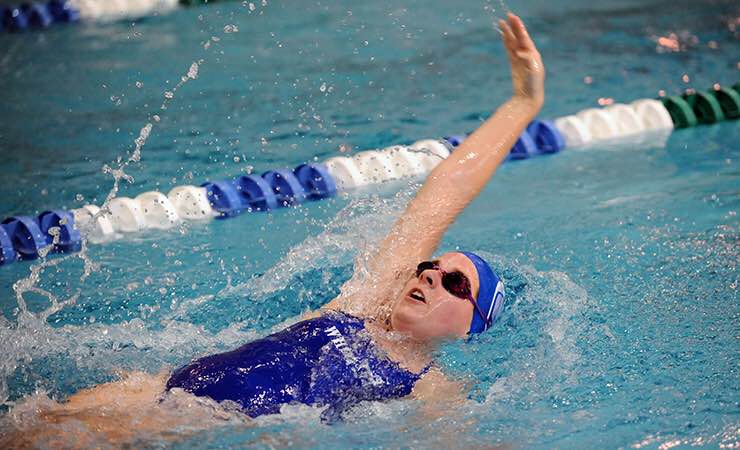 This fall and winter, a national swimming magazine is getting dispatches on college action from one of Wheaton's own.
Kelley Baylis '17, an English major minoring in journalism studies, began writing for Swimming World magazine in November, sharing a weekly update from the New England Women's and Men's Athletic Conference as well as feature articles on swimmers within the conference.
Baylis, who is in her second year with the women's swimming and diving team, will continue the internship through the end of the season, in late February.
"Swimming has been such a huge part of my life, and being able to write about it has not only given me more writing experience but also allowed me to write about something I have been a part of since I was little," she said.
Before coming to Wheaton, Baylis swam for 10 years with the Wilton Wahoos in Wilton, Conn. and also swam with the Newtown High School varsity team for four years back in her hometown of Newtown, Conn.
She learned about the Swimming World internship through Lyons coach Barrett Roberts '07, who noticed that the magazine was looking for one student-writer per conference to contribute articles.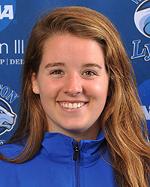 "I knew Kelley was interested in journalism, and I know she is looking at internships with magazines and newspapers, so I immediately thought of her," Roberts said.
In her articles, Baylis covers all 10 teams in the NEWMAC, including Wheaton—writing about swimmers to watch out for, records that have been broken and other news in her previews of weekend swim meets.
One of her feature articles, published on November 24, profiles Wheaton swimmer Dan Spencer '16, who spent the fall semester studying abroad in Sydney, Australia.
"I really enjoyed writing this piece because it allows people who read Swimming World to see us swimmers as more than just people on a team, swimming for a time," Baylis said. "People throughout this conference are really doing some incredible things, and this gave me an excuse to write about one of those experiences."
Baylis will continue writing for the magazine over winter break and will be providing daily blog posts documenting the Lyons' training trip in Miami, Fla. in early January.
"This blog will be something coaches can show to high school recruits to let them see what college swimming is like from a sophomore swimmer's perspective," she said.
Though she has an insider's advantage, Baylis has to spend a few hours each week researching people on the other teams in the conference.
"Taking four classes, swimming every day and participating in this internship has really showed me that every second counts in a day," she said. "I plan my days in the week accordingly and always try to start my articles early so I have plenty of time to go back and make edits."
Currently, Baylis has her eye on a career in magazine writing—a prospect strengthened by her internship experiences. Last summer, she worked at Fine Cooking magazine, and this summer, she is hoping to secure an internship at a magazine in New York City or Boston.
"I would love to write for a food magazine—more specifically Food & Wine, Bon Appétit, Cooking Light or something like that—but I am not limiting myself to strictly food," she said. "I love to write, and through these experiences, such as Swimming World, I am realizing more and more every day that this is what I can see myself doing for the rest of my life."