Getting a picture of the museum digital world
Wheaton winter term offered learning opportunities during break
Creativity is the life force for museums—from decision-making to the imaginative preserving and sharing of collections. As the virtual landscape has broadened during the global pandemic, museum leaders have become even more innovative as they work to grow audiences and enhance operations.
Leah Niederstadt, Wheaton College associate professor of museum studies/history of art, created the winter term course "Museums in the Digital Age" to take a closer look.
"When COVID-19 shut everything down last year, museums and other cultural institutions had to rapidly shift how they were engaging audiences and caring for their collections. Digital tools and technologies, which have long been important to museums, became even more critical to their efforts to provide visitors with access to collections and programming," said Niederstadt. "This was true for world-renowned institutions like the Museum of Fine Arts, Boston, as well as smaller museums. I realized a course focused on museums in the digital age was both timely and a good fit for the intensive, four-week winter 2021 semester."
Niederstadt's course explored how museums use digital media and technologies to care for their collections, engage their audiences and navigate relationships with communities.
It was one of 20 classes offered during Wheaton's first-ever all-remote January winter term. More than 100 students took part in classes that included, among others, "Understanding Pandemics" taught by Assistant Professor of Chemistry and Biochemistry Hilary Gaudet, "Corporate Finance" taught by Assistant Professor of Business and Management Fatima Jebari and "Queer Politics" taught by Associate Professor of Hispanic Studies Montserrat Perez-Toribio.
The four-week intensive sessions in the arts and humanities, social sciences and STEM subjects provided an opportunity for students to get course credit during break and gain new skills. Six students representing eight majors took "Museums in the Digital Age."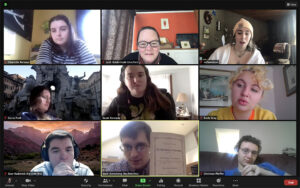 Christian Pfeiffer '22, a political science major, was drawn to the course for several reasons, including the fact that Niederstadt had been Pfeiffer's First-Year Seminar advisor.
"I saw this as an excellent opportunity to reconnect with Professor Niederstadt and cultivate my prospects in a future museum-oriented career. I am still primarily interested in working in a public policy think tank or NGO. However, I felt that this course would still provide relevant skills useful for both fields. Skills such as research, writing and fundraising are utilized in both museum and public policy institutions, and this course provided further growth in those areas," Pfeiffer said.
The course featured a virtual tour and panel discussion with staff at the Northeast Document Conservation Center in Andover, Mass., and the students participated in a live webinar on collection management systems hosted by San Diego's Balboa Park Online Collaborative.
Guest lecturers, including Kelly Goff, associate professor of visual art, and Kate Boylan '04, director of archives and digital initiatives at Wheaton, also presented to the class.
Goff shared his experience as an artist who designs, creates and promotes his art using digital tools and technologies. Boylan introduced the students to digital initiatives at Wheaton and to Digital Commonwealth, where she is a member of the board of directors.
"For one of their major assignments, the students worked with Digital Commonwealth, which supports the digitization, storage and dissemination of materials held in cultural institutions throughout Massachusetts," said Niederstadt, who is the curator of Wheaton's Permanent Collection.
Each student chose a collection to research and identified images to include in social media posts that they wrote to be published on the organization's blog and on its Instagram account. Students also presented their research and posts in class at the end of the winter session.
The idea for the Digital Commonwealth assignment came from a pilot project that Niederstadt did during the fall 2020 semester with Jeanne Bedard '22, a double major in political science and women's and gender studies, and one of her work-study students.
Bedard wrote an Instagram post for Digital Commonwealth using digital images of objects from the Wheaton archives, the Boston Public Library and Historic New England. She will continue the same work this semester, using other collections held in the organization's repository.
"They were so impressed with Jeanne's work that they allowed me to expand the project to include my winter session students," Niederstadt noted.
In addition to wanting students to develop a more nuanced understanding of the ways in which museums use digital tools and technologies as well as the related challenges, Niederstadt hoped they also would get a sense of job opportunities in the field.
Pfeiffer can see those possibilities.
"One of the benefits of taking the course was the number of guest speakers involved and creating relationships that can develop into internships or future job opportunities," said Pfeiffer.
The junior also noted the value of gaining social media skills.
"It is no secret that social media is becoming increasingly present in the 21st century job market. This course provided me the skills to think critically about how institutions use social media, analyze how effective it is in promoting the institution's goal, and learning how to create quality social media posts. These skills and connections will prove invaluable in my future career path," Pfeiffer said.