Garden cultivates connections with incarcerated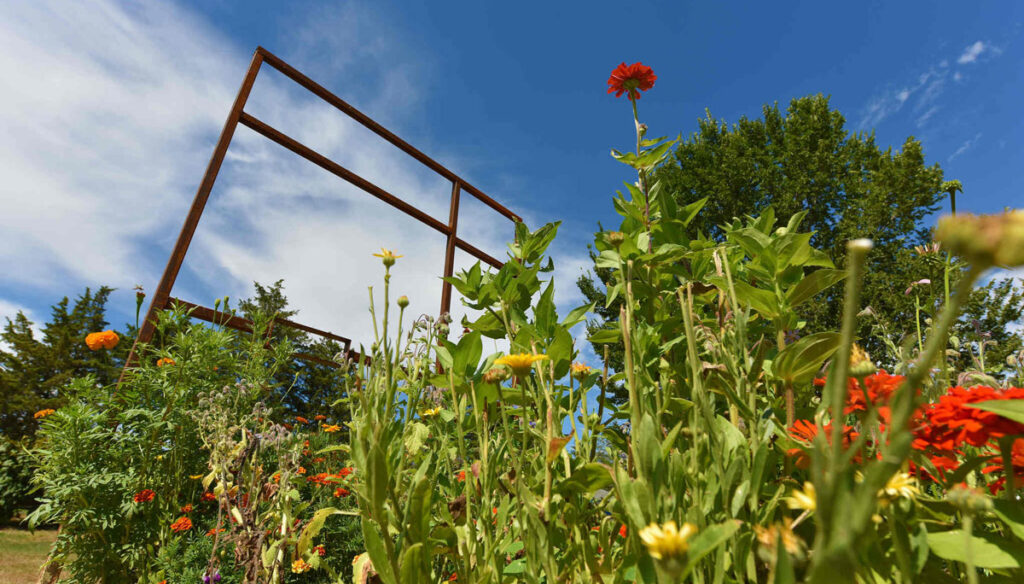 Wheaton galleries director hopes project inspires empathy, conversations about justice system
On a steamy summer afternoon, zinnias, forget-me-nots, marigolds and other flowers were in full bloom near Wheaton's outdoor tennis courts.
Surrounded by drought-stricken grass, the colorful flowers stretched toward the sky from a rectangular box designed in the tight footprint of a traditional solitary confinement prison cell.
The resilient and hopeful nature of the garden is exactly what Beard and Weil Galleries Director Elizabeth Hoy envisioned when she began a collaboration with artist Jackie Sumell and invited students, staff and faculty to help create the Garden for Incarcerated Mothers at Wheaton.
Wheaton's garden is a version of the Solitary Gardens project founded by Sumell, whose art and advocacy focuses on those impacted by mass incarceration. The artist's project pairs individuals in solitary confinement with people on "the outside" to create a garden together.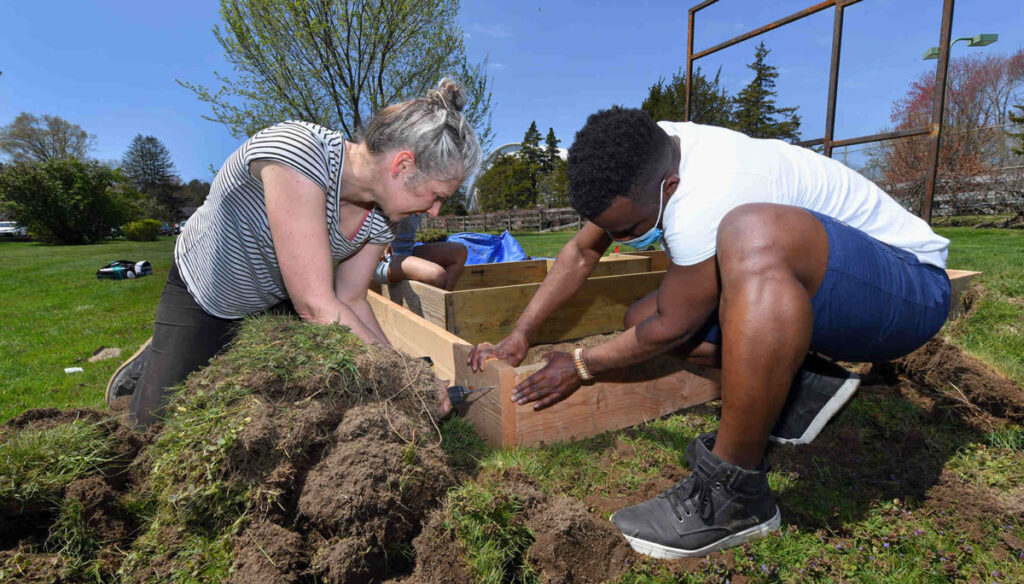 "Our garden is a little different, as we are creating a flower garden for incarcerated moms," Hoy said. "Eighty percent of incarcerated women are mothers. We are connecting with mothers at the Massachusetts women's prison MCI-Framingham, with the help of [Roxbury, Mass.-based] Families for Justice as Healing, a nonprofit led by incarcerated and formerly incarcerated women and their loved ones."
"The women who are participating chose one of 12 flowers that they feel represents them. We are sharing images of our flowers and garden as it grows," she said. "There are a few other gardens for incarcerated mothers across the country; each garden has the same flowers."
Hoy said that project has several goals: "to create empathy for and connection with people who are currently or formerly incarcerated; to build a greater understanding of the systems of oppression that have created this carceral state; and to support the Wheaton community in considering what criminal justice is as an academic subject."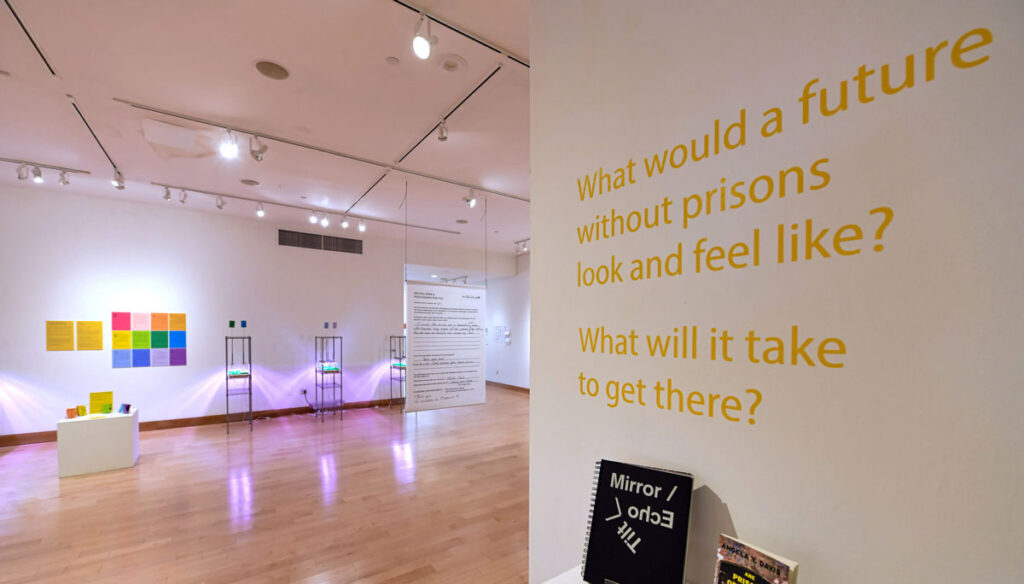 During the spring 2022 semester, Wheaton presented the exhibition "Freedom is a Constant Struggle: Perspectives on Mass Criminalization" in the Beard and Weil Galleries. The exhibition featured drawings, video performances, photography, writing and gardens, and encouraged visitors to ask, "What would a future without prisons look like? What would it take to get there?"
As part of the exhibition, seedlings were begun in the gallery and visitors were encouraged to pick up packets of flower seeds to grow on their own. Those seedlings are now in the Garden for Incarcerated Mothers.
The work to create the garden at Wheaton began in April with the building of the container box. Helder Prece '22, Esther Avalos '25 and other students helped construct the box and Wheaton community members contributed to planting and maintaining the garden. (Financial support for the garden was provided by the Evelyn Danzig Haas '39 Visiting Artists Program.)
Avalos said the project was very compelling not only because she didn't know what to expect, but also because she got an opportunity to collaborate with her friends and to meet Hoy.
"Seeing how all of us were engaged in doing the project well, finishing on time, getting to know each other and working on something that was for somebody else made me appreciate moments like that," said Avalos, who is a declared music major but is also considering political science, international relations and art as possibilities.
Conary "Nicky" Howard-Rogers '23, a biochemistry and visual art double major, created a metal gate that is at the head of the garden as part of an independent study in public art.
"I was initially asked by Elizabeth to help out with some metalwork for a project. When I found out that I was working on the garden installation, I became pretty interested in the whole concept and the messaging behind the art," Howard-Rogers said. "My own artwork commonly explores areas of social change focused around the climate and it was really interesting to get to do art that focused on a different form of social change."
"I had just learned how to weld when I was asked to make the gate, so it was really my first task like this and it definitely was challenging at times," he said.
Hoy became interested in the Solitary Gardens project after reading about Sumell's work. She then invited the artist to do a virtual talk at Wheaton and began planning the garden project on campus.
"While working on putting the garden together, I realized it also would be meaningful to have an exhibition about prison abolition to bring attention to and provide some context for mass criminalization, which resulted in the 'Freedom is a Constant Struggle' exhibition," Hoy said.
The exhibition was up from February through April 2022, but the thought-provoking questions posed are ongoing as Hoy continues projects related to the exhibition and as Wheaton launches its new major in criminal justice, restorative justice, and criminology.
Hoy said she was inspired by Wheaton's curriculum and the focus on social justice. "The new criminal justice, restorative justice, and criminology program was front and center as I started the garden, and I wanted to offer alternatives to traditional criminal legal studies.
"This project allows us to see the impact the carceral system has on individuals, offering the viewer a chance to reevaluate their perspective on the dehumanizing and harmful effects of criminalization and incarceration. I see the garden as offering a solution in the form of information and ways to connect," Hoy said.
"In fact, while I've been out working on the garden, I've had great conversations about the project and prison reform with folks who have passed by. I hope visitors to the garden will be moved by humanizing connections made possible through art and take the opportunity to get involved to work for change," she said.
Visitors will be invited to the garden during Family and Friends Weekend on campus on Saturday, September 24, from noon to 1 p.m., and seed packets again will be available for anyone who wants to join the project.