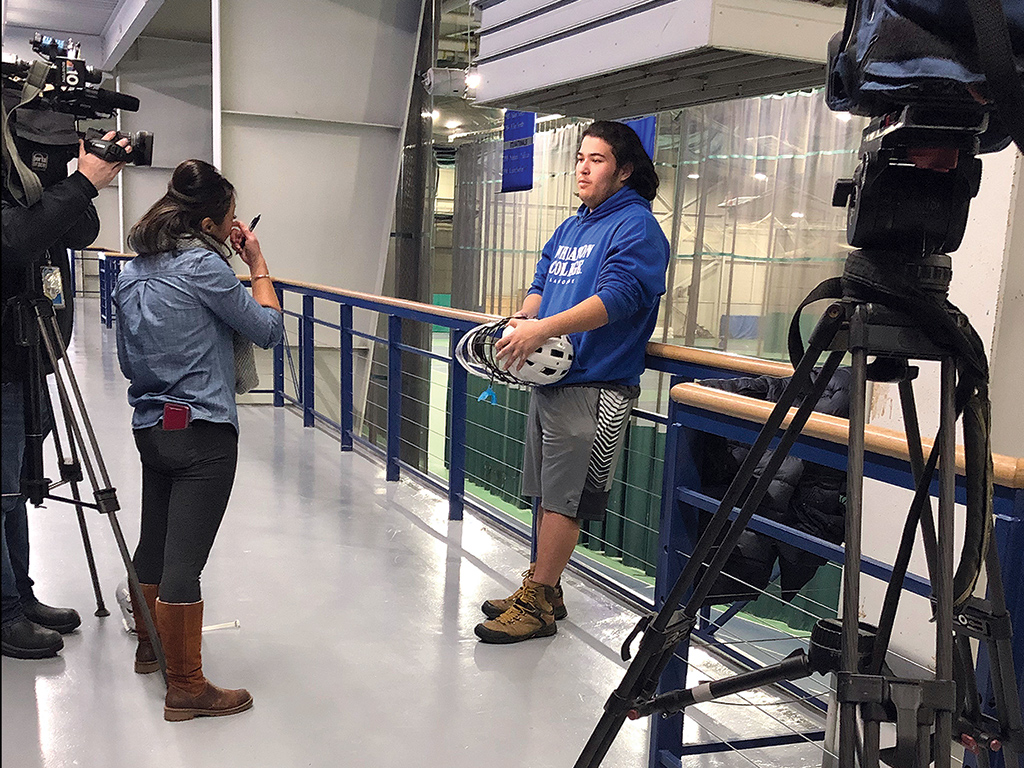 Standing in Beard Field House, Alex Chu '22 was inundated with media interviews for days while balancing his class schedule. "It was never easy for me," he said, "but I knew this was something that I had to do." (Sandy Coleman photo)
Alex Chu '22 champions effort to get larger lacrosse helmet
Standing in the Beard Field House one day in February, lacrosse team member Alex Chu '22 was being interviewed on camera by a Boston news crew while another stood by and another was on the way to talk to him.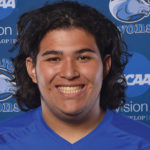 By day's end, Chu had been interviewed by numerous reporters—between and around a full day of classes. Yet, he remained a good sport, keeping his eye on his goal: Getting a manufacturer to make a helmet large enough for him (and others who don't fit the standard dimensions) to be able to play his beloved game.
Not everyone would be willing to step out into the spotlight to call attention to such a problem. But Chu eagerly did whatever it took—even allowing a news reporter to measure his head. His willingness to put himself through this—with support of the Wheaton Department of Athletics—ended up making a difference for many other people in the same situation and broadening the potential for inclusivity in the sport.
Chu finally got a helmet and the rules for helmet certification ultimately were revised to allow more flexibility in approving customized helmets.
"The thing that made me want to speak toward this issue the most was my love for the sport and knowing what was happening was wrong," he said. "Something as simple as having a custom helmet for someone other than lacrosse players at elite colleges is something that I think everyone should be able to have access to."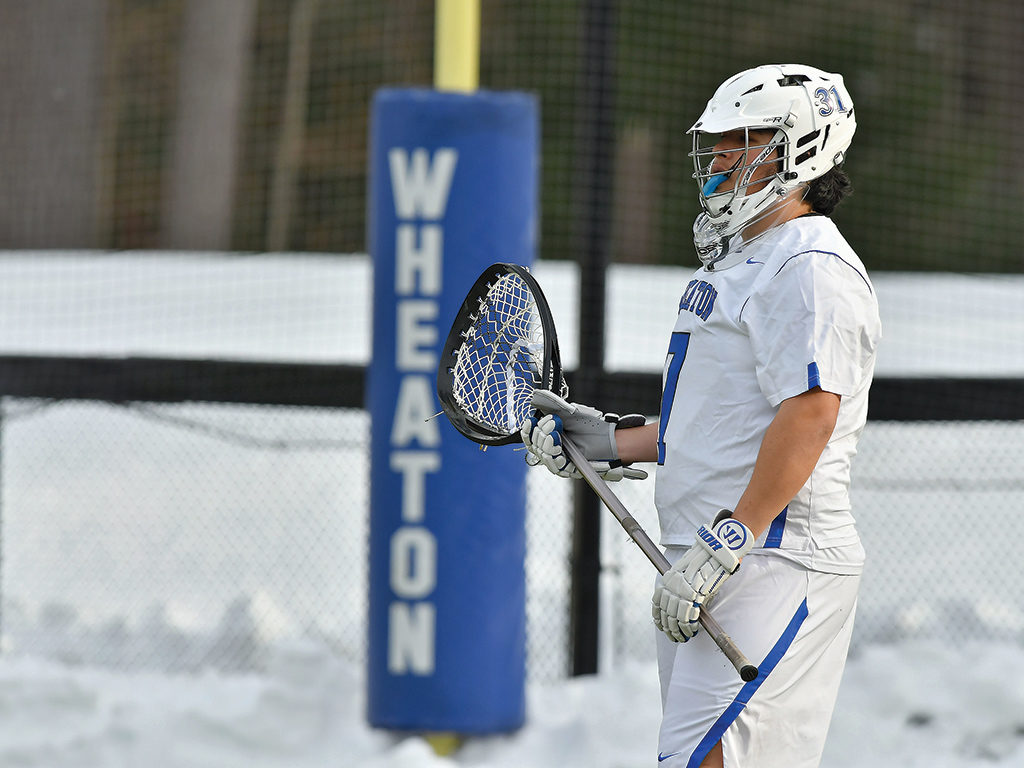 Chu, a goalie, was recruited to play lacrosse for Wheaton. However, he had been sitting on the sidelines for months unable to play or fully practice with the team because standard helmets don't fit him. When he was a standout high school lacrosse player, a now-defunct company had custom-made a helmet for him. However, the helmet was not suitable for college games under the certification rules of the National Operating Committee on Standards for Athletic Equipment (NOCSAE).
So Chu worked with Wheaton lacrosse coach Kyle Hart and the Department of Athletics staff, including director John Sutyak '00 and associate director Lisa Yenush '90, seeking a solution from two different manufacturers to make a custom helmet.
However, the effort didn't pay off until after Chu's predicament became national news, thanks to an initial interview with The Boston Globe, which sparked a flood of media interest—from USA Today, Sports Illustrated and The Toronto Sun to local NBC and ABC affiliates and others.
Finally, on February 26, Wheaton received a NOCSAE-certified helmet from Cascade Maverik that will allow Chu to compete safely, and within NCAA guidelines and regulations. Because of Chu and Wheaton calling attention to this problem, NOCSAE agreed to change its process so that other custom-made helmets can also meet and receive certification for high school and college play.
"The work involved was a worthy cause and I am proud that our men's lacrosse coaching staff had a role in finding a solution," Sutyak said. "The fact that we were able to push this issue and eventually garner national attention led to an adjustment in how helmets are certified."
Chu played in his first game on March 3 against Johnson & Wales, which Wheaton won 16–7.
"Nothing can describe that feeling of finally getting the helmet in my hands, and actually on my head," Chu said. "Lacrosse was finally being given back to me, and I couldn't have been happier to be with the team celebrating the moment."