Gaining experience at MFA
Brianna Medas '20 assisted with research, engaged visitors during internship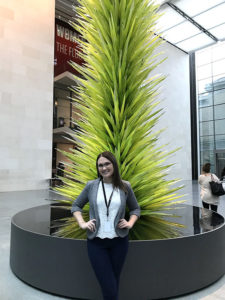 Growing up in Norton, Mass., Brianna Medas '20 spent a lot of time in local and Boston area museums.
"One of my favorite memories was going to the MFA Boston for a field trip in high school and being blown away by the size of the museum and its objects. I remember standing on the stairs and admiring Chihuly's 'Lime Green Icicle Tower' in the Shapiro Family Courtyard," Medas said.
Fast forward to fall semester 2019, the Wheaton College senior again was frequenting the same stairs—this time as an intern in the education department of the Museum of Fine Arts, Boston.
During her internship Medas assisted in researching and writing educational materials for gallery learning programs; set up and stocked the Family Art Cart and engaged visitors in art-related activities on assigned Sundays; and helped with programs and events, including artist demonstrations and openings for members.
"I truly enjoyed each day there. One of the highlights was talking to families at the Family Art Cart and seeing the children interact with the provided activities," said Medas, who is majoring in visual art with a double minor in education and business and management.
"I learned a great deal from the internship. Through my research I was introduced to many artists and art techniques I was formerly unaware of," she said. "I also learned a lot about the history of the MFA, which was helpful when talking to visitors."
Medas said the courses she took with Leah Niederstadt, associate professor of Museum Studies and History of Art, were vital to preparing her for a successful internship—especially "Introduction to Museum Studies" and "Museum Anthropology," in which she learned about the history of museums, the fundamentals of object handling, collecting, storing and conserving, and how museums function.
Niederstadt wrote a glowing letter of recommendation for Medas's internship. "In terms of creativity, maturity and work ethic, Bri is among the best students I have ever taught," Niederstadt said. "She is thoughtful, detail-oriented and intellectually curious. She is also a strong writer and researcher who actively seeks and reacts positively to constructive criticism."
Medas has been gaining experience on campus working in the Archives/DigiLab with Kate Boylan, director of archives and digital initiatives, since September of 2016, photographing and scanning objects, editing and digitizing the images, and cataloging information to make it easier to locate and access.
"This position certainly helped me with the internship position and will continue to help me with the museum field," Medas said.
She has yet to decide on specific plans. However, she knows that she wants to be surrounded by the arts in some way.
"My passion for museums has grown tremendously during the past few years, so I would not be surprised if I end up in the museum field as an educator, exhibition designer or gallery director," she said. "This internship gave me many tools that are helpful in guiding me toward these goals."