FYS focuses on inequality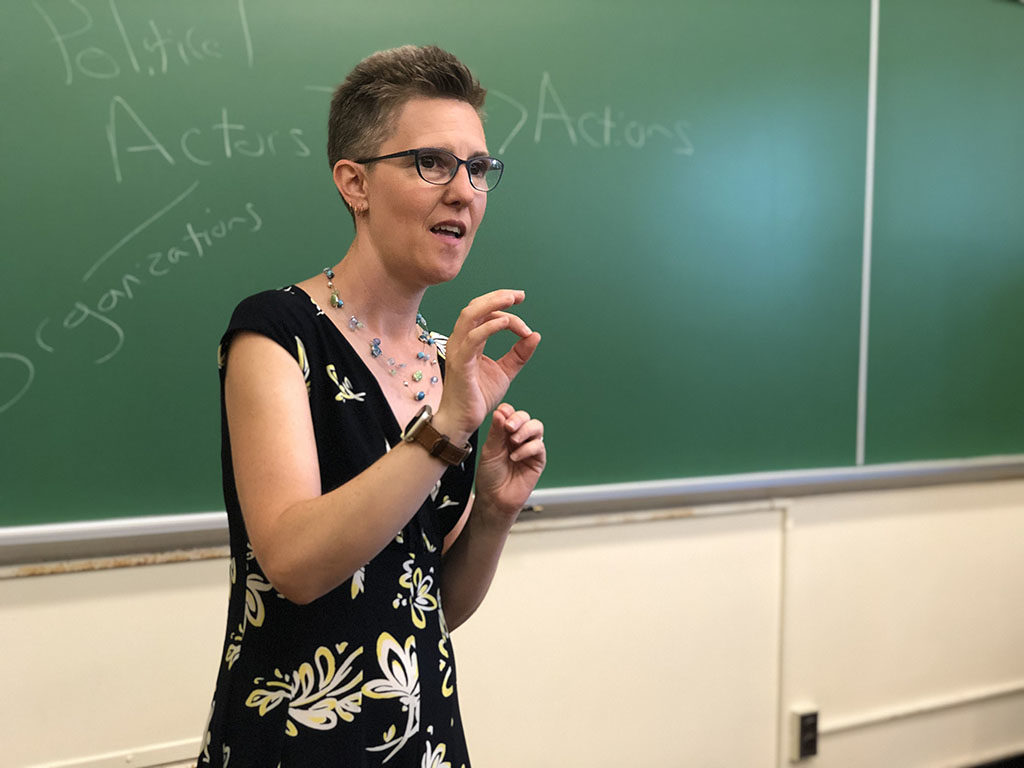 Team-taught approach provides multidiscipline perspective
"Is inequality a trap set by society? Can we do something about it? Should we?" Provocative and timely, these are just a few of the questions students will tackle in the new First-Year Seminar (FYS) "Addressing Inequality in the U.S.: An Integrated FYS" this fall. This FYS, a pilot course that is part of Wheaton's curriculum update, is taking a novel approach. It is taught by a team of four professors looking at the issue from four disciplines—Kelly Goff, associate professor of art; Winter Jade Werner, assistant professor of English; Karen McCormack, associate professor of sociology; and Lindsay Flynn, assistant professor of political science. We asked Flynn to give us an overview, as well as the specifics of her approach to the FYS.
How does this FYS fit into your own scholarship at Wheaton?
Rising levels of income and wealth inequality are one of the defining issues of our time, and to that end I study the politics and policies that contribute to, exacerbate or alleviate various types of societal inequality. This FYS examines a number of dimensions that relate to inequality, and I see it as a way for students to connect a scholarly topic to what they see going on in the world in real time.
What led to the idea for this FYS?
Discussions about shared content and innovative ways to teach always pop up within our campus community. Most recently, our review of the Wheaton curriculum has afforded ample opportunity to continue and refine those discussions. Four of us in four different disciplines (political science, creative arts, English and sociology) began discussing ways in which we could collaborate to provide first-year students the opportunity to engage with each of our disciplines from the moment they arrive at Wheaton. We decided to teach our FYS classes collaboratively, and to develop our classes around a common reading that each of us could teach through the lens of our respective disciplines. After reviewing several options, we landed on Matthew Desmond's book Evicted, which traces the experiences of tenants and landlords in the private rental market. Specifically, the book chronicles the challenges that low-income households face in acquiring and maintaining stable housing in the private rental market.
What will students be doing and why is it a good entry into Wheaton?
Students will thoughtfully engage with four different disciplines while considering three things: what are the challenges associated with inequality, how do people (policymakers, writers, artists, organized interests, etc.) bring these challenges to our attention (or hide them) and what might be done to address the challenges associated with inequality. Students will have the unique opportunity to experience the core of what a Wheaton education represents—employing tools from multiple disciplines to solve problems, engaging in the community outside Wheaton through a directed service-learning opportunity and conducting problem-driven research to present actionable solutions to a broader audience.
What are the benefits of team-teaching this?
We have decided to craft fully integrated content that we will teach and explore in tandem. At times this will mean that all four of us, and all four of our FYS classes, will be in the same room interacting with one another. It will also mean that each FYS class has the opportunity to interact with each of the four faculty in a small group learning environment. Each of us, as faculty, will get a chance to observe and learn new teaching techniques from one another. This presents an exciting opportunity for all those involved, but most important,  it offers students a significant multidimensional learning experience. This starts with grappling with the same topic through several lenses, continues with discipline-specific assignments, provides opportunities for self- and peer-reflection, and gives students the chance to complete a final cross-discipline group project.
Talk about that provocative question in the FYS course description: 'Is inequality a trap set by society?' What does that mean?
Levels of income inequality, and especially levels of wealth inequality, have been widening for the last several decades. Today, the richest 5 percent own two-thirds of the wealth in the United States, and the poorest 40 percent have more debt than they do assets. Public policies have a large and profound effect upon both the size and scope of this wealth inequality. So, while society may not be actively setting traps as a hunter might, the policies that govern the country create clear winners and losers when it comes to where people live, which schools they go to, what jobs they can obtain, and what types of opportunities they can create for their children.
What kind of inequity do you plan to explore?
For the political science dimension we'll start by considering around 10 different definitions of inequality. We will then apply those definitions to the topic of housing. In particular we will examine the presence and/or absence of policies that regulate the complex relationships between tenants and landlords, or that provide stability for households that are vulnerable to the exigencies of extreme poverty. We will contrast low-income housing policies with the policies that regulate homeownership, including those policies that provide relatively generous tax benefits to high-income households.
What kind of final project are students expected to present?
Students will be working in groups to create something new, whether it is a policy proposal, a grassroots organizing plan, a piece of art, a plan for framing the problem, or something else of their own imagination and design. The assignments throughout the semester will give students a taste of the types of final projects they can create and provide them with the tools to do so. Ultimately, students will propose a project that ties together at least two of the four disciplines represented in the FYS. We will group students with similar project interests together, and they will be charged with generating and presenting their final project. Wheaton students are creative, and I am excited to see what our first-year students propose as they combine several disciplines with a fresh set of eyes.
What do you hope students gain from this FYS?
I hope students leave the class confident in their ability to identify and craft action-oriented solutions to societal problems, that they are excited to tackle pressing problems of our time, and that they have a toolkit spanning multiple fields to rely on.
How does this FYS contribute to the greater good beyond Wheaton? The material students will engage with is important at a societal level because inequality influences the way each of us experience and interact with the world around us. I expect that students will have a better sense of those effects as they leave this class, and that that foundational knowledge will help them find impactful opportunities for societal engagement in which they are both interested and equipped to participate. Students will also have the opportunity to engage with one another to discuss the scope of the challenges that inequality presents, and in doing so they will invariably find students who disagree with one another at varying levels. Practicing informed and engaged discourse with their peers, students will be better equipped to carry those modes of communication into both their studies at and lives after Wheaton.