Fulbright scholar Leigh Brooks '22 to teach English in Mongolia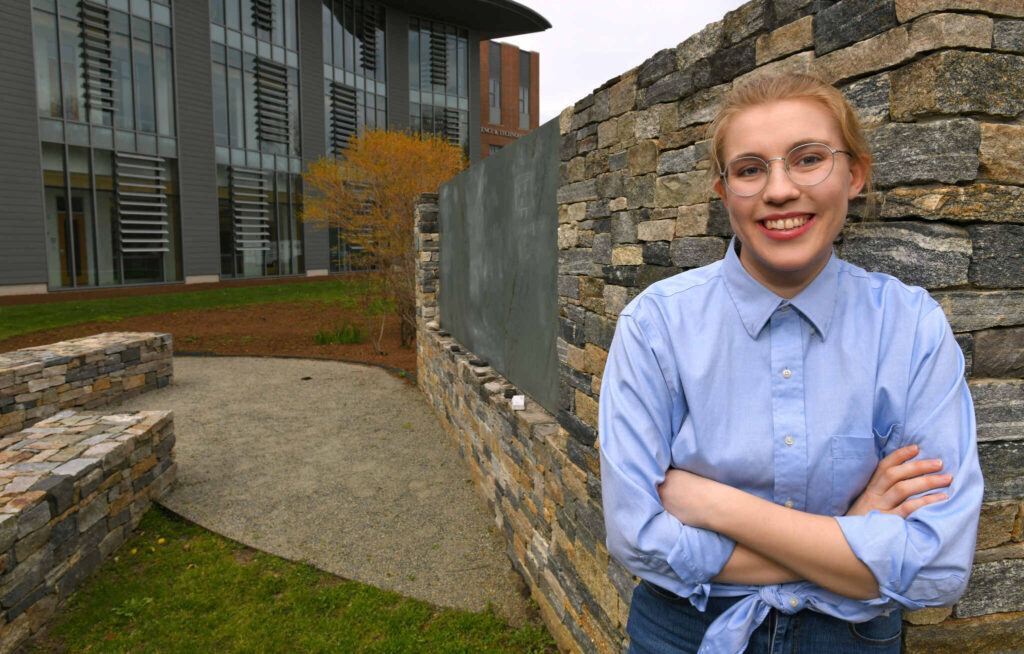 Senior will share her passion for language and culture in East Asia
For Leigh Brooks '22, learning a new language is a powerful way to foster connection and intercultural understanding.
Since high school, she has studied 25 languages, and over time has gained fluency in French and proficiency in Russian, Turkish, Mandarin Chinese and Spanish. Now she is poised to delve into a whole new linguistic experience and culture as the winner of a Fulbright English Teaching Assistant scholarship, which will take her to Mongolia.
"Language is unequivocally the passion of my life. There is a joy to be found in the comprehension of another person that is unlike anything else, and I want to share that feeling with the world," Brooks said.
Learning Mongolian is of particular interest to her given its cultural context and fascinating grammatical structures.
Brooks, who grew up in Downeast Maine, was first exposed to a different language and culture through her three siblings, adopted from China. She spent her youth immersed in intercultural exchange, which inspired her to dedicate much of her free time to studying languages. At Wheaton, she has deepened her knowledge as a triple major in linguistics, Russian language and literature, and European history.
"Wheaton's language programs have been one of the most important and influential aspects of my time here. I've studied French and Chinese at Wheaton in addition to my major in Russian, and my experiences with those programs have really shaped my ideas and future plans," said Brooks, who hopes to pursue a career as a professor and linguistic researcher.
As an English instructor, Brooks plans to apply her expertise in language-learning methodology, which she in part developed at Wheaton as a teaching assistant in an Old English class.
"Learning a language can be a difficult process, and as a Fulbright scholar I want to ensure that students have the opportunity to put their skills into practice and see that they are improving," she said.
An avid outdoor enthusiast, Brooks looks forward to spending time in the Mongolian wilderness observing and learning about the country's flora and fauna. As a musician and singer, Brooks plans to create opportunities to engage with the student community in exchanging music and musical culture during her time as a Fulbright scholar.
Brooks said she is thrilled and excited for her next adventure.
"Living in Mongolia will be a vastly different experience from virtually anything else I have ever done. Adapting to a new country with a new language and new customs is not something that will be easy at first, but that does not mean that I do not relish the challenge," she said.