Service has been a big part of sophomore Keaton Schrank's life since childhood. Doing the right thing quickly became a passion, leading her to create a recycling program at age 10 with her father when they moved to a new neighborhood in Texas; organize a community-wide garage sale for charity; and take on many other projects.
That ongoing commitment to helping to improve society this spring earned her a Campus Compact 2017 Newman Civic Fellowship, which is awarded to students engaged in finding solutions for challenges facing communities throughout the country.
Fellows are provided with a variety of learning and networking opportunities as well as a pathway to scholarships and post-graduate opportunities. They also are invited to attend the 2017 Newman Civic Fellows national conference that takes place in Boston in November.
The one-year fellowships are awarded to up to 273 nominated students representing Campus Compact member colleges and universities from 39 states and Washington, D.C. Campus Compact is a coalition of college and university presidents committed to fulfilling the public purposes of higher education. The goal of the Newman fellowship is to provide training and resources that help students pursue their passions to develop strategies to achieve social change.
"Through this fellowship, I hope to gain valuable knowledge and develop new skills that will allow me to bring more opportunities for community service and civic engagement to Wheaton," Schrank said. "I'm also looking forward to meeting and learning from people from schools across the country."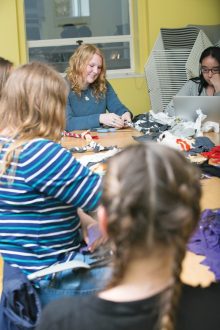 At Wheaton, Schrank, a double major in environmental science and Italian studies, is president of the Community Service Council. One of the council's most recent projects has been the creation of a kindness rock garden, located under a tree near the campus library. The project encourages people to take rocks decorated with uplifting messages and share them with others.
"There are numerous challenges facing communities throughout the country today," Schrank said. "With today's political climate, one of the most important issues to me is simply the lack of kindness in many communities. Though it may not be the most important issue to many people, I am always taken aback by the hostility and anger that have infiltrated communities, especially in recent months. I have always been an advocate for spreading kindness through random or deliberate acts of service. I truly believe that if you can make one person's day just a little bit better then you have done your job."
In nominating Schrank, Wheaton President Dennis M. Hanno noted that her altruistic personality and actions are inspiring. "Keaton has creatively found ways to grow council membership, effectively increasing Wheaton's capacity to serve the local community," he said.
Schrank, who has a full academic load as well as other involvements on campus, said she applies what she has learned from her studies and experiences in trying to find as much time as possible to create new volunteer opportunities for students to engage with surrounding communities.
"Wheaton has opened my eyes to many of the problems facing communities today, encouraged me to think critically about problem solving, and given me the motivation and skills needed to make a difference in society," she said.