From White House to State House
Wheaton alum Gabe Amo '10 was profiled recently in WPRO News' "30 Under 30" series, which highlights young professionals in Rhode Island.
Amo, 27, of Pawtucket, R.I., is director of public engagement for Rhode Island Governor Gina Raimondo.
"Politics and government have always been the most interesting things to me," Amo told WPRO News. "My path here is a product of being singularly focused on trying to contribute to public service."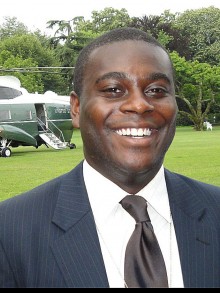 As a political science major at Wheaton, Amo served on the Student Government Association and the College Hearing Board and was president of Wheaton's chapter of The Roosevelt Institution. He received numerous scholarships and awards while at Wheaton, including the Davis International Fellowship, which enabled him to teach at a Liberian refugee camp in Ghana the summer after his sophomore year.
His junior year, Amo was one of just 60 college students in the United States to win a Truman Scholarship for graduate study. And his senior year, he received a Marshall Scholarship, which supported his graduate studies in comparative social policy at Oxford University.
Before coming to the Rhode Island State House, Amo worked on President Obama's re-election campaign in Chicago and in the Office of Intergovernmental Affairs under the Obama administration. He began working for Raimondo in January, shortly after her election.
Amo told WPRO News he is glad to be back in his home state.
"The biggest thing for me is the connection to the people's lives we are affecting," he said in the interview. "At the federal level you're a little further removed; the issues are much bigger."
Read the profile and listen to an interview with Amo and his colleague, Raimondo's press secretary Marie Aberger, at 630wpro.com.