From Wheaton to the Supreme Court
Victims of crime deserve sound legal counsel from their attorneys—and also basic human compassion.
Premila "Prem" Burns '71, an award-winning attorney from Baton Rouge, La., who has worked on some of the country's highest-profile cases, strives to offer both.
The Wheaton alumna has dedicated more than four decades to a career in public service, working as both a federal and a state prosecutor. Burns's trials are high-visibility ones that feature homicide, rape and police misconduct.
Throughout her career, Burns has provided legal counsel and forged special bonds with victims of crime—including the six children of Cpl. Betty Smothers, a police officer and single mother murdered in 1993 in Baton Rouge, La. For that case, she successfully convicted the killer.
"As a family member of a victim of a terrible crime, I can say she's a tremendous person and a phenomenal criminal prosecutor. She really puts everything into her cases, and she doesn't hold anything back. She deserves every accolade that she's gotten," said Derrick Green, one of Smothers's sons.
"Ms. Burns is the same attorney we've had since day one. Twenty-three years later, she's still been there. She still calls on our birthdays and on our anniversaries," he said.
Restoring faith in society
Victims of crime and the survivors of homicide experience unbelievable tragedy. As such, it's vital for the justice system and the community to have very ethical, competent prosecutors, Burns said.
"It's important to be a guide, to carry victims of crime through the threshold of the process to restore a modicum of faith in society and the will to go forward. The sigh of relief after the return of a verdict in a hard-fought case or a simple hug or word of thanks is a far greater reward than any large legal fee," she said.
Her hard work has drawn ample recognition from her peers. She received the FBI director's excellence award for service to the law enforcement community on Sept. 18, 2014, in Washington, D.C.
Most recently, in July 2015, the Association of Government Attorneys in Capital Litigation recognized Burns for outstanding advocacy in capital cases.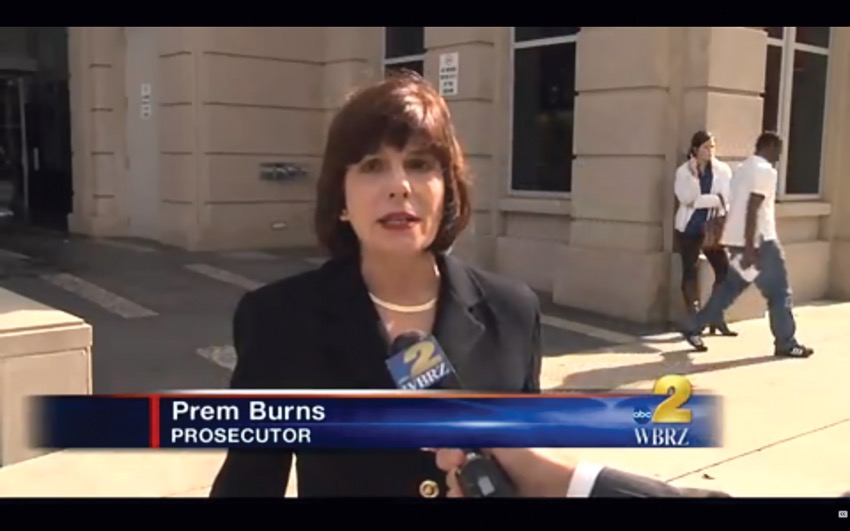 "Prem has dedicated her life and her career to speaking for the voiceless victims of murder," said Hillar Moore III, current district attorney in Baton Rouge, La., who nominated Burns for the outstanding advocacy award.
"Prem has given much of herself to the legal profession, including developing Louisiana's case law on such matters as the laws of principals, DNA, post-conviction, mental retardation and admissibility of evidence. Her life has modeled for all prosecutors the quality and dedication required to reach the pinnacle of the profession as a capital litigator," he said.
Thanks to her reputation for legal excellence, Burns also has appeared as a special guest on a number of television programs. In the past two years, she was on NBC and TV One to provide comments on the homicide of a Louisiana defense attorney, and she appeared on the Investigation Discovery network for a profile piece on a serial killer she convicted.
Shaped by liberal arts
A liberal arts degree from Wheaton shaped Burns into a well-rounded, humanistic professional as she embarked on her career in law.
"There is plenty of time in the three and one-half years of law school to review the fine points of law and then many years of actual practice. A varied background makes for an interesting, well-versed human being with societal insight and empathy," Burns said.
Burns was able to attend Wheaton thanks to a generous financial aid package. Her father passed away when she was 15, and she has worked various jobs since she was 16.
"I learned responsibility and gratitude for the confidence placed in me," she said. "I have tried to repay the same in many facets of my life, including in my attitude toward public service."
Burns admits that she became "a lawyer in spite of myself." In fact, the idea of becoming an attorney never materialized until after she graduated from Wheaton.
Her future spouse received his doctorate in French at Yale and came to teach at Louisiana State University (LSU). "I became a faculty wife in foreign languages and felt it too uncomfortable to also be a student of my spouse's colleagues. LSU had a good law school, so I believe it was God's intent that I become a lawyer, then prosecutor," she said.
A family friend who helped finance her education was a New York entertainment attorney. "One of his clients was the famous American composer and lyricist Irving Berlin. After [the friend] died, I always kept an English barrister statue that he kept on his desk on mine to remind me of the ethics and the importance of law," she said.
Decades since graduating from Wheaton with a degree in French studies, "I still love to read Baudelaire out loud in French, especially 'L'invitation au Voyage.'"
Trailblazer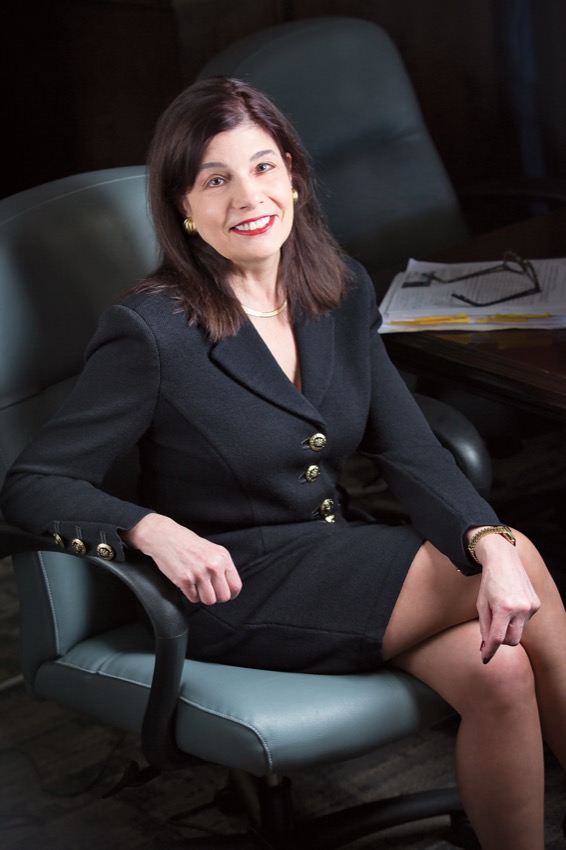 Throughout her career, Burns has made her mark as a trailblazer for women in the law.
"When I began practicing in Baton Rouge in 1974, women, especially New Yorkers, were an anomaly in the courtroom," said Burns, who grew up in New York City.
Her first legal position was chief of family law at the Legal Aid Society of Baton Rouge. After a year, she joined the East Baton Rouge Parish District Attorney's (DA) Office as a family law prosecutor, and, over the years, she took on positions with greater and greater responsibility—eventually assuming the roles of section chief, first assistant to the DA and chief of litigation.
At the beginning, Burns practiced in criminal non-support and juvenile areas but insisted on being transferred to criminal cases.
In September 1977, she became the first female in the history of the capital and possibly the state to prosecute a criminal jury trial, she said. "The jury was out 14 minutes in a difficult case my boss was willing to accept as a misdemeanor plea."
She soon earned a reputation for avoiding plea bargains. "If someone else felt a case was too difficult to handle, I wanted to review it. The only reason someone should be on the street is if they are acquitted, not because the district attorney was afraid of a trial loss," she said.
Eventually, Burns became the first female criminal section chief, and, from 2008 to 2014, she served as the first female first assistant to two state administrations.
"Being a female was actually an asset. I was respected for my very hard work by the judge and jurors. Also, because I handled high-visibility cases, I often appeared on local and national television, becoming a community face and advocate for victims," Burns said.
In January 2015, she officially retired as first assistant to the DA, but now serves as special counsel within the DA's office. In this role, she continues to handle the post-conviction of capital murder cases.
Doug Moreau—former district attorney with whom Burns worked for 18 years and also knew as a judge while she was a criminal prosecutor—has watched her career blossom over the years. He first met her as a classmate at LSU.
"She started at the bottom rung, just like everyone else did. But at some point, the fire was lit. She just continued to improve and improve. She worked her way up because she is very thorough, and very committed to doing what she's doing," Moreau said.
She also broke the glass ceiling, so to speak, and many women followed her in taking on greater positions of authority in the DA's office, he said.
Moreau describes Burns as someone who was never infatuated with authority and power like many of her peers.
"She handles every case professionally, and she is always interested in the victim understanding the process," he said. "The most important thing is that she knows who she represents. She represents the government, of course, but she really represents the victim—that is her cause. She is able to marry the two in ways others can't," he said.
Supreme Court case
Burns has demonstrated her belief in the importance of public service as a skilled prosecutor in a number of high-profile cases. According to her nomination for the Association of Government Attorneys in Capital Litigation, she has prosecuted more than 100 felony jury trials and, over the years, has achieved a high conviction rate.
Her cases include the successful conviction of serial killer Sean Vincent Gillis, who stalked, kidnapped, raped, murdered and mutilated eight Louisiana women between 1994 and 2003 in the Baton Rouge area.
In another case, she convicted three Colombia hit men from the Medellín cartel, who murdered drug smuggler turned federal witness Adler Berriman "Barry" Seal. For that case, she personally secured three life sentences. The books Kings of Cocaine and The Man Who Made It Snow, the movie Doublecrossed and next year's Tom Cruise film, Mena, all feature the murder and trial.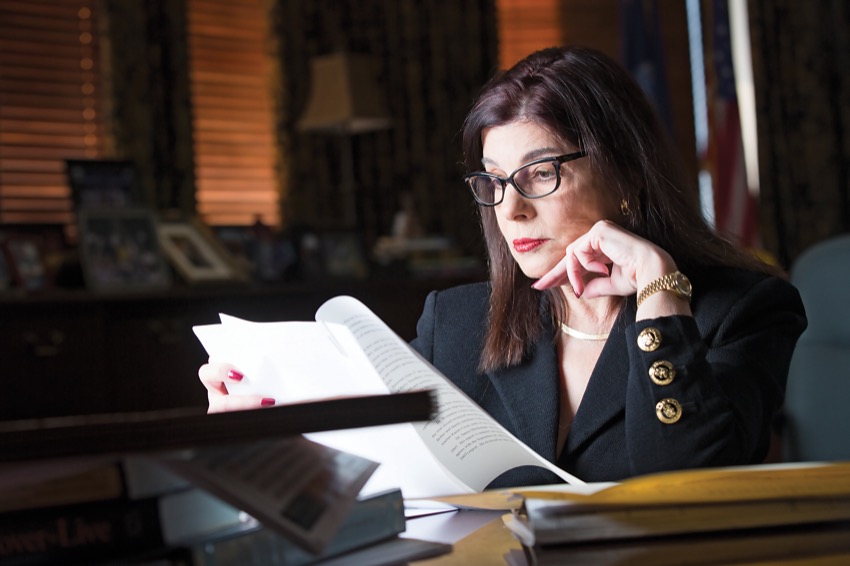 Also, during the past 23 years, she has litigated the cases of a number of individuals, including that of Cpl. Smothers—the first female police officer killed in Baton Rouge.
This case ended up taking Burns all the way to the U.S. Supreme Court.
Smothers, a 36-year-old single mom of six—including former National Football League Tampa Bay Buccaneers and Atlanta Falcons running back Warrick Dunn—was gunned down as she escorted a grocery store manager to make a bank deposit in Baton Rouge. At the time, she was working a second job as a private security officer.
The murderer, Kevan Brumfield, was sentenced to death for the crime—but this decision was amended when the Supreme Court held, in Atkins v. Virginia, that the Eighth Amendment prohibits the execution of the intellectually disabled. According to court documents, Brumfield had an IQ of 75, read at a fourth-grade level, had been prescribed numerous medications and was treated at psychiatric hospitals as a child.
Burns argued Dunn's case, Brumfield v. Cain, before the U.S. Supreme Court in March 30, 2015—arguing that the death penalty was the correct punishment in the case of Brumfield. The case is featured in Dunn's book, Running for My Life.
While the verdict was not in her favor, presenting her case in front of the highest court in the country was a monumental opportunity and honor, she said.
Looking back on the case, Derrick Green, Smothers's son, said that from day one, Burns was helpful and constantly kept his family informed of the latest news on the case.
"It was a tragic situation at the time. I didn't know who Ms. Burns was because I was young," Green said. "As I've gotten to know her as a person over the years, we've become real close."
While Burns is known for her seriousness in pursuing justice, Green said over the years he's seen her relaxed, personable side and admires her strength of character. Her confidence and commitment are what win cases, Green said.
"She's in it for the right reasons. She's in it with 100 percent commitment. Victims' families can rest assured; if [Burns] got their case, she'll continue to fight until she wins," Green said.
He said he was excited for her when she got to argue his family's case before the Supreme Court. "Most lawyers don't get to do that. For her to accomplish that, it was great. My family truly has the utmost respect for her," he said.
Former District Attorney Moreau praised her performance at the highest court. "She got to go into the arena, where your opponent is the lion, and she was as committed as she always was. It was a great experience. She did a wonderful job representing the interests of the state of Louisiana," Moreau said.
Photos by Marie Constantin