From advertising to supporting hospitalized children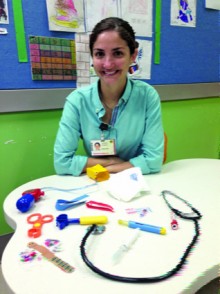 My first job after graduating from Wheaton in 2006 was working in the advertising and marketing field, thanks to a connection I made at a Wheaton-hosted event in New York City.
However, I had majored in psychology and always had a place in my heart for working with children, most often in medical settings.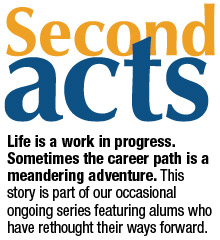 So, I began to volunteer in a local hospital once a week in New York City. After a couple years of this, I realized that instead of doing the work as a volunteer, I wanted to make my passion my career. While still working at the advertising agency during the day, I went to grad school at night to get a master's degree at Bank Street College of Education in New York City. Now I'm a child life specialist at a hospital—my second act.
I began working part time at New York-Presbyterian Weill Cornell Medical Center in a pilot position to integrate child life services into an outpatient burn center. Shortly after the burn center pilot concluded, a full-time job opened in the department, which I accepted.
Because of previous hospital experiences, some chronically ill children have difficult times returning to the hospital, even if it is just for a checkup or something non-invasive. Child life specialists work with pediatric patients and their families to help navigate health care experiences from a psycho/social/emotional perspective. The goal is to decrease anxiety and reduce fears and misconceptions commonly found in hospital settings. We do this by preparing patients for procedures, educating them on diagnoses, offering coping techniques and being present during procedures.
The most rewarding part of my job is hearing a parent say that because of child life services, their child has come to the hospital and finally not been scared or tearful. Children are resilient, but when everything gets a little too overwhelming, I love that our role can help them find their strength again.
My time at Wheaton contributed to my interest in the areas of health care and psychology. I was able to study the effect of trauma on kids in my First-Year Seminar with Professor Derek Price, as well as a variety of other facets of psychology, from child development to perception to behaviors and more. I was also able to hone my skills in class practicum internships at Hasbro Children's Hospital in Providence, R.I. and Sturdy Memorial Hospital in Attleboro, Mass.
—Vanessa Finnerty '06
We want to know about you. Email us and tell us about your second act at magazine@wheatoncollege.edu.
Vanessa's tips for those considering a second act:
Be true to your heart. It can be scary to change careers, but if you know in your heart that you would be happier doing something else, you need to do what's right for you.
Speak up. The more you open yourself up to the world, the more you take in. I was amazed in speaking about my transition to people how many other career changers I met both in my graduate program and in my job. Knowing others are going through an exciting and challenging career change alongside of you offers you strength and support.
Take care of yourself. It is important to make time for yourself. When you straddle two worlds, or make a clean break, there can be a lot of overwhelming emotions that come with it. Be sure to enjoy your hobbies and engage in something not related to the change at all. Decompress.
Write down your goals and what will be rewarding about your change. There will be long days and challenging transitions, but you can always look back at your list when you need a reminder in the midst of it all.