Friends and social entrepreneurs earn recognition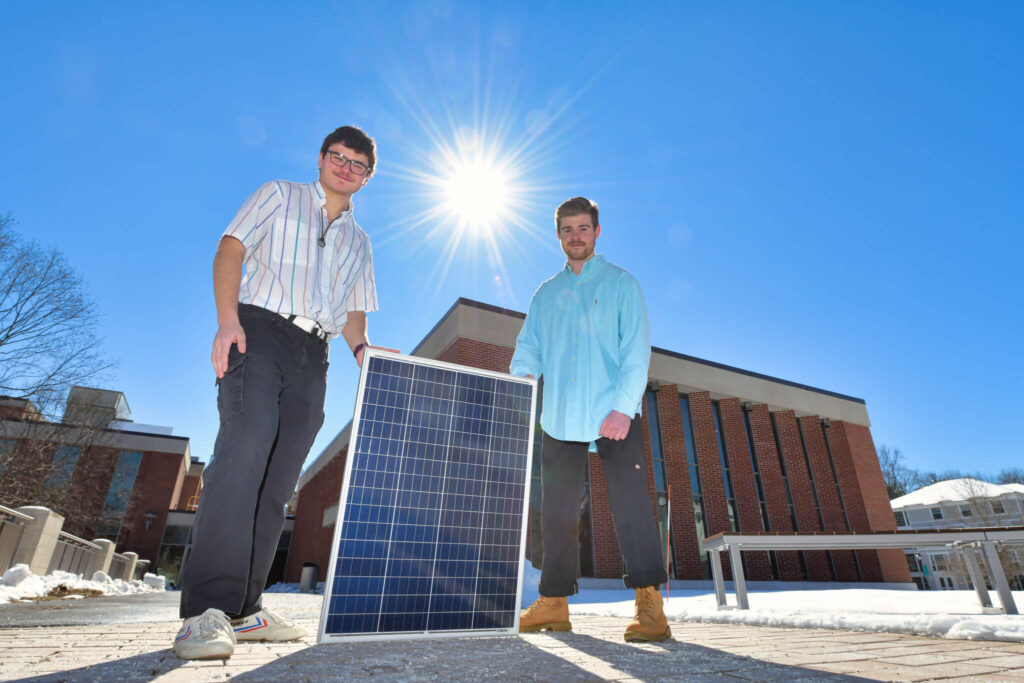 Two seniors win Copenhagen Business School Ideation Awards
Aidan Travis '22 and Gabriel "Gabe" Childs Michael '22 were recently selected among the winners of the #impaktWISE Ideation Awards 2022 sponsored by Copenhagen Business School in Denmark. Their social venture, Conifer Solar Solutions, aims to increase access to renewable energy through the sale of solar-powered thermoelectric cooling systems.
The #impaktWISE Awards are an international social business model competition. This year's winners included teams from schools in Ecuador, Malaysia, Nigeria, the Philippines, the United Kingdom and the United States.
Travis, a business and management major, and Michael, an economics major, started Conifer Solar Solutions in January 2021 during the first part of Wheaton College's Social Entrepreneurship Launch (SE Launch) Program. The Global Center for Social Entrepreneurship Network has been leading this social venture bootcamp portion of SE Launch for several years.
"We had a desire to work on a project that would increase access to renewable energy. We have worked on all aspects of this project together over the last year," Travis said. "We are honored to win the Copenhagen Business School's Ideation Award. We were nominated by professor Imran Chowdhury for the award, which gave us an opportunity to revisit our idea and to continue to work on it."
Michael added that he and Travis were excited to have the opportunity to compete and dive deeper into the project. "It was definitely a surprise to be one of the three Ideation Award winners. There were a lot of great business models submitted and we were just grateful to be a part of the competition," he said.
"Our social venture, Conifer Solar Solutions, aims to increase access to renewable energy and adequately preserved foods in countries with limited access to electricity and refrigeration. Our product is a solar powered thermoelectric cooling system, which bypasses the need to be connected to the power grid and isn't dependent on ice," Michael said.
The Social Entrepreneurship Launch (SE Launch) program, which is offered each January, is one of Wheaton's signature social innovation-focused initiatives. SE Launch consists of a social venture bootcamp in January; spring semester workshops at Wheaton; and presentations at the end of the spring semester.
Imran Chowdhury, Diana Davis Spencer chair of social entrepreneurship and associate professor of business and management, said when a Copenhagen Business School faculty member asked him to nominate a team from Wheaton for the competition he immediately thought of Travis and Michael.
"Conifer Solar Solutions was one of the most active participants in the 2021 version of SE Launch. I think Aidan was at every spring workshop. In the process, they really honed the vision for their company, and thought hard about what they would want their post-Wheaton lives to look like—the kind of future visioning that we encourage across all of our social innovation and social entrepreneurship programs," Chowdhury said.
"For me, they exemplify the curiosity, creativity and desire to make a difference in the world that many students at Wheaton have. I am proud of Aidan and Gabe, whose perseverance and hard work is recognized with this award," Chowdhury said.
The two students have been friends since their first year at Wheaton. They both live in the Outdoors Haus theme residence and serve on the executive board of the Outdoors Club. Their familiarity with each other's interests and work ethic made it easy for them to become business partners, Michael said.
He notes that the course work at Wheaton contributed to winning the award by enabling informed and engaged learning.
"Professors Chowdhury and Fatima Jebari's expertise in social entrepreneurship and sustainable finance have also definitely motivated me to explore career opportunities in the field post-graduation," Michael said. "We wouldn't have won without pushing ourselves and trying new things, so I think continuing to do so will keep opening doors and opportunities in the future."
And, to think this all started when Travis overheard a phone conversation Michael was having and spoke up.
"I was interested in joining the SE Launch program, and I overheard a phone call in which Gabe was asking another one of our friends if they would be interested in doing the program with him. I told him that I wanted to do the program, but was afraid to do it alone," Travis said, "and the rest is history."