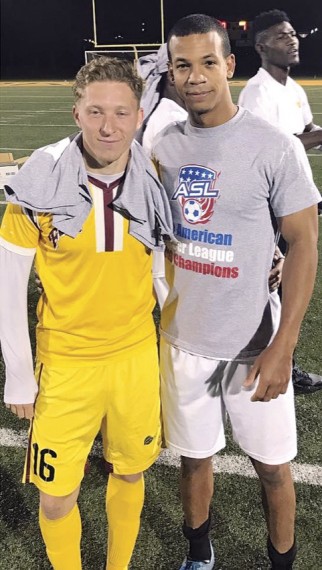 Former teammates continue connection, rivalry on professional teams
Travis Blair '15 and Luke Finkelstein '15 are best friends. They were roommates at Wheaton and standouts on the men's soccer team. "We're like brothers," says Blair. "We talk pretty much every day." But on the playing field, it's a different story.
In spring 2016, both men signed with professional teams in the American Soccer League (ASL): Blair as a forward with the Long Island Express, and Finkelstein as a midfielder with the Philadelphia Fury.
"The first thing we did [after being signed] was look at our schedules to see when we'd be playing each other," says Finkelstein. "We couldn't wait." That first game was April 24, 2016, and two minutes in, Finkelstein had fouled Blair. "He tackled me so hard my shoe came off," says Blair.
"I wanted him to know it was business," says Finkelstein.
On the field, they are playing to win. "If anyone is getting by me, it's not going to be him," says Blair about his former teammate. But afterward, they're typical friends, often grabbing a bite to eat together. "When it's done, it's done," says Finkelstein.
That kind of connection is classic Wheaton, especially when it comes to student-athletes who build strong ties and support each other as teammates and classmates.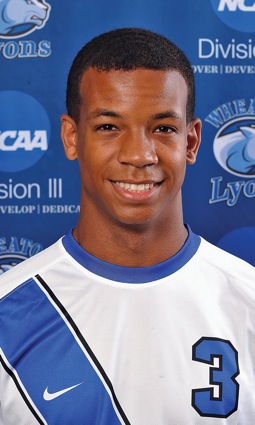 At Wheaton, Blair and Finkelstein helped lead their team to a New England Women's and Men's Athletic Conference title in 2013 and NCAA berths in 2013 and 2014.
Finkelstein, a psychology major and team captain his junior and senior years, was a two-time National Soccer Coaches Association of America All-American for the Lyons, and went on to play for the Hakoah Amidar Ramat Gan Football Club of Israel, before joining the ASL. Blair, who majored in history, was an All-American his last season and ranks second in the school's history for career goals (50) and points (119). He is co-captain of the Long Island Express.
On Nov. 13, 2016, the two faced off for the fourth time in the 2016 ASL Cup Finals.
"It was awesome that after a 20-game season, we were the teams to play [at the finals]," says Blair. The Fury, ranking No. 1 in the league, was the heavy favorite. But Long Island won, 1–0, with a goal scored by Blair, who was named the finals' MVP.
"My team and I were obviously disappointed, being the season champs and beating Travis's team three times before the final loss," admits Finkelstein. "But, if it wasn't going to be me, I was happy it was him."
"We are very supportive of each other," says Blair. "We both have the same goal of moving up [to the higher leagues]."
When they are not playing soccer, they are coaching: Blair for Concordia College, and Finkelstein for the Fury's youth team.
In December 2016, when the Fury had a few spots open for a training trip to Spain, Finkelstein immediately thought of his friend. "I threw his name out. My coach knew who he was and invited him to go."
During the 12-day trip, they participated in high-level trainings and games and were seen by major league scouts.
This support was evident at Wheaton, too, says head coach Matt Cushing, who recruited and coached both men all four years.
"They'd beat each other up [during practices] on Keefe Field, and then go get a bite to eat at Chase."
He describes Blair and Finkelstein as "major contributors" to the men's soccer team. "They weren't just playing; they pulled the team along," says Cushing.
The friends say their experience on the men's soccer team not only strengthened their game but also strengthened their characters. "Those practices [at Wheaton] were more physical than these [professional] games," says Blair, who calls Cushing "very influential in my life."
"[Cushing] is an intense guy, who taught us the bigger lessons of the game, like working hard and being competitive," says Finkelstein.