Following in their footsteps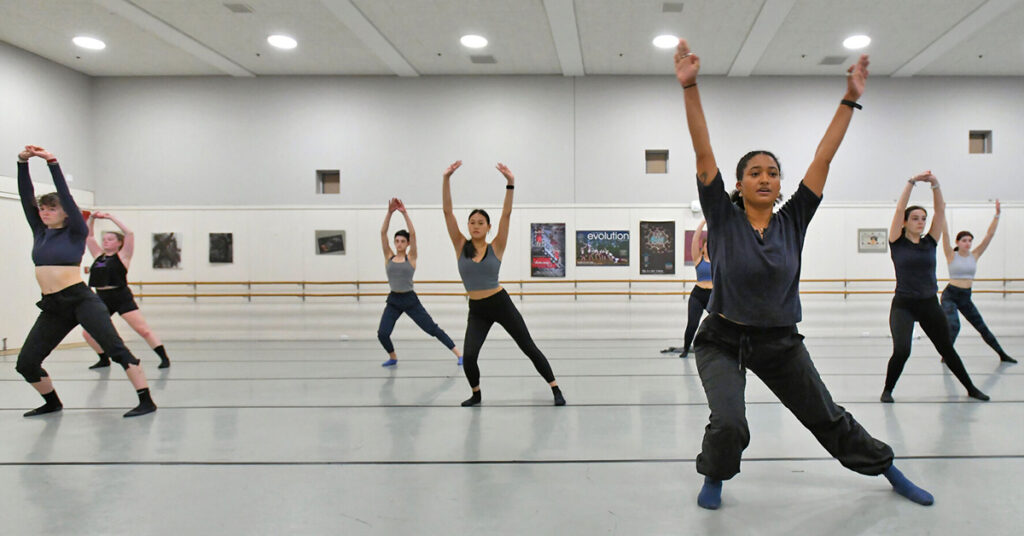 Izzi King '22 among several alumni choreographing performances for Wheaton College Dance Company
With Queen's soulful "Somebody to Love" blasting from speakers in the Ellison Dance Studio in Balfour-Hood, eight members of Wheaton College Dance Company worked their way through an energetic contemporary fusion routine—a flow of ever-changing configurations and synchronized moves. 
At the front of the room that early Saturday morning in January was Izzi King '22, who choreographed the number, demonstrated poses and provided ongoing encouragement. 
"I've wanted to choreograph that song since the fall of my senior year at Wheaton. I love the swelling of the music, the dynamics of the vocals and the instrumentals, and the little things you pick up in the music when you listen to it over and over again," said King, who majored in sociology and pursued minors in psychology and dance. 
"It has been really fun being back. I feel like I didn't miss a beat. It's nice to see the piece, which has been living creatively in my brain, come to life," said King, who uses they/them pronouns. See photo gallery.
King is one of several alumni returning to campus to teach original works for the Wheaton College Dance Company's main stage production scheduled for April 20 through 22 in Weber Theatre. The event will present a mixed repertory of faculty, guest artists and student works, and include contemporary dance consisting of ballet, jazz, tap and hip-hop. 
At Wheaton, King was a four-year member and captain of the dance company; a member of Trybe for four years; and a dancer with Tap Out Loud. In recent rehearsals, students have benefited from the alum's expertise as a dancer—a passion first developed at age 2. 
In September of 2022, after a successful audition, King joined Urbanity Dance of Boston. The nonprofit that seeks to inspire, engage and empower individuals and communities through the art of dance and movement. 
Among King's many latest projects is a collaboration with Shura Baryshnikov, a dancer, choreographer, educator and actress. King will dance to Baryshnikov's choreographed pieces for opera, which will be performed at Arts at The Armory this April in Somerville, Mass. 
"It has been so great learning from such an amazing artist and teacher. She is one of the kindest people I've ever met," King said.
Wheaton students said they've enjoyed learning from King, especially given their close ties to the dance company. The alum also has been chosen to choreograph the fall musical.
"Having Izzi return to campus to teach us one of their dances is an amazing experience and opportunity. Izzi is such a wonderful, unique dancer and choreographer," said Jia Fitzgerald '23, one of this year's captains for the Wheaton College Dance Company.
To be able to perform such a show-stopping piece for the spring show is a blessing, Fitzgerald added.
Other choreographers coming to campus include Kurt Adametz '08, an accomplished dancer who has performed with the Chicago Lyric Opera and Giordano Dance Chicago; Sierra Nolfe Hinthorne '17, a former captain and mental health counselor; Tori Mattie '22, a four-year member of the Wheaton College Dance Company and former dance captain, as well as an actor and singer; and Mary Swansburg '22, also a four-year member of the dance company and a former captain who is a freelance writer.
Cheryl Mrozowski, professor of dance, said that alumni are very connected to the dance company because students typically spend their entire college career in the group. 
"The investment by the alumni is very important to our dancers since it builds a community that welcomes all and supports our journey. We spend a great deal of time together and the company becomes a family working together," Mrozowski said.
Fitzgerald echoed that sentiment.
"I think having alums come back is not only a great opportunity to add to the spring show but it is also a great opportunity to benefit from their experience and to create a bond with them," she said. 
"Both Ellie Guerin '23 [a current dance company captain] and I have been dancing with Izzi and Tori since our freshman year and I think they really helped shape us into the dancers we are today. So, I'm really grateful that they are able to help guide the new members," Fitzgerald said.