Focused on creative support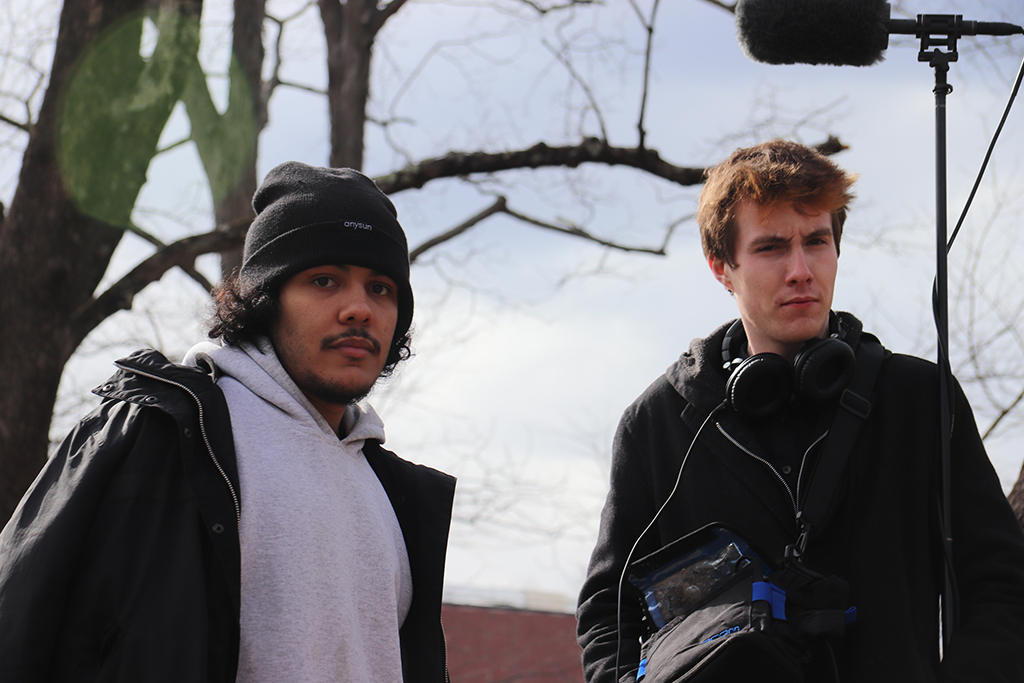 Recent graduates gain experience as videographers on campus
When Wheaton College decided to adopt a hybrid tutorial model for the 2020–21 academic year, Associate Professor of Filmmaking Patrick Johnson could see a clear need for technical support. So he reached out to familiar sources—his own former students.
Using the Caroline Edwards Fund for Film and Visual Studies, he hired Keegan Douglass '20 and Dominick Torres '20. Starting in August 2020, the two film and new media studies majors spent the fall semester working on a wide range of video projects, and Torres is continuing during the spring semester as a film instructor for the theater course taught by Associate Professor of Theatre and Dance Stephanie Burlington Daniels '97 "Ensemble Experiments: Wrestling History."
"I knew that Wheaton faculty would need to produce an incredible amount of video content. Some material, such as lectures, could be produced individually with basic training. However, faculty who had labs or needed to demonstrate complex processes would definitely need some help," Johnson said. "I also knew that there was an incredible talent pool in the recent film and new media studies graduates that could really help with their professional skills."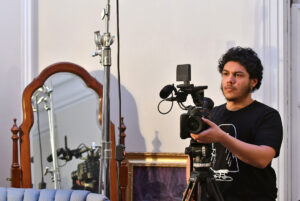 The opportunity has allowed Torres and Douglass to take what they learned in their coursework as students and put it into professional practice as they launch their careers.
Torres was involved in video recording the summer Wheaton Inclusive STEM Excellence lecture series; filming for online courses taught by professors Leah Dyjak, Nancy Lane, Hilary Gaudet, Primrose Boynton and Jennifer Lanni. He also was the producer of the Diana Davis Spencer '60 inaugural debate series event that was recorded in New York City and on campus.
Douglass recorded classes and labs with professors Matthew Evans, Chris Kalberg, Scott Shumway, Lane and Gaudet; interviews with students, faculty, President Dennis M. Hanno and Provost Renée T. White; and innovation lab tutorials.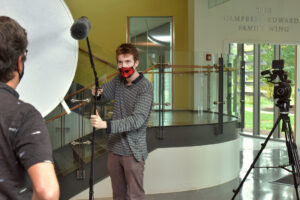 Torres hopes to start his own business to make films, commercials and music videos. "I want to create a production company that focuses on bringing to screen the complexities and intersections of identity," he said.
"I have always had an interest in education and the learning process and how my skills as a filmmaker can be a part of education. So, when I was tasked with helping to make in-person coursework into a consumable online format, I jumped at the opportunity to combine my interests. What I enjoy most is trying to find creative solutions to help engage students," Torres said.
Douglass hopes to do work recording, designing and mixing sound for films, podcasts or radio. "My main area of interest is audio production. I could also see myself making videos for businesses and organizations as I have in the past," he said.
"I'm extremely thankful to have had work during this erratic moment in history. Other jobs that I was close to securing pre-pandemic are all gone, so it has been a blessing to utilize my video production skills. This job has allowed me to enhance my skills, gather more portfolio material and secure recommendations from clients," Douglass said.
While students at Wheaton, the videographers engaged in experiential learning outside of the classroom. Torres was a filmmaker in residence on campus and on a faculty-led trip to Puerto Rico and worked with Michael Kristy '18 as director of photography for Kristy's feature film "Paint the Eyes First." For two summers, Douglass interned at MassChallenge, where he helped make videos for startup companies, working with Professor of Film and New Media Studies Josh Stenger and Instructor of Business and Management C.C. Chapman. Douglass also was an intern with Wheaton's Office of Marketing and Communications.
Johnson said he has enjoyed watching the growth of his former students. "I've taken an enormous amount of pride in seeing how professional and independent they are. Honestly, I simply played matchmaker between them and faculty. They handled everything else: scheduling, pre-production, filming, directing and editing. I didn't feel like I was working with former students. I felt like I was working with professional colleagues."